I love hormones. I've been on estrogen for nearly eleven weeks, and I still count down the hours (seven) until I can take my next dose.
Sure, it sometimes causes the dramatic mood swings that everyone warned me about- imagine birth control pills but ten times stronger. I can now start and resolve a heated argument with my girlfriend without her having to say a word. At times, I find myself tearing up at work for absolutely no reason (get a grip, Annika, you don't want your mascara to run).
I can cycle between euphoria, despair, anger, and back again in the course of an hour.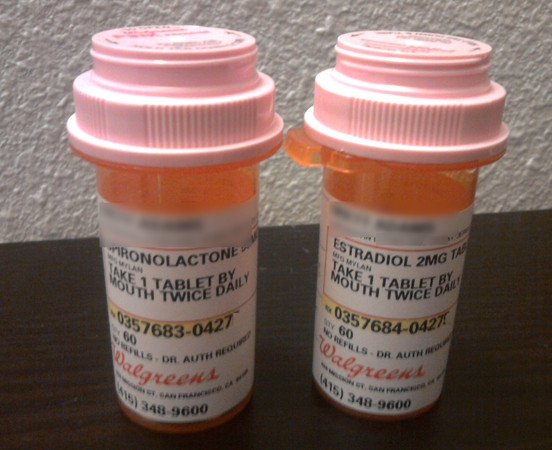 But I'm learning to manage the ups and downs. And overall, I'm in a better mental state than I've ever been before. It's hard to describe, but everything just feels more natural now that my mind and body are no longer flooded with testosterone. It's as though after 23 years, I have finally stopped trying to fill up a diesel car with unleaded gas. My brain was made to run on estrogen.
Besides the occasional emotional instability, I've noticed some other pretty crazy effects, like food cravings. I finally understand what my girlfriend has been talking about all these years, because now when I want some ice cream it feels like a matter of life and death. I'm also pretty sure that estrogen has improved my allergies, as this is the first April in recent memory where I haven't gone through a box of tissues every few days. Curiously, my eyes are slowly turning from blue to green. And my body and face have been feminized to the point where I now pass as a girl in public 100% of the time. In fact, as I discovered at the Toronto airport last month, I am no longer able to present myself as male without causing serious confusion. As you can imagine, this is super exciting and wonderful because people are finally seeing me for who I actually am.
It also means that after more than three years together, my girlfriend and I are now read as a lesbian couple for the first time.
I never really stopped to appreciate the privileges of our seemingly heterosexual relationship. Let's travel back in time to France 2008. There was no 'coming out' moment for either of us when we started dating- no thoughts of "wow, I'm actually holding another girl's hand in front of all these people!" We never had to worry about kissing in public or what the neighbors would think if they found us cuddling on the stairs of 8 Rue de Madrid. We travelled as an obvious couple in Morocco without concerns that our one-bed hotel room would raise suspicion or put us in danger. You know, things that most people never have to think about unless you're queer. We fell in love in Paris, after all, where public displays of affection are welcomed, if not highly encouraged. Young cute white upper-middle-class heterosexual cisgender couple? Bienvenue a Paris.
Now let's fast forward back to 2011. It's before dawn and my girlfriend and I are in the back seat of a taxi on the way to the airport in the middle of nowhere. I reach over to tuck her hair behind her ear but she brushes my arm away. I whisper that I love her and she doesn't respond. I spend the rest of the drive in silence, thinking of what I could have possibly done to make her upset. "I'm not mad at you," she tells me once we've been dropped off at the terminal, "you just need to be more aware of your surroundings now. Didn't you see how much attention the taxi driver was giving us?" I hadn't even noticed.
Others certainly notice us now though. We seem to draw attention everywhere we go. You can see it in people's faces- the initial look of confusion when someone tries to determine if we're a couple eventually leads to an expression that says "oooh, lesbians!" Teenage boys are particularly excited to see us. Elderly women have turned up their noses in disgust. Fellow queers smile and nod in approval.
Sometimes it's fun to flaunt it and leave little doubt in onlookers' minds that we are in fact two girls in love, but I'm starting to realize that there's no magic switch to turn off all of this newfound attention. Three years into our relationship, we're having to re-learn how to behave in public and when to be more discreet. And when we're not physically affectionate, strangers assume that we're not a couple. Store clerks, waiters, and new acquaintances all respond in the same way: "Wow, you moved here from LA together? You two must be such good friends!"
And then of course there's the legal headaches that await us. As of today we can get married because I am still considered male under California law, even though the gender marker on my passport and driver's license will soon say "F". If and when I am able to change my legal gender (CA currently requires a surgeon's note, so tough luck if you can't afford or don't want surgery), some magic threshold will be crossed and my girlfriend and I will no longer be considered fit for marriage.
Thank you, Prop 8– the gift that keeps on taking. In some states and countries, our marriage would be forcibly revoked if I became legally female. It really highlights the absurdity of marriage inequality laws, because no matter what, we'll still the same people we've always been and still feel the same love. Oh well, at least we don't live in Texas.

Annika blogs at Transgender Express. Follow her on tumblr!