Like questionable haircuts and the 1998 version of The Parent Trap, Lisa Frank is one of those things I've never outgrown. We had one falling out around 2004, when I entered high school and decided I would have nothing to do with anything I had enjoyed during the onset of puberty. I even went so far as to pretend to not like Star Wars when a cute girl started talking to me about it (literally shuddering as I type this). I have since learned the error of my ways, and Lisa and I were back in business when I went to college, where I learned that it's okay to like things that were popular before 2001. In fact, it was kind of the cool thing to do, which was very convenient for a kid who was still replacing the batteries in her Tamagotchi.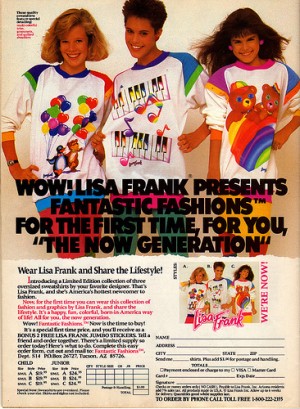 Why am I rambling about Lisa Frank? Is it important that whatever made a series of craft supplies and stationery absolute crack in the nineties has not worn off for me yet? Does the fact that I have made $50 Ebay bids on a Lisa Frank backpack when I did not even have $50, represent a longing for my childhood, or a deep need to rediscover my innocence? Sure, maybe. But I'm all about Lisa Frank right now because of what she means to my understanding of gender, sexuality, and the fluid nature of both.
A great deal of dialogue in the queer community is rooted in testimony — "This is my coming out story," "This is my experience as a lesbian, gay, trans*, etc. person" — and appropriately so. Because we don't have a wide range of role models in the media or the more vocal parts of society, we need those testimonies to help each other, to build our community and make ourselves safer, better, and more knowledgeable.
One of the gay community's favorite form of testimonial has to do with family and childhood and things that mainstream society considers "foundational" or "formative." These factors are often cited as justification or reasoning for one's current gendering and sexuality. A great example of this is Born This Way, a blog that posts pictures of queer people as children to demonstrate the timeline of their self-expression, and show that they were interested in feather boas or Tonka trucks since they were toddlers. This is frustrating to me for a number of reasons, chiefly that dialogues of "proof" are a) beside the point and b) limiting us to already constructed notions for what masculine and feminine can be. This also enforces the idea that gender identity is not fluid, but instead something that can be seen as a static position we show signs of even as children.
I am a masculine-presenting dyke. We're talking fledgling bowtie collection, always trying to outdapper myself, closet full of boys' clothes, give me the mens discount haircut dyke. I still rock the glitter and a few more outlandish pieces because why not, but for the most part, people would read me as Butchy McButcherson.
This is me as a kid. Pink was my absolute favorite color and Lisa Frank was my whole life. I was all about being a princess and playing with my Barbies and pretending I was a mermaid. I don't think I loved these things because I believed they were "girly." I think I loved them because I loved anything that was bright and shiny. I was in dire need of a sparkle intervention. I also loved running around outside and pretending to be a Jedi and coming up with fantasy worlds where I was the warrior-hero. I was never without a sword or bow and arrow. I was into a lot of things not because they were boy things or girl things, but because they were things that made me happy.
Looking at images of myself as a child, I think most people would consider me a "girly girl," and there's nothing wrong with that. I can be a masculine-centered person now, and I don't need to apologize for any other way I have ever presented in my life. I am completely unapologetic in all the ways in which I have ever been *not* masculine-presenting, because there is no need for me to prove to you that I am a queer person, that my gender presentation is masculine, or that it is something in need of justification or outside approval. If I pull on heels and do my eyebrows tomorrow, good for me. And good for all of us, because we need to accept every stage of ourselves and every new incarnation of ourselves. There is no right or wrong way to do gender, or to do your sexuality. Our Holiest Mother Shane said shit is fluid, amen.
And here's a link to the Lisa Frank Store. Just because.
---
Special Note: Autostraddle's "First Person" personal essays do not necessarily reflect the ideals of Autostraddle or its editors, nor do any First Person writers intend to speak on behalf of anyone other than themselves. First Person writers are simply speaking honestly from their own hearts.