On July 8th, the cast of The Real L Word celebrated their third season premiere at a bar called, "The Knitting Factory." I was pleased to see that it wasn't at an actual factory and that nobody was knitting when I got there (because I don't know how to.)
I was standing around outside waiting for the red carpet area to get set up, while Vero (one of the new girls, band member of Hunter Valentine) started talking to me. I am not ashamed to admit that her stunning good looks set my loins aflame, as though I were a straight lady discovering Fifty Shades of Grey for the first time, and that I kind of just stood there gawking at her while she talked.
At one point she said, "Hey, wait, what is your name? Etsie? Estie?"
I said, "Uh, Esther."
She said, "Well, I'm gonna call you Estie. You have something in your hair."
She plucked it out and I said, "Th-th-thank you!" and basically, there you have it: Estie is the new Sah-Dah.
After this, I went back inside (to take photos, not because I was following Vero or anything) and watched the whole cast be fabulous and gorgeous on the red carpet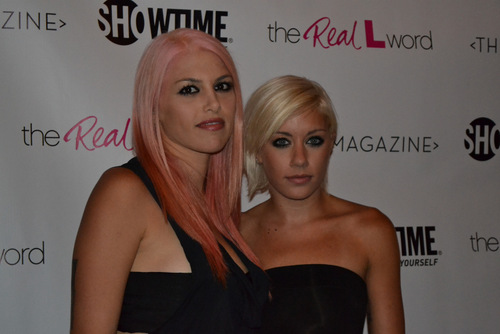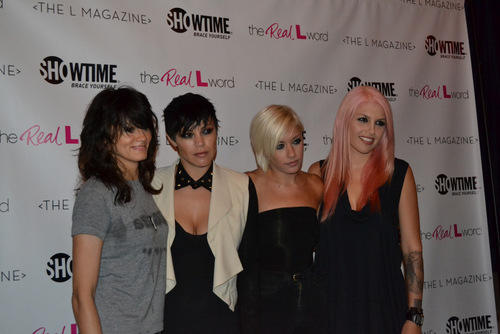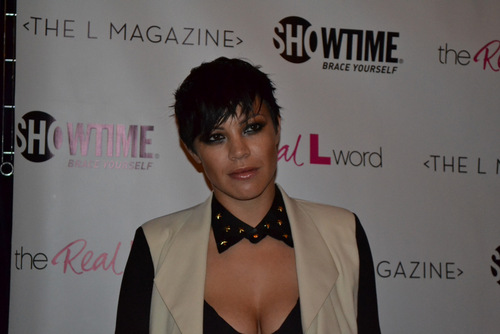 When the photo shoot was done, I checked out the "NY vs. LA: Battle of the Bartenders" set up at the bar. I might be a little biased, but I think Sabrina Haley was the winner of the evening with her signature drink, "Dyke-o-tomy," and not just because of her ability to throw/promote fantastic parties OR because she's total eye candy, but because of her actual talent as a mixologist— Kombucha, cinnamon and alcohol never tasted so good.
With drink number one in hand, I got to talking with Somer and her wife, Donna at the bar. Somer and I recalled a hilarious phone interview we did a few months ago, where she confessed that she fled from Donna the first time she tried to hit on her because she got too nervous. Also, that when she saw her future wife eating a falafel sandwich that was falling all over the ground, she knew she was The One.
After this, I watched the opening electro-ish band called, Making Friends. They were super gender-fluid and awesome and rocking out with maracas. In fact, people vogued.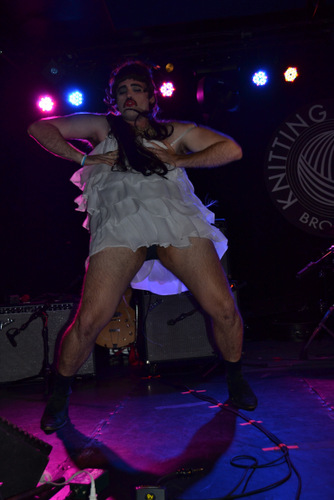 At this point, a preview of The Real L Word's opening credits for the new season came on, featuring Whitney and Kiyomi in a fierce stare off with California and LA backgrounds behind them. The camera definitely established and ensuing West Coast/East Coast rivalry reminiscent of 1996.
After that, Hunter Valentine came up and sang songs such as "The Stalker" and "Treadmills of Love." Of course, I spent most of the time taking multiple shots of Vero and obsessing over her like a 16-year-old girl over Justin Bieber, then regretting a missed opportunity to throw my "Estie" monogrammed panties onstage.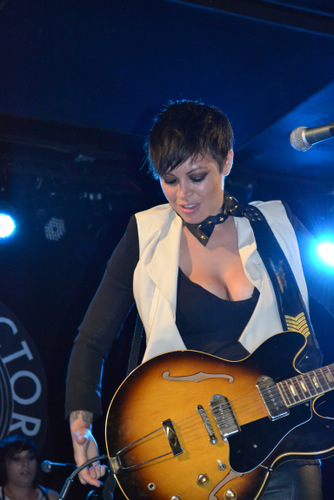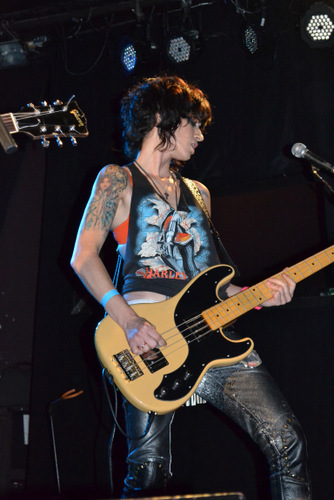 And finally, the wait was over— I clutched a preview copy of Season 3's first episode to my heaving bosom as I ran to the nearest cab. I can't give away any spoilers quite yet, but let's just say that it's wacky, people. Wacky.