I wasn't expecting much more from the giant NYC musical festival CMJ this year than I do most years; I was prepared for decent music and a working vacation. But this year something magical happened: Hunter F*cking Valentine. This Toronto-based group caught me completely off guard and awed the hell out of me. The ferocity the band takes to its life performances makes you feel like a nerdy teenager watching your favorite group for the first time. I was unprepared and therefore unable to tote a Hunter Valentine sign with a heart on it to the show, but I wasn't surprised when I got home, downloaded the album, and right away was able to listen to it all the way through.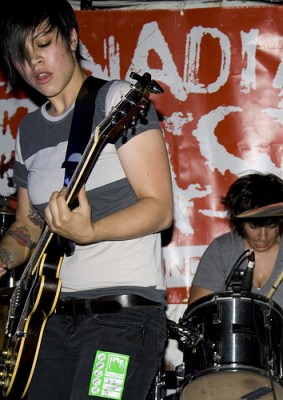 Between lead singer Kiyomi McCloskey's piercingly emotional singing, Laura Petracca's hard-hitting drums and Adrienne Lloyd's heart stopping bass lines, Hunter Valentine is a new kind of rock band. Their last album, 2007's The Impatient Romantic, is chock full of songs that will either tear your heart apart or help you piece it back together.
Naturally, I shrieked like a school girl when I got the chance to talk with the lead singer of Hunter Valentine, Kiyomi. We talked about their upcoming EP, Lessons From The Late Night, as well as how they formed the band and which music and artists influence them.
Corey: How did Hunter Valentine get together? And where did the name come from?
Kiyomi: I first met Laura when I was 17. I snuck into a bar to hang out, and she was the first person who just walked up and started talking to me. We started talking about music and then took off to a music club after. I was introduced to Adrienne by Lorraine from Parachute Club. We all started playing together after I got back from a trip to Asia. Our first gig was this sold-out queer event in Toronto. I just remember we had great chemistry. As for the name, we wanted to find one that would represent our attitude the best — the ultimate heartbreaker, this James Dean type you hate but can't help but love.
Corey: The press mostly calls Hunter Valentine "indie punk", but after listening to your music, I think there are many genres you could fit into. How would you describe your music to someone who hasn't heard it yet?
Kiyomi: I think it is rock and roll, all the way from the mainstream rock to pop rock and somewhere in between. Our new stuff is a little more aggressive, and the newer stuff leans more toward old school punk. It's pretty heavy rock and roll. What genre do you think our music is?
Corey: After listening, I think it is interesting. I think it's hard to pinpoint a genre because the music off your last album is so different from your first album. Your voice changes from album to album. I think it's interesting.
Kiyomi: I think given the opportunity to record our first album again, it would probably not sound as polished as it does now. I don't think it accurately represents us. The newer stuff does because it is more raw and dirty sounding, like our live shows. On the new album, we wanted to make something that sounded more like we sound live.
Corey: A lot of your songs have really strong lyrics. How does Hunter Valentine write songs, and what is that process like?
Kiyomi: I write all the lyrics. In the past, I would write a majority of the songs on my guitar in my room late at night. Then bring them into rehearsal and jam out on the song. It would really take shape there and everybody would add their two cents to it. The song might start out as a love song and by the end it would be rock and roll. I just write all the time. The best songs come from a situation or something that has happened to me that I just can't shake it, whether it's addiction, heartbreak, or my mother getting a divorce….
Corey: So it's sort of like therapy for you, when writing a song…
Kiyomi: Sort of, yeah. You have to work it out, write through it so you can shake it off and stop thinking about it.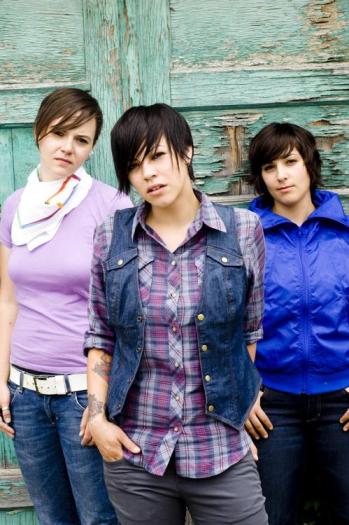 Corey: You have a new EP coming out in March called Lessons From The Late Night. How will this EP be different from your previous releases, and how do you think Hunter Valentine has evolved from release to release?
Kiyomi: We learned a lot in Canada. We had our first record deal there, and I think a lot of our music came out of us being under pressure. But now we have learned from our mistakes. It just feels right now. This new record feels more organic, like we wrote it as a collective. We've toured a lot more and have really gotten to know each other both musically and personally. We know when to lay off something a little more and let each other shine on certain things. There's a lot more raw emotion on the new album. A lot of the old stuff was written when I was like 16 or 17. I'm 24 now so I've gotten a little more jaded. (laughs) The new stuff is not so much about heartbreak as it is about lessons learned.
COREY: Why is your upcoming EP called Lessons From The Late Night? And what can we expect from the new material?
Kiyomi: Lessons From The Late Night is supposed to represent the growth and journey from youth to adulthood. It recognizes the issues of shedding your inner child while battling the idea of maintaining youthfulness. I was trying to think of something that tied all these songs together and what their ultimate identity would be if I had to pick one theme. I think most of these songs came out of revelations, realizations and basic hard cold lessons that were discovered after the sun went down. Whether the lesson was learned from talking to an old jaded musician at a bar, sitting in my bedroom crying from having my heart torn out or staying up until 3 a.m. listening to the way a new friend's mind operates, they are all lessons that have made us grow as individual people and musicians.
I think you can expect that this record has no holds barred in terms of honesty. We wore our hearts on our sleeves this time around and we really wanted to make sure that it sounded that way. We wanted it to sound raw and gritty, like we were playing right next to her. We tried to stay away from the gloss that we had on the last record and really nail down what we do at a live show, and I think we've achieved that.

Corey: Musical influences play a big part for any artist or band. Who are some of your influences and why do they resonate with you?
"To be able to talk about something completely off the wall but still make it a good pop song. That's something I admire a lot."
Kiyomi: I like to listen to new music. Some of my real influences are Spoon, Kings Of Leon before they played to stadiums, when they were just raw rock and roll. I really love the jangly Southern rock sort of thing. Lucinda Williams, the way she's a poet with her words but brings it to the mainstream. To be able to talk about something completely off the wall but still make it a good pop song. That's something I admire a lot.
Corey: What are you listening to right now? And what was the last CD you bought?
Kiyomi: The last CD I bought was St. Vincent's last record. The production on that album was amazing. She has this crazy imagination. And what am I listening to right now?
Corey: Yeah.
Kiyomi: Whenever I say who I listen to, no one ever knows who I am talking about.
Corey: Try me.
Kiyomi: Okay, I'm listening to a lot of artists on this small indie label in Canada, Arts and Crafts. I'm really into Jason Collet, Amy Millan, and Stars. Hey Rosetta's last album was beautifully arranged and the instrumentation was great. It's crazy, the other day in rehearsal I saw Minus The Bear and The Ravonettes rehearsing. I was pretty amazed. You know we moved to New York City from Toronto, and to do it was to do it with open eyes and ears. It's been great so far.
Corey: Any musicians you want to collaborate with?
Kiyomi: I really like collaborating with different artists. When I am 65 years old, I am going to end up in a log cabin writing songs. For songwriting I want to work with Tim Armstrong from Rancid, that would be cool. Lucas from The Cliks is an old friend of mine, and we will probably eventually write a song together. It would be cool to sing with Brody from The Distillers. There are just so many options, it's hard to decide.
Corey: Which do you enjoy more, touring or recording a new album?
Kiyomi: I've been trying to figure that out the last couple of years. When recording, you get to learn a lot about your music, working with a producer is a great learning experience. You really learn a lot about yourself as an artist, and being in the studio is great because you get to record and see what is working and fix what isn't working. There is nothing better or more rewarding than playing a new song live for the first time and seeing the audience's reaction. It's hard to distinguish between the two because they are equally important to any artist or band.
Corey: What's in store for Hunter Valentine in 2010?

Kiyomi: To write and record as much as possible. Actually that is our New Year's resolution. We decided as a band to write and record as much as we possibly can. Also to start touring the US and get back to Canada. And a new record, demo the new record, then tour the EP, record more and tour. We have been really hard working the last five years and just want to continue to do that in the new year.