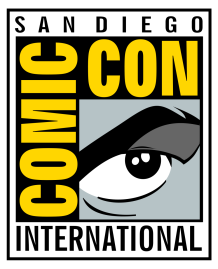 It's that time of year again: when pop culture makes the internet burst at the seams with news, when people strap on their finest spandex tights to parade around as their favorite characters. A time when it's really fucking cool to be a nerd.
It's San Diego Comic Con season!
And I am here! Literally writing this in a BSG Viper tank top and a My Little Pony crown after a long, satisfying day of 'conning. I'll be bringing you some of the coolest SDCC has to offer. While I won't be covering a lot of the big ticket Movie and TV panels for the mental and physical safety of myself and others (been there, done that and even though Sigourney Weaver was involved I barely made it out alive), I will be giving you coverage on some other things that should be very relevant to your interests. There will be swag! Comics! Art! More spandex and leather than the Folsom Street Fair! And lots of amazing women!
Wednesday night is the super special Preview Night. When you're a Preview Night badge holder you have two options: either you hit up Ballroom 20 for a string of never-before-seen TV pilots that will air in the fall, or hit up the massive floor. Because the pilot line-up was nothing special, I chose the floor. There I drooled over things I could never have, bought things I shouldn't have, and most importantly, took a lot of pretty pretty pictures for ya'll.
So are you ready?