Boyshorts are the most magical of all swimwear bottoms. Boyshorts can range from the barely there femme-cuts to the vintage style men's swim trunks and all the good stuff in between. It's like someone was looking around and realized there were all these amazing women for whom board shorts or bikini bottoms just weren't cutting it. Women who wanted a little added coverage or needed to fulfill a deep desire to dress like a 1920s male beach model. Who knows? Maybe some women just wanted to play beach volleyball without getting sand all up in their good bits.
If you've been hanging around for a while, you've probably already read the Autostraddle Swimsuit Edition. Still, it's a new year and a new summer and I thought you just might want to take a fresh look at some cute boyshorts. Be all in the moment with it. Besides, it's about halfway through the summer and there is a 50% chance your favorite boyshorts are lost/ripped/in your friend's car forever.
So here they are, in decreasing amount of coverage: my very favorites at this very moment.
When in doubt, you can never go wrong with Speedo. A little bit longer and skin tight, these are perfect if you plan on doing any actual beach sports or body surfing.
+

Neon is huge right now, and there's no reason your ass should get as much color as your cheeks and shoulders. Plus these are only $10!
+
I love these shorts because they have that faux layered look where you get all the hip layering street cred with none of the bulk.
+
If it isn't immediately clear to you, these boyshorts are designed to look like denim cut-offs. And isn't that just exactly what we all secretly want to be wearing to the beach?
+
These boyshorts adorably combine a vintage men's trunks style pipping with a more femme tie and pattern.
+
For a super short vintage trunk look, without femme ties or patterns, these boyshorts are a win. Plus the color combo is to die for.
+
If anyone tries to tell you American flag boyshorts aren't the coolest swimwear on the block you can just tell them "Screw you, that's unpatriotic." These boyshort are tight, short and pictured from the back for a reason.
+
Hugo Boss really knows how to make tight swimshorts for men, but these will look even better on you. I love the combination of the European masculine cut in the pink color.
+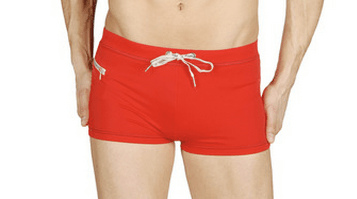 Diesel always comes through with amazing boyshorts in the form of their Aloha Swim Trunk. These particular ones have a wicked cool mini front zipper! Think of all the things you could store in that tiny pocket. Hair ties? Gum? Contact lens case?
+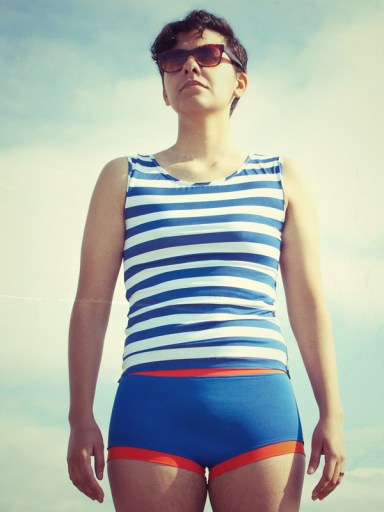 Brooklyn-based Marimacho is "classic fashion for the unconventionally masculine." Their 1920s superman swim brief is produced in a socially responsible factory in NYC with an eye towards fit. It's a queer girl's dream come true.
+
All the benefits of the Super Boi Swim Brief, but in aqua. Hawt.
+
If you're just looking for a great black shorty short boyshort to that goes with everything, Nike is the way to go. These shorts have the added benefit of athletic looking (but secretly slimming, if you're into that) white stripes.
+
Body Glove Time Warp Side Kick Bottom
Teeny tiny but athletically cut, Body Glove's boyshorts live up to their name. These are just perfect if you want shorts that are truly barely there.–get 'em
+
I'm not sure if these even qualify as boyshorts, but if those pockets and buttons aren't the damn cutest thing I've ever seen I don't know what is.