This clam pasta is the type of thing that's really easy to throw together from things you already have (at least, if you tend to keep cans of clams around) when you just don't feel like leaving the house to walk all the way to the grocery store to stand in front of the produce aisle contemplating peppers for ten minutes to forget what you came for to get what you came for to go home to make a grown-up meal. In other words, there is "effort," and then there is this pasta. It also has the benefit of being a source of iron if you have low iron, and being a source of saying "power of the clam" if you have high The Real L Word tolerance.
You will notice in the photos that I used neither spinach nor tomatoes, because I just didn't have them around. If this is the case for you, using a bucket of parsley can help compensate.
Clam Pasta
Ingredients
pasta, 1 box or however much you want, really
3 garlic cloves
1 1/2 tbsp. olive oil
chili flakes, a pinch or to taste or omit them entirely and use freshly ground black pepper
can of clams, opened but not drained
1/4 cup of white wine (or extra lemon)
1-2 tomatoes, chopped, or 1 container grape tomatoes, halved
a few handfuls of spinach
parsley, chopped
freshly squeezed lemon juice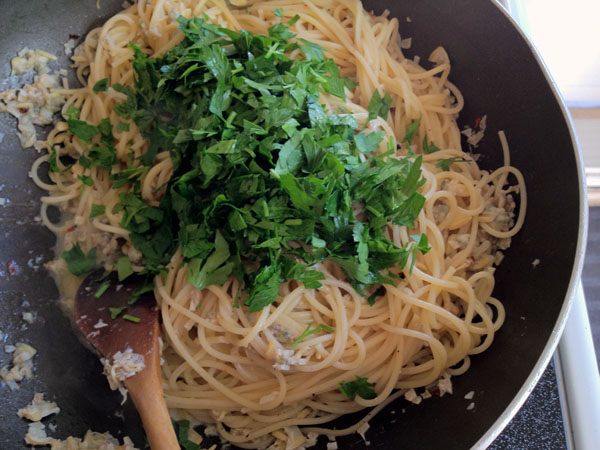 Directions
1. Bring a large pot of salted water to a roiling boil and cook your pasta according to the package directions, but slightly al dente. A few seconds before it's done, use a mug to scoop out some of the pasta water and set it aside. Drain everything else and rinse under cold water to stop the cooking, and set aside.
2. While the pasta cooks, chop up 2-3 garlic cloves and sauté them in a large pan with some olive oil until fragrant. Add some chili flakes.
3. Open the can of clams and pour the juice, but not the clams, into the pan. (A strainer or strategically placed fork helps with this, but be careful not to add them too early, because they will get gross. As you are draining the can, you may notice that they already seem sort of gross, but I promise they will be delicious.) Add about 1/4 cup of white wine. Let this all simmer until the liquid reduces, which will probably take between 10 and 25 minutes depending on your pan and stove top and the exact position of the moons of Saturn.
4. Add the clams and the tomatoes to the pan and let things simmer a little more, until the tomatoes are cooked. Drop in a few handfuls of spinach and stir.
5. Add the pasta to the pan and mix everything together. Add as much chopped parsley (the flat stuff, not the curly stuff) as you want, squeeze some lemon juice over everything (add more lemon juice if you didn't use wine), toss, and serve.