This week's episode of Pretty Little Liars featured actual conversations between lesbians and maybe just maybe even some flirting/reconciliation/future scissoring. I have this fantasy where I breeze through the not-gay parts first before I get to the shit we care about, but Pretty Little Liars has gotten so intertwined that I honestly can't address Emily without addressing everyone.
We open on the liars who just happen to be hanging outside Garret's house when Ms. Garret's Mom gets wheeled out on a gurney. Isn't it convenient that everyone on this show lives on the same cul de sac? There's nothing more sinister than a middle aged woman having health complications.
Just then, Emily spots A! Could A have possibly poisoned Ms. Garret's Mom? Perhaps A just paid a couple of Hot Cops to pose as paramedics.
Starsweep to early the following morning where Ezra "Funk Master" Fitz and Aria "I Can't Believe It's Not 18" Montgomery find themselves strolling along the piazza before the school bell rings. If memory serves I never had time to shower let alone take stroll before first period. Actually, I always showed up to first period late because it was Jazz Band and, you know.
Aria has taken it upon herself to break open her My Little Ponies piggy bank to nourish and feed her much much older boyfriend who probably has a savings account and maybe even a 401(k). Either way Fitz doesn't want Aria paying for stuff or worrying about his money. Then Lucas was banging on some door. Yawn.
Starsweep to Rosewood High where Paige is trying her best to sneak past Emily. She probably owes her a lot of money or something. Now the that love of her life is conveniently dead, Emily can holler at new girls without sullying her eternal love with Maya. So Emily's all "Holler holler holler holler holler" and Paige is all "I thought you were ignoring me."
Emily claims she wasn't ignoring Paige and just had a ton of exams and crying to do. For the record, every time someone has ever said they thought I was ignoring them, I was. Every time. Actually, "tons of exams" was usually the excuse I used. Especially when the last time I saw said individual they kissed me while I was in a big fight with my dead girlfriend. Just sayin'.
Regardless, Emily has tickets to the new Katy Perry movie which has inexplicably arrived in Rosewood a year early since it's only 2011 there. Obviously the writers went for product placement over something more realistic. Like tickets to see Dar Williams. Or women's soccer. Or A-Camp. Paige essentially agrees to give her old girlfriend another shot (giving new girlfriends everywhere a hernia) and hop aboard the Teenage Dream Firework Katy Perry Money Making Express.
Just then, Jenna appears all able to see and stuff. I guess Jenna broke her deal with the Liars where the Liars don't tell anyone Jenna can see and… um… Jenna continues to fake blind. Spencer shows up to try to sort out with Emily just what the fuck they think is going on. Actually that deal never made much sense and honestly I see no reason the Liars shouldn't be ecstatic that Jenna is out of the closet so to speak. Either way Jenna is celebrating her new found sight by throwing herself a coincidentally timed birthday party.
Just in time for Jenna's birthday party, Garret is being released from prison to see his ill mother. Huh. What amazing timing. He'll probably catch some cake in between crying beside his comatose mother. What do the Liars think of this?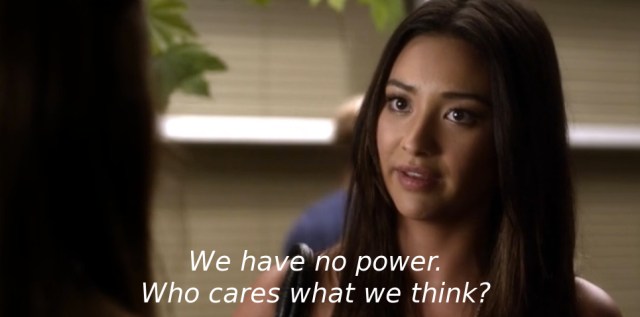 Starsweep to the Marin household where Ashley finds Hanna down in the dumps. I'm not sure there's anything I hate more than when girls on TV get all mopey because of break ups. I mean, high school relationships are special and important, but I feel like these extreme character reactions sort of over-validate them. Your spouse didn't leave you for your best friend, you broke up with your 17 year-old boyfriend of like nine months because you didn't want to tell him about the crazy axe murderer stalking you and your friends. Anyways Ashley is making Hanna do some volunteer work to gain perspective. Actually I have no idea why Ashley suggests Hanna volunteers, but that's the reason I would use.
After school, Emily is gay baristaing when she discovers that Jenna plans to hold Sightapalooza at her very own Life Cafe! What are the odds? And Emily's boss says she has to work the party. Which I think we can all agree is a totally dick move.
Jenna is gabbing along about her party with some middle-aged curly haired photographer who looks like a lesbian in a 90s sitcom. The photographer is named Laurel Tushman and I actually couldn't have even made that up.
Luckily, Emily overhears Tushie discussing how her former assistant used her darkroom to develop his own film and, since being fired, now wants his negatives back. Okay, so here are some things.
1. Who the hell is shooting party photography on film? That kind of work has basically all gone digital. Yes, some artists still shoot in film, but are we to assume Tushie/Lucas/A is some analog color medium format purist?
2. I seem to recall from his yearbook days that Lucas actually does shoot digital
3. I was under the impression that being an artist's assistant generally comes with the perk of being able to use their studio space and resources. That's a thing in pottery at least.
Either way Nate shows up to ask Emily about Garret's release because apparently A is the only person in Rosewood who knows how to utilize text messaging. They talk or something. I dunno. Then Nate flirts with Emily. Snore.
While Emily continues her life as a working girl (which by the way makes zero sense since she's also supposed to be catching up at school) Spencer and Aria debate whether it is more girlie to wear virginal white or head-to-toe pink.
Honestly their conversation wasn't really that relevant to anything I care about, but Spencer had some delicious moments. Basically Spencer points out that when Aria pays for things for her geriatric boyfriend he feels emasculated.
Spencer: Every time you baby squirrel Ezra you take away his nuts.
Starsweep to Emily's house where Paige is inexplicably in Emily's room without adult supervision. The sexual tension is so thick I can only assume it was made with cornstarch and water. I assume Paige is there to watch internet bootlegs of The L Word and then make out with some light petting. Emily is fumbling with a crisp white button-up and clip on tie as though we're supposed to believe that she didn't play in the middle school orchestra. Paige leans in to help Emily with her tie, and the two have a conversation that seems contrived exclusively for Tumblr.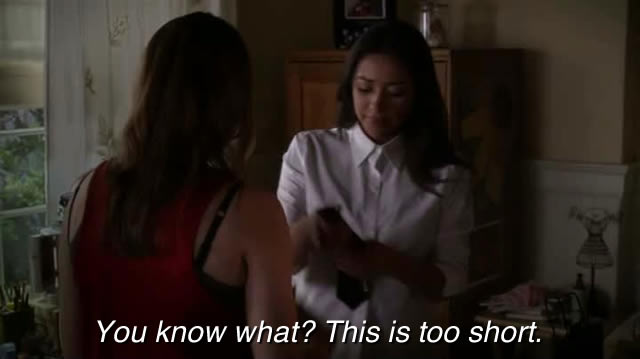 Giving up on the clip-on tie, Emily searches around for the tie she has "from an old Halloween costume" i.e. from the last time she did drag. Maybe Emily could find a tie if she were in the closet? See what I did there?
While Emily is in the closet, Paige goes a snoopin' through Emily's things and finds her flask. Luckily there's still some booze in it! Since all lesbians love to drink, Paige wants in on the boozefest. Paige explains to Emily that they should probably get hammered together and have sex because she saw that once on this serious documentary about lesbians called The Real L Word. Emily is like so over that and tells her to keep the flask and the booze. Hm. Wonder where this is going. Spoiler alert: obviously Paige is going to get hammered.
Starsweep to the night of Jenna's party where Hanna is forced to volunteer at the local clothing drive. Ashley Marin flirts a bunch with some old man (who she did not meet on OKCupid) while Hanna finds an old jacket of Emily's. This was pretty confusing until it was spelled out that Emily wore that jacket the night of Ali's grave digging. Thank God Hanna found it too because that was a cute fucking jacket.
Meanwhile, Spencer heads over to do some Scooby Dooing at the hospital. Can we talk about how much time has been spent at the hospital in this show recently? It's like Grey's Anatomy up in here. Spencer spies Garret putting a notes in a flower arrangement for his mother and convinces herself that it's a note in code for A/Melissa/Jenna/Mitt Romney.
Either way Spencer runs in to Wilden who we still don't care about. Honestly he adds nothing to the plot line. Like, we know the police might end up pinning shit on the Liars, this horseface doesn't need to show up every three episodes to remind us.
Wilden scares Spencer off enough that she goes home to make out with Toby. Their make-out scene adds nothing (unless an unplanned pregnancy is in Spencer's future) and I honestly can't even look at pictures of Toby anymore.
Meanwhile, Aria and Fitz head off to Jenna's party like some age appropriate couple. Probably stirred by Aria's earlier attempt at charity, Ezra has bought Aria a really cool old camera. Like actually, that's a nice gift. That'll get you in to a girl's pants. Fitz doesn't really want to go to the party because he's 100 years old and just wants to eat some dinner and go home and fuck like normal adults, but Aria secretly wants to scope the photographer scene.
The lovebirds scurry off to the party where whole bunch of stuff happens. Mainly, Ezra really wants to leave so he can eventually tell Aria about his new job, but Aria spills a drink on Tushie's equipment to create a situation where she can check out Lucas's stuff in the photo studio. But that's not what's important here. What's important is that this is a fucking crazy hat party.
Yes. A hat party.
And I want to make it clear that at no point does anyone ever say "This is a hat party, right?" Instead, everyone just acts like this is a totally normal party where everyone just happens to be wearing stupid hats.
I'm sorry, but do you see that silly little hat Jenna is wearing? I mean, there are a lot of stupid little hats to choose from. I think she could have done better. Like with a propeller hat!


Or a stewardess hat!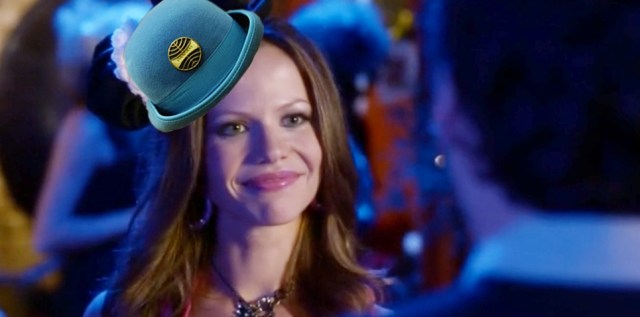 Or a fez! (Which Riese called "those tiny hats monkeys wear.")

Sans a hat, Emily is passing appetizers as an excuse for us to see how amazing she looks in a tie. She looks just like she did in this dream I had once involving the two of us and a soft pretzel at J. Crew. Paige and Nate both, of course, show up to battle it out for Emily's honor.
Paige is super cute and flirty with Emily in a little gay vest hat combo.
Also, and I'm just throwing this out there. That hat is totally from Lindsey Shaw's personal collection from back when she was on abcFamily's vastly underrated 10 Things I Hate About You.
Of course, as we've already discussed, the only thing lesbians like better than vests and slouchy hats is drinking copious amounts of alcohol.
So Paige gets her private party on with Emily's flask booze. Meanwhile Nate is awful and just awkwardly hits on Emily. At least Emily doesn't seem to give a shit about him so we don't have to slog through that shit.
Nate, of course makes Paige jealous because alcoholic lesbians are notoriously jealous of straight men. Paige's response is to get slam hammered.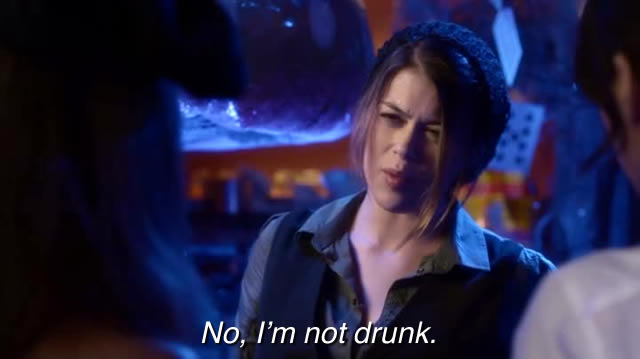 She confronts Emily in the kitchen and then sticks her fingers in every single cupcake. It can safely be called the best part of the episode and, I'm willing to say, the best part of the season thus far.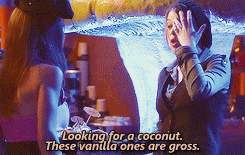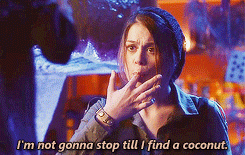 Jenna is, of course, horrified, but I think Paige is easily the life of this boring crazy hat party. Emily comes to Paige's rescue because that's what you do when your sort of ex-girlfriend slash sort of friend slash the only other lesbian you know is drunk at a party.
In her drunken state Paige faceplants and hits her head. While it was just five episodes ago that Emily was making a drunken ass of herself, she still manages to keep it together, help Paige up and get her to the hospital.
SO Emily and Nate bring Paige to the hospital. That means Hanna can come visit Emily at the hospital and confirm that she found her jacket to confirm someone took it off Emily the night of the grave digging. Doesn't much seem like it would have been Jenna because she would have just given it back when she got busted.
Okay that's not actually that important but I felt that we all needed to feel secure about that jacket getting back to its rightful owner. More importantly, Spencer shows up to try to get into Garret's mom's room again. When Nate sees Garret being brought down through the hospital he goes ballistic because Nate is clearly unhinged. For the record, this also seems a bit racist on the part of the show. Just sayin'.
This distracts the police enough that Spencer can slip upstairs to Garret's moms room unnoticed by the police or Wilden. Thus Spencer is able to discover a note Garret left not in the flowers (those had a very touching card) but rather sneakily hidden in his mom's ID bracelet (talk about insensitive).
While Spencer sneaks about in Mama Garret's room, Aria drags Ezra over to Tushie's photo studio. Aria manages to grab Lucas's film, but Lucas stops her at the door. Lucas attempts to do the scary man in your face intimidation thing, but the second Ezra gets out of the car he runs away like a fifth grader who just wet himself.
Starsweep to Emily who is still waiting at the hospital for Paige to get cleaned up and sent out. The doctor (probably Wren) stitches up Paige's head and also apparently transplanted in a magical liver that fast tracked all the booze out of her system. The two seem okay even though Paige has just made a fecking ass of herself. 
THESE ARE THE SEX EYES YOU GIVE FOR HAVING SEX
Despite being a total mess herself, Emily seems to genuinely want to look out for Paige. I feel like these are the part of Pretty Little Liars I wait for. Yeah, they're not sucking face and that's a bummer, but in other ways this is even better. We don't get this kind of caring between gay women on TV very often. We get unsubstantiated declarations of undying love and "OMG my mom doesn't like you." We don't get a lot of staying all night at the hospital. Even though Emily and Paige's relationship has been largely friendship, at least it seems to be grounded in a common sense and caring. It's not just girls kissing, it's two gay young women watching each other's backs. I mean, since Paige stopped trying to drown Emily.
Paige: You didn't have to stay
Emily: No. I wanted to.
Paige reveals they did a tox screen on her and found traces of a totally made up sleeping pilled called Millizopam. We're going to call this getting dosed with M Bombs. Where could these drugs have come from? Why Emily's flask of course!
Wanna guess what Aria finds in Lucas's film? You guessed it. M Bombs.
Bam. I told you it was all connected. Tune in next week when Emily's social life will go unaddressed as Emily is used exclusively for "that night" flashbacks, Aria and Ezra will work on their star crossed romance, Spencer will hunt for clues and Hanna will mope about Caleb. I assume.