Welcome to Movie Night! Where we choose a movie based on any number of variables and feelings, create a themed menu and some decoration ideas to match, then spend the night eating these foods and watching these movies! It's an uncomplicated but promising plan.
Tonight's movie is a perfect selection for a Valentine's Day date with your someone special! Instead of heading out to a crowded, expensive restaurant for a romantic dinner, stay home and cook something delicious for your babe. Alternatively, turn this into a dinner party for friends. Moulin Rouge! is a musical extravaganza love story that will make you laugh and sing.
---
The Movie
Moulin Rouge!
Synopsis (from IMBD):
The year is 1899, and Christian, a young English writer, has come to Paris to follow the Bohemian revolution. And nowhere is the thrill of the underworld more alive than at the Moulin Rouge, a night club where the rich and poor men alike come to be entertained by the dancers, but things take a wicked turn for Christian as he starts a deadly love affair with the star courtesan of the club, Satine. But her affections are also coveted by the club's patron: the Duke. A dangerous love triangle ensues as Satine and Christian attempt to fight all odds to stay together but a force that not even love can conquer is taking its toll on Satine.
I watched Moulin Rouge! for the first time when I was 16. I was enchanted by the music, the camp, the costumes but most of all its message. As a nerdy teenager who aspired to be a writer one day, I definitely believed in the bohemian revolution. Like Christian and his friends, I believed in truth, beauty, freedom and most of all — love. Time has passed and the film doesn't quite resonate with me as much as it did that first time I watched it, but I still believe in the revolution! I think that's why I still love it.
"The greatest thing you'll ever learn is just to love and be loved in return."
Moulin Rouge! is such a fun movie, and it's greatly fueled by the pastiched music. The soundtrack is a hodgepodge of pop hits and pop culture references smashed together to create the perfect, hybrid soundtrack. My favorites are "Sparkling Diamonds" (riffing off of Marilyn's Monroe's "Diamonds are a girl's best friend" and Madonna's "Material Girl") and "Your Song" (a cover of Elton John's same-titled song). The music, accompanied by the hilarious lines and eccentric costumes, makes watching this movie such a colorful experience. I mean, this is a Baz Luhrmann film so at one point your laughing and having a really great time and then you stop because it's not all fun and games anymore. What I'm saying is there's drama and tragedy too.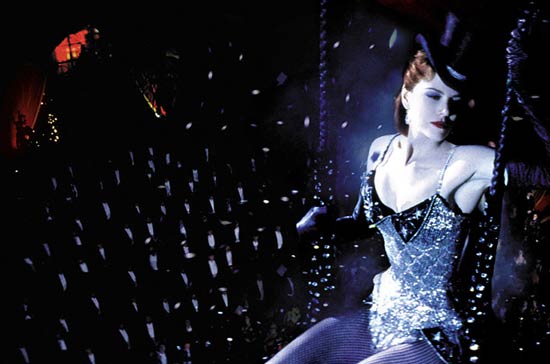 Moulin Rouge! has all the greatest elements in a movie, perfect to enjoy with your date or friends. I hope you like it!
Below are some suggestions for a Spectacular! Spectacular! night.
---
 Setting the Mood
Here are some ideas to theme up your evening.
+ Before or after dinner, have some drinks! Satine offers Christian champagne at the "poetry reading" so sip on some bubbly to start off. If you really want to party like a bohemian, have some absinthe to truly appreciate the Green Fairy.
+ Dress up like your favorite characters! If you want to make this a fancy affair, wear a sultry, red dress and jewels like Satine or a tux and top hat like Christian. If you want to go a less formal route and a more playful route, dress like a can-can girl or one of the bohemians.
+ I think it's imperative to listen to "Lady Marmalade" while you cook or get ready. You know, for inspiration.
---
The Menu
+(Narcoleptic Argentinean) Grilled Steak with Chimichurri Sauce
+ Green (Fairy) Bean and Tomato Salad
+(Sparkling Diamonds) Angel Food Cake with Mixed-Berry Compote
Grilled Skirt Steak with Chimichurri Sauce
Ingredients for Chimichurri Marinade and Sauce:
1/2 cup red wine vinegar
1 teaspoon salt
3-4 garlic cloves, minced
1 whole shallot, minced
1-2 teaspoons crushed red pepper flakes
2 cups minced cilantro
1 cup minced parsley
1/3 cup finely chopped oregano
3/4 cup extra virgin olive oil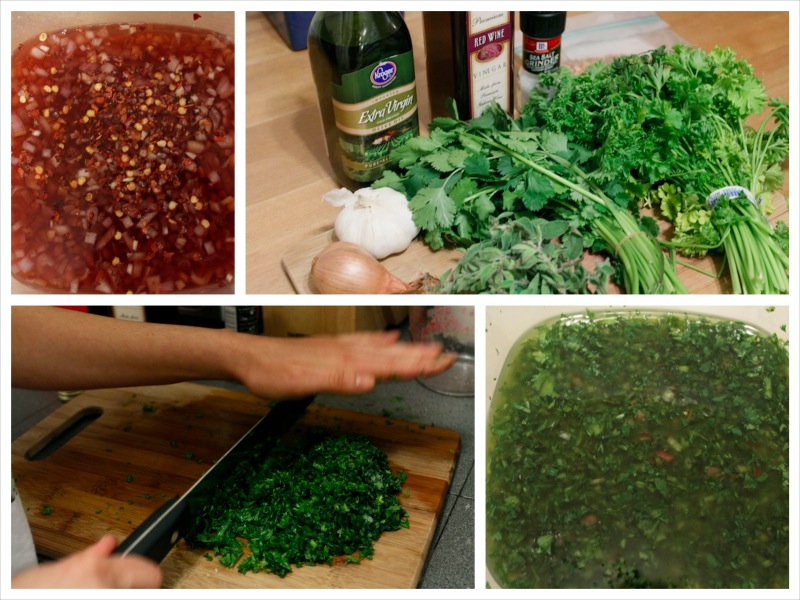 Honestly, the hardest part of this whole recipe was chopping everything in the chimichurri sauce, which wasn't really hard, just tedious. Alternatively, you could probably put all of this in a food processor and it would turn out the same. (I have a shitty blender, so I didn't try this!) Let's get started! After you mince your garlic and shallot put it in a medium container and add the red wine vinegar, red pepper flakes and salt. Let it stand for 10 minutes. While you're waiting, finely chop the parsley, cilantro and oregno required and stir it into the mixture already in the bowl. Then whisk in the oil.
So have you noticed that this is a ton of chimichurri? It's going to serve as a marinade and sauce. Save about half a cup of the sauce to eat with your finished product. Use the rest as a marinade for your steak. I totally forgot to plan ahead and was short on time so I missed this step. Your steak will probably taste so much better if you do! I advise you go forth and marinade your steak for at least ~3 hours. 
Once your steak is marinaded, it's time to add it to the grill! I used a small George Foreman grill but if you don't have any kind of grill, I think you could probably put this in the oven. My grill was on medium-high heat and I let it grill for about 5 minutes each side.
Green Bean and Tomato Side
Ingredients for this side:
fistfuls of green beans
1/2 a box of grape tomatoes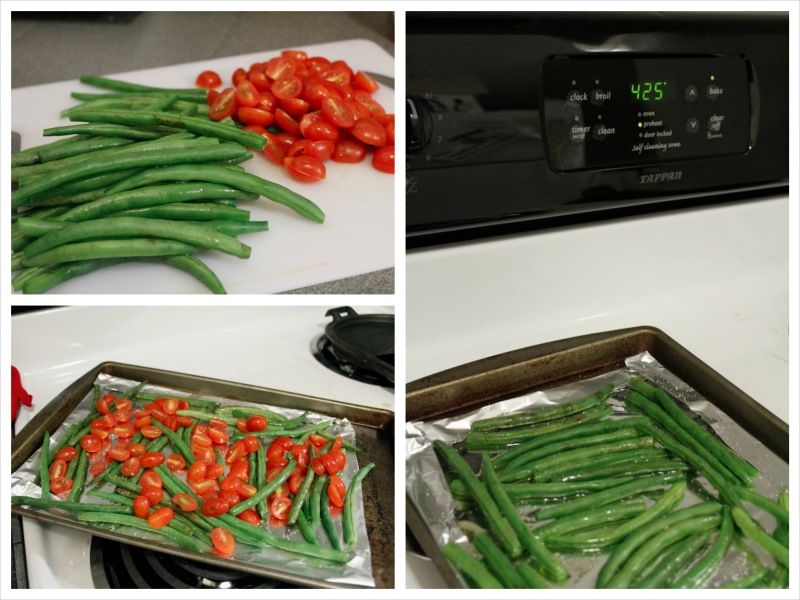 This is a super simple side, yet so delicious. Preheat your oven to 425 degrees. Cut the ends of the green beans and slice the tomatoes in half. Lay your green beans (only the green beans!) on a baking sheet, drizzle with olive oil and sprinkle some salt. Put them in the oven for about 5 minutes. Take them out and add the tomatoes. Put them back in the oven for another 5 minutes.
Angel Food Cake with Mixed-Berry Compote
Ingredients for a Sparkling Dessert:
Angel Food Cake (store bought or homemade, whatevs)
Berries of your choice! (fresh or frozen, doesn't matter)
Your choice of berry jam or preservatives
Whipped Topping
*~*Sparkling*~* Sprinkles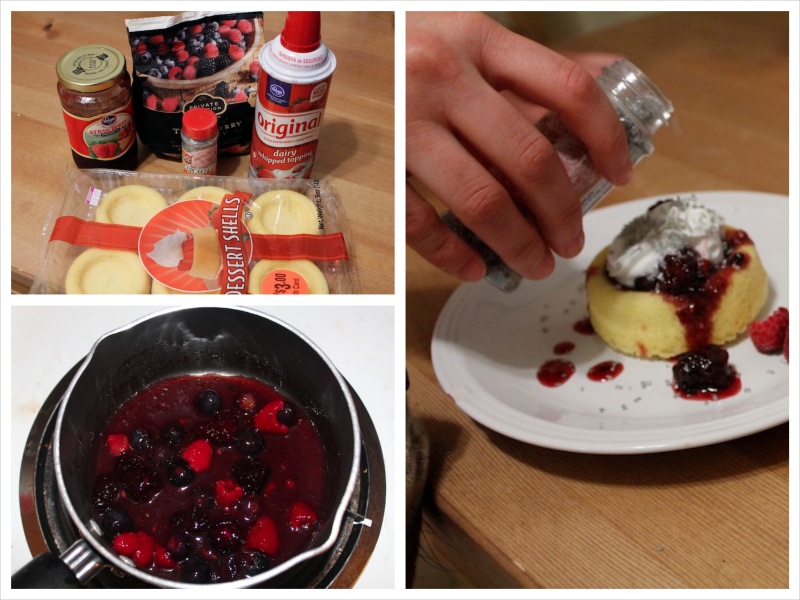 This dessert is so simple, yet so delicious! My sister first made this dessert for me a few years ago and it's always a nice treat. I don't know exact measurements so just eyeball everything. First, add several spoonfuls of jam or preservatives, along with a little bit of water in a small saucepan over medium heat. Don't add too much water, you don't want your sauce to be watery. Stir in your berries. Stir your compote, until it looks like a good consistency and is warm. Warm up your angel food cake for about 10-15 seconds in your microwave. Add your compote right on top of the cake. Top with whipped topping and don't hold back on all the shimmering, sparkling sprinkles!
---
What's your favorite song on the Moulin Rouge! soundtrack? What's your favorite scene or quote from the movie? Do you even like this movie? I know it's like you either like it or you don't, so let me know in the comments!