A man kissed a man this week! Not really a big deal right? And possibly even less of a deal when you consider that those dudes are two dimensional characters and they only exist in ink. But Archie Comics debuted its first gay kiss in 71 years for the media, loyal fans and –most importantly– the next generation to see.
In Kevin Keller #10, Kevin sees Devon off at the Chock'lit Shoppe with a quick peck on the lips. The kiss in itself is nothing big, nothing salacious. Just a simple doodle of a goodbye between one of the main characters and their boyfriend. But while Betty, Veronica, Cheryl, Midge, Ethel and other female characters got to pucker up as soon as their forms graced the page, Kevin wasn't as lucky when it came to going all the way in PG land. He had to wait three years.
Even though Kevin's character has evolved as a teenager in Riverdale, not much has been done to truly show what gay means. He was introduced in Veronica #202 as the new kid in town that Veronica would never get. That particular storyline followed Veronica and her own hangups while he just kind of dropped into conversation that the real reason she'd never win had nothing to do with her, but was due to the fact he was gay.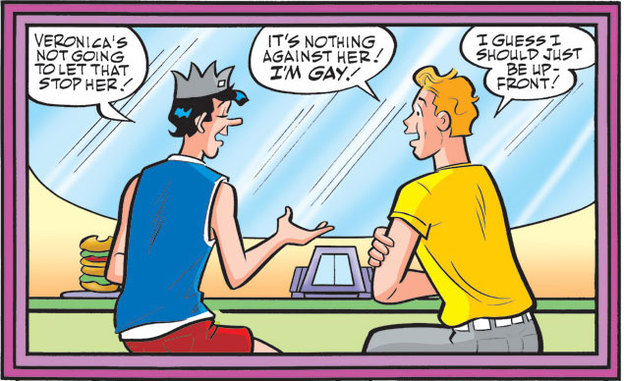 He bonds with the woman-hating Jughead over his love of food and confides shame-free that Veronica doesn't have a chance with him. Which is how coming out should be right? Veronica writer Dan Parent wanted Kevin's coming out to happen without any particular flash.
He's just introduced here, and the angle is more on Veronica. She's the one who has the hots for the character. So we learn a few things about him, but he's just like your typical teenager moving into a new town and trying to fit in. That's really the gist of the character. They discover he's gay, and they accept it. And I'm not saying that's the way it always happens everywhere across the country, but in Riverdale, the Archie characters accept him as another friend. That's where we're going with this. Riverdale is a tolerant town and everybody is welcome in Riverdale.
Admittedly Archie stories and characters aren't without their faults. Even though The Gang tries to represent a variety of teenagers growing up in middle class America, they look more like stereotypes than actual examples of diversity. For every dumb jock, there's an introverted nerd. For every self-reliant booksmart girl, there's a spoiled brat that'd rather be shopping with Daddy's Visa. But while Kevin's accepted into the fold as just another dude instead of The Token Gay, his story arcs fall flat compared to the other characters. Because while he gets his own series and eventually a husband, his life events are described in a notably PG way.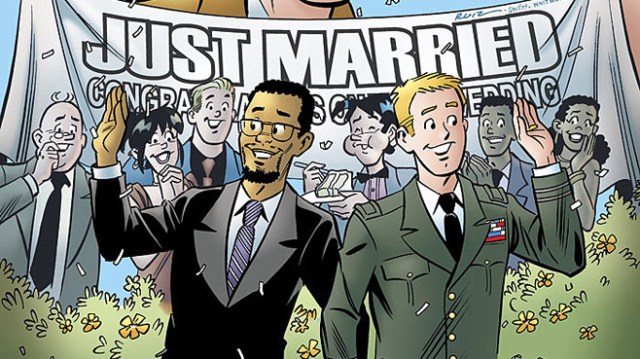 Archie Comics have always centered around the trials and tribulations of growing up as a teen in the middle of America. Part of the series' charm and staying power comes from focusing on somewhat relatable storylines involving teenage interactions with parents, teachers and peers. So sometimes your Jalopy breaks down and you can't make it to your gig on a long twisted mountain road or you fight with your best friend when she buys the same outfit or you learn to tune up your car because your allowance doesn't cover repairs. But even though they were just two dimensional images aimed at the teen and preteen set, they still instilled lessons on friendship and morality in a classroom that only exists alone beneath your covers lit by a flashlight. It's easy to dismiss Archie Comics as supermarket fluff, but they still provided some type of role models.
But for every comic giving a nod to the difficulties of high school math, a considerable amount of page space was dedicated to the love triangles, squares, pentagons and any other number of romantic polygons that unfolded between the characters. While publisher and co-CEO Jon Goldwater notes that "there aren't that many on-panel kisses in the pages of Archie," it doesn't diminish the fact that the past 71 years have been full of lipstick marks, tousled hairstyles and printed puckers that — while not necessarily sexualizing the teens —at least showed they weren't asexual. Archie and Reggie always had a chance when it came to the ladies, but those hand drawn panels showed that everyone else still gets a shot at love.
The guy that prefers burgers to gals still gets a kiss.
The guy that prefers schoolwork to gals still gets a kiss.
The guy that is an old jerk that doesn't understand The Gang and rains on everyone's parade in the name of education still gets a kiss.
So it's only fitting that the guy that prefers guys to gals needs to get a kiss too.
Kevin's previous stories have provided an accessible role model for a queer audience by looking at the hardships queer kids face. He taught compassion and tolerance by dealing with teenage bullying. He taught straight kids that might never have known their peers are gay, that coming out isn't a big deal or a dude marrying another dude is just as likely as Archie choosing Veronica or Betty for the rest of his life. When homosexuality is held up as a thing that'll pervert the next generation of innocent children, Kevin's a great way to show kids that gay people are just like us. But by shying away from an actual smooch, the writers still showed that he was different compared to the other boy-crazy and girl-crazy characters. Sooner or later, kids do need to realize that non-heterosexuality involves a bit more than living with your best friend forever.
This low-key kiss is just one of the last steps in showing kids — both straight or not — that same-sex couples aren't a big deal. There's intimacy involved, but it's nothing to feel ashamed about. While the initial coming out story and future gay marriage showed the happier side of things, this particular issue shows spotlights negative reaction some of us face on a regular basis.  Instead of being all sparkles and rainbows when Kevin and Devon finally smooch, one of Riverdale's moms freaks the fuck out, citing her child as the cause for concern.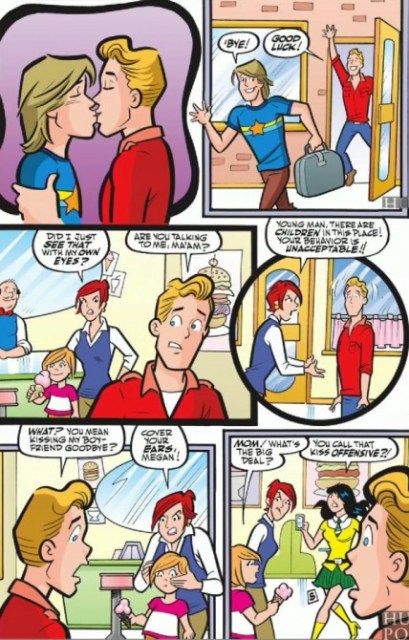 But while some kids reading Archie Comics might have their own reservations, the writers want to show, without a doubt, that bigotry is wrong. In a nod to One Million Mom's overreaction to Kevin's marriage this mother goes on to form 12 Million Moms, with Ronnie recording her bigoted tirade. Reflecting the other ways the strip has modernized, it goes viral on Riverdale's version of Youtube, giving each character the opportunity to question how much PDA is too much, and what is appropriate for children.
But while I don't necessarily want to give the rest of the storyline away, plenty of characters support the couple, including the 12 Million Mom's founder's daughter that protested in the beginning. Because much like you could have already guessed, children and Riverdale at large aren't going to be so confused by seeing couples embrace.
For the previous milestones, more outrage and shock has come from the media than from within the pages itself. The previous controversial comics saw calls for boycotts by the detractors followed by entire issues being sold out by their supporters. Parent wanted to ensure Kevin was accepted when they introduced him, even before they gave him this final nudge to humanize him. "We were aware we were doing something that could be controversial even though it shouldn't be controversial." But again, Goldwater emphasizes that in the Riverdale realm, this isn't a big deal. "Just like when Kevin first told Jughead he was gay, it was in the natural course of conversation. We are creating this in the same way. It's just part of the story." Which really is really what the real life OMM should remember before they try to make The Kiss into a big deal.