WEST HOLLYWOOD:

Republicans finally gave their money to the homosexuals, and no one else finds this as rad as we do, especially the other Republicans. Not only did the RNC finally loosen up and drop nearly two grand at a gayborhood club which aims to emulate a Stanley Kubrick (not Nomi Malone!) environment and dresses its ladies like Natalie Portman's character in Closer –– but the GOP'ers in question also reported liquor as "office supplies" to make it a reimbursable expense. That's really funny, right? We thought it was really funny! Also… vodka is an office expense, right? I mean shit gets stressful sometimes! Oh hey what about the 3 bajillion dollars they're spending in Iraq this week anyone? ANYONE? Don't they know no one makes nightclubs for lesbians anymore, they think we prefer the couch.
Vouyer opened in West Hollywood, California, hometown of Shane & Alice, in October 2009. Yes, that "lesbian S&M club" that the Republicans allegedly spent their money at is in West Hollywood. Guess what else is in West Hollywood right now? Me! Therefore when Keith Olberman brought Michael Musto into the studio tonight and asked, "weren't there other places in West Hollywood that would have been more offensive to republican donors then [vouyer]?" my friend turned the volume right up! Then Musto claimed that The Abbey is estrogen-depleted, which is very not true. But seriously, it's not a lesbian club, why do people want everything to be a lesbian.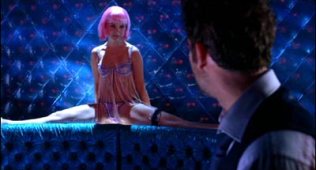 Vouyer wanted to create, "an intimate lounge that will draw guests into a provocative enclave where art, festivities, and entertainment converge in a sophisticated setting unlike any other. VOYEUR brings to mind an elite, private gathering place of days past, where an exclusive mix of clientele will enjoy premium cocktails, food and revelry set against a stunning backdrop featuring live art installations, risqué photography and film elements, with impromptu performances." Since much of the unease prompted by words like "sex/S&M/  club" is owed to the ambiguous moral codes we associate with such places specifically, the sensationalism of the lesbian s&m headline seems particularly wrongheaded here. Read the write-up in the Los Angeles Times and their press release if you wanna.
Actually Us Weekly held a Hot Hollywood event there, which almost makes it uncool again. Vouyer has been patronized by persons including Olivia Wilde, Adam Lambert, Olivia Munn, Lindsay Lohan and Heidi Klum.
Slate points out:
…the "sex club" angle is overstated. Voyeur appears to be less of a strip club (let alone sex club) than a risqué celebrity hangout. The dancers are "scantily clad" but there's no nudity. Granted, it's not the ideal choice for an RNC after-party (or a DNC after-party, for that matter). But it's hard to imagine anyone between 21 and 45—the age range of the Young Eagles—being deeply offended by the spectacles on display.
So there you go. The things you find out about your neighborhood when Olberman is on.
YWCA:
YWCA Supports Proposed Anti-Discrimination Legislation – "The YWCA of Missoula's Caitlin Copple said the protections in the proposed law fit with the YWCA's mission to empower women and promote peace, justice, freedom and dignity 'for all.'" (@missoulian)
SOFT DRINKS:
Anti-Gay PFOX Accuses Pepsi of Pushing The "Gay Agenda" (@wnd)
TRACK:
Caster Semenya Still Hasn't Heard Back About Test Results – "Sure, the results were allegedly leaked to the press several months ago, but Semenya says she hasn't heard a word from her inquisitors and her reps haven't been able to get a hold of officials. So, she broke her silence Tuesday to essentially say: Screw it, I'm gonna start competing anyway. " (@salon)
LESBIAN TEACHERS:
Oh my Gawd, remember these hot teachers who got in trouble for making out in the classroom?!! Well they had their day in court: "Two female teachers from James Madison High School in Brooklyn are being charged with misconduct after allegedly being caught naked together in a classroom." (@ktla)
CONSTANCE CAN GO TO PROM:
An attorney has ruled that the private prom has to let Constance take her girlfriend. Does anyone else feel bad? Like, the point of having a girlfriend when prom happens is to not have to jump through so many hoops to bring someone to the dance. Isn't that why in the movies people are always like, let's stay together until prom or whatever? (@ap)
COLLEGE:
Sarah Lawrence tops a list of the most expensive colleges in the world, which is exactly why Riese stopped going there. (@huffpo)
PARENTING:
Transgender parents can give us a unique perspective on how gender might — or rather might not — affect parenting: At the end of the day, the case of the transsexual parent tells us, perhaps even more clearly than that of the gay or lesbian parent, that we have to as a legal and policy matter pay considerably less attention to the gender of parents. Indeed, the goal, it seems to me, should be to make the status of being a mother or a father legally irrelevant. We need, in other words, to think of "mother" and "father" as verbs rather than as nouns. (@huffpo)
RACISM IN THE WOMEN'S MOVEMENT:
Newsweek Takes On Feminism On Behalf of Young White Girls Everywhere: "After reading Raina Kelly's response, I was ready to fight." (@racialicious)