Welcome to What I Wore, a series where I explore fashion as shelter in traditionally heteronormative and patriarchal spaces.
---
The Steakhouse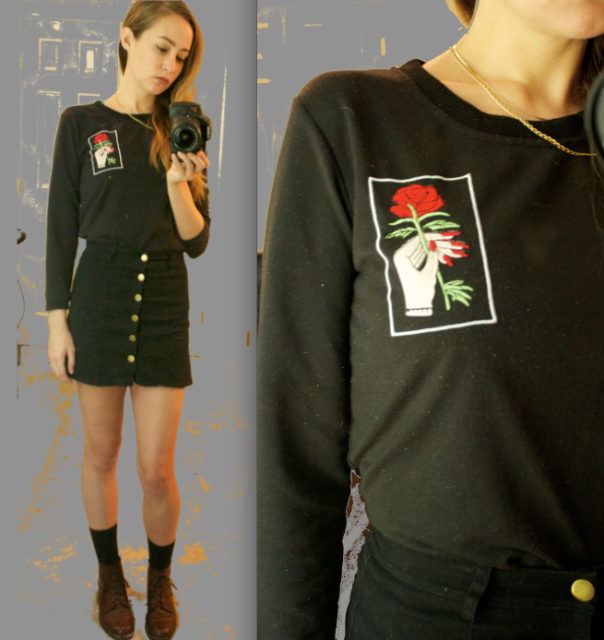 I read something about the French Revolution triggering modern day restaurants and it somehow blew my mind that restaurants haven't always existed. It shocked me that it shocked me because what did I think — that since the beginning of time people have had the liberty to spend hours a day in an endless cycle of asking each other where they should go eat? Then it hit me how weird the concept of going to a restaurant is. Imagine living with the brain equivalent of a golden retriever that's just smoked weed for the first time.
But it's true – leaving the comfort of your own home to sit in a room with hundreds of other people to engage in a pretty intimate and vulnerable human behavior is weird! My big baby body is hungry and I need to deliver it food at once! And now here is how I chew and swallow. This is all I can think about now whenever I go out to eat, which just means I'm hyper aware of the people around me.
I knew I'd be extra aware at a steakhouse in an old barn with an attached cigar room given the kind of clientele a place like that usually attracts, and so even though I would be with lovely company, I needed an outfit for the peripherals. I went with a shirt that looks pretty but has a threatening undercurrent. To follow this theme I paired it with a skirt and a zero nonsense boot/sock combo.
Besides a greeter who bowed a lot, I registered zero men!
Success rate: 5/5
---
The Post Office
I had a thought inspired by The Handmaid's Tale and that thought was: what if the only currency women had were stamps? (I'm sorry for another bizarre lead up to an outfit.) It was something I settled on after a stream of hypotheticals that went from a fascist regime bent on controlling women, to the denial of access to information or instant lines of communication, to stamps being the dog scraps given to women as a facade of autonomy. "See, you can still send each other letters, we are not complete monsters and, in fact, want you to thrive." And so then stamps would become coveted items. The post office would serve as a polarizing symbol of liberation and oppression.
Just in case this is already under way, I kept this in mind for a recent trip to the post office. In a display of dominance, I dressed as the show's blue oppressors and took it a step further by disgracing their uniform. Hiked the hemline, darkened the palette, bared the shoulders, and added some red to let them know I knew, you know?
I'm not going to say that I was dead TF on with this theory, but the postal worker was listening to gospel music and didn't ask me if I wanted insurance for either of my packages, as if she knew it didn't matter whether I had it or not because they wouldn't be getting sent.
Success rate: 1/5
---
The Bank
If capitalism is the patriarchy's errand-boy, banks are the patriarchy's sign-spinners. Come give us your money, so they can distribute it as they see fit. But, even though the tone of this edition of What I Wore may suggest otherwise, I'm not at a point mentally where I'm ready to bury my money in various locations throughout the U.S, and so I continue to use them.
That doesn't mean I have to respect them, and so for a recent trip to the bank I dressed like the best to ever do it: an angsty teen. I went with a black and red (the rudest color combination) striped shirt and ripped jeans being held up by a jacket that couldn't really give a shit.
No one asked me if I wanted to do direct deposits or told me about a new credit card that I'd been approved for, but I did have a pleasant interaction with the teller.
Success rate: 3/5