27-year old New Yorker Gabrielle Rivera made "Spanish Girls are Beautiful" because none of the lesbian media she saw looked like the queer girls she knew. You probably relate to that feeling, yes? The 20-minute short, which is really more of a TV pilot, caught our eye straight away for its rare authenticity. Then we emailed, and then we all had a beer, and now we're all in collective common-life-goals love with Gaby. We hope this is the first of many times you'll see her on Autostraddle! Check out her story in the Lambda Award-nominated Tales of a Portland Queer, her interview with My Latino Voice and follow her on twitter.

+
My twenty-minute short film "Spanish Girls are Beautiful" is a glimpse into a youthful Latina and Caucasian urban lesbian lifestyle. Three of the main characters are what you might label as either "butch" or "AG." Although casting Easy, Taylor and Casey wasn't terribly difficult, directing the actresses into portraying believable butch/AG characters was an entirely different situation.
I started sending out casting notices via Facebook, MySpace, Craigslist and almost every other social networking site out there, figuring the lesbians would come out in droves. I daydreamed about lines of queer women linking around our casting space psyched about auditioning for a film about young, queer, badass chicks. That DID NOT happen at all. The majority of women who auditioned were young straight women who'd let me and my producer, John Accardo, know that they were "totally cool with the gay thing."
We found three talented and uniquely feminine women to portray Easy, Taylor and Casey. I'd only wanted queer women involved in the project, especially in the more masculine roles, so casting three straight girls was a bit of a compromise for me. However, we needed to push forward within a certain shooting timeline, so I accepted the final casting decisions. I was ready to test my limits as a director.
Easy
+
Nikolitsa Boutieros, the actress who played Easy, demanded all of my attention the second she walked into the casting room.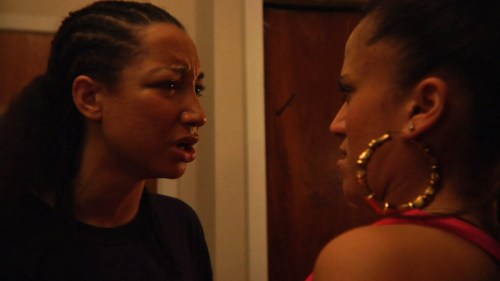 Nikolitsa strolled in with Slash hair and a David Bowie demeanor, wearing tight, studded black jeans, a black button down shirt and shit-kicker, steel-toed boots. Nikolitsa's intensity secured the role, but I knew that transforming her into an urban Latina AG lesbian was going to take some work. For those of you unfamiliar with the term AG, here is a brief definition of my own:
"An aggressive or more masculine acting female who adopts a style and way of dress associated with urban culture and hip hop music. AGs are usually also women of color."
(Again, this is a definition I've come to from conversations with friends and people who label themselves as AGs. If you find fault with it, please feel free to politely add to my definition.)
She stood like a rock star, and I needed her to lean like a G. I wasn't completely confident that I could teach her to be an AG, but I wasn't going to compromise Easy's portrayal.
"Yes, everyone's an individual but there's a style and attitude that's associated with AGs and she needed to capture it."
We put the dialogue aside and worked on her body language. I gave her some homework, which was to go to Fordham Road in the Bronx and observe AGs in the hood with their girls. I told her to watch how they walked and moved through the world dressed in urban gear: do-rags, fitteds, fresh kicks, hair done in rows etc. Yes, everyone's an individual but there's a style and attitude that's associated with AGs and she needed to capture it.
Nikolitsa even used her brother as a research aid. Nikolitsa told me, "I naturally channeled my brother…he is very much like Easy's character." From Fordham Road to familial interactions, Nikolitsa busted her ass to get into character.
We also slowed down her walk and pushed her shoulders out to give off a "don't fuck with me" attitude. Instead of pointing at someone for emphasis, I opened up her hands and lowered them to create a barrier around her personal space that would dare anyone to enter it. At the same time, I needed her to be gentle with her on screen love the way that AGs are gentle with their ladies. It's a tough but sweet, protective, thoughtful kind of love.
However, Easy still had more jagged edges than tender spots. Nikolitsa felt that playing Easy was "fun but also sad at the same time, because the soft and feminine side seemed to be imprisoned by the overriding side of 'thugging.'" We were still able to find a middle ground, and by the time we rolled, she had the swagger, ferocity and gentleness of any AG from the hood.
---
+
Taylor
+
Maria Dalbotten played Taylor, my sweet, soft butch doe-eyed loverboi main character. She walked into our casting space in a pretty skirt, light blue tank top and silver sandals with painted toenails. She was fucking adorable, and again, she nailed that dialogue. I knew she was Taylor from the second she opened her mouth. But there was not a trace of tomboy in her.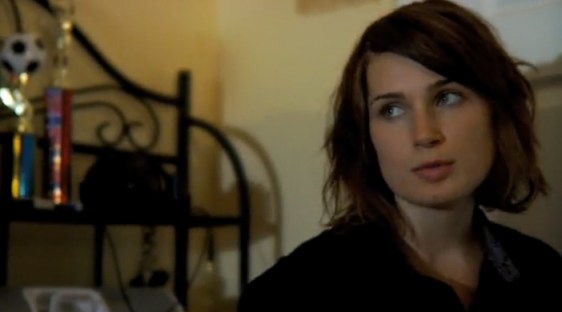 Our first rehearsal was almost disastrous. She wore a pretty skirt, crossed her legs (again) and began her lines. It was completely wrong.
I switched her skirt for a pair of black cargo shorts. Gone was the tank top; a sick graphic tee took its place. We ditched her sandals and threw on a pair of Vans. Automatically, her demeanor changed. According to Maria, the clothes "were a total change for a sundress queen…it really affected the way I carried myself." She was no longer physically constricted by her feminine attire and was able to delve deeper into the character of Taylor.
---
+
Casey
+
My fun-loving, stoner, sporty dyke was also in a similar situation. Brooke Morgan came in with the goofy sensibility and lankiness that was needed for the role. She was also a bit of a tomboy, so it was easier for her to become Casey. However, there were two elements that both actresses hadn't ever explored before, having never played or been around butch lesbians: they needed to conquer the space around them and engage their female love interests from a masculine point of view.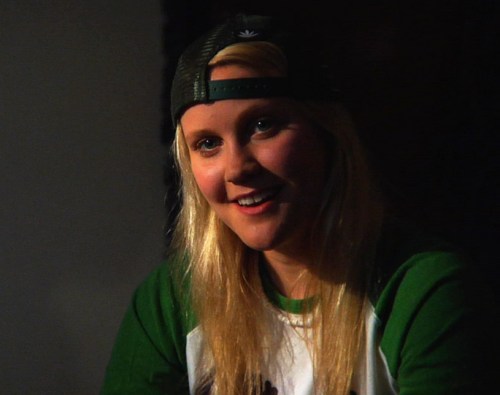 Straight or feminine-acting women cross their legs and fold their arms in an effort to sanctify and protect their personal space. Also, we've been bred to make room for men by taking up as little space as possible. During one of our rehearsals, I asked them to sit with their legs open and their arms stretched over the back of our couch. I wanted them to own the space around them. I explained to them that this is one of the ways butch lesbians absorb their spatial surroundings and create their own world. You need to make room for yourself because no one is going to give it to you.
In baggy shorts and boys' T-shirts, it was easier and more fluid for them to take over that space. They fucking loved it. Maria ("Taylor") even gushed at one point, "God, it's comfortable to be a lesbian." YES IT IS!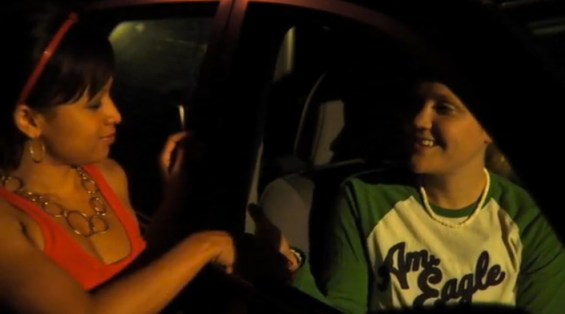 Now I needed them to be able to believably approach a woman with confidence and positive aggression. This was much harder to explore because, generally speaking, straight women are usually pursued by men and lack experience in making the "first move." My actresses needed a lesson in how to get their mack on. I didn't want them to portray some false macho pimp version of how to get a girl, and I floundered on how to explain the difference. Then Brooke ("Casey") pulled out a T-shirt that belonged to her boyfriend and asked if she could use it as part of her wardrobe. Speaking of him, her face lit up and she told us how awesome he was and how much he supported her in all of her artistic endeavors. Swear to God, it hit me at that very moment that I had forgotten the most crucial element of this entire project: LOVE. Fucking love. Love was the foundation of this project and of everything around us.
I asked them to connect with the love that good men had given them and how they were approached by those men. In essence, they needed to channel their boyfriends as women loving other women. Now some of you might be like "fuck that! Butch lesbians aren't men!" No they aren't, but it was the best solid point of reference to give these pretty femmy straight actresses.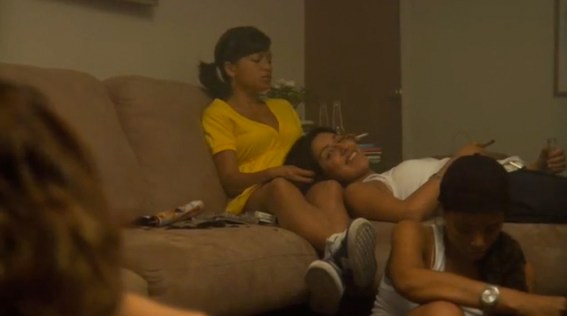 It all clicked. They fucking got it. My AG got her swag on through finding her own confidence and connecting with an urban identity. My two soft butches utilized their love experiences to channel the necessary components of loving another woman, even just on screen. All three women were also able to overcome the ingrained spatial restrictions put on females. Also, looking at the men in their lives (brothers, boyfriends, etc.) allowed them to explore emotional spaces that are usually taboo for women, like aggression and natural confidence.
Masculine-identified women enter into territory usually reserved for men every day while still maintaining the feminine energy that connects them to other women. Granted, femmes and other types of female-identified queers play with these lines as well, but for the sake of my short film, it was the butch lesbians who had to shine and be fierce. As straight females playing lesbians, these actresses learned that gender and sexuality are mutually exclusive entities, and they did so by pushing through learned and limiting gender norms. This opened their eyes to the concepts of personal space, the way we express love, and the way that masculinity is presented in all of us. "Spanish Girls…" became a journey not just for me, but also for the actresses expanding their ideas of gender. We conquered swagger, space and love in one short film — or, as we refer to it now, looking towards the future, one short webseries pilot.