Have you heard about the lady who tried to sue her church for performing gay marriages? While she later dropped the charges, Yvonne Moore became "pissed off" when she heard that her pastors, husband/wife team Dennis and Christine Wiley, would be marrying a lesbian couple.
Sidenote: If, like me, you thought $250,000 sounded like an awful lot of money to have given to her church, just remember that the typical amount to tithe is 10%. $250,000 over 37 years means that her yearly income was about $68,000–totally doable. Also, that's a ton of money.
Moore attended the wedding and reported that it was "totally disgusting" which is weird because that's exactly what I thought about what she had to say. You should probably check out CNN's coverage of it because a) this woman talks complete nonsense and b) Toni and Sandrene, the couple who were married, are totally cute/the opposite of disgusting.
While it's easy to demonize Yvonne Moore (who "That's Gay" calls the nation's worst church lady), her beliefs are obviously not uniquely hers. The pastors said they lost half their congregation after the wedding but remain committed to their vision of inclusion. They say they see the fight for gay rights as a "natural extension of the Black civil rights movement." And while we feel that gay rights movement and the civil rights movement aren't the same thing and shouldn't be conflated, it's fantastic to see a church pushing for acceptance.
Here's that 'That's Gay' episode we mentioned:
Yvonne Moore represents many others who have "traditional" beliefs that they aren't willing to question, even when someone as influential as their pastor points out that holding on to them is hypocritical and probably wrong. Moore's pastor told her, "you can not just read a Bible and think that somehow you have now mastered the word of God,wp_postsbut there are still countless Christians who refuse to look at their holy book in its historical context.
Just in case you didn't have the privilege to be dragged to a Baptist church like I was, let's get a few things straight with:
A Brief Primer to Biblical Mentions of Homosexuality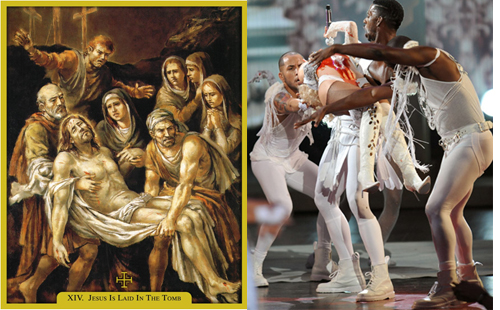 With a little help from my friends at Religious Tolerance and For The Bible Tells Me So. Have you seen that movie yet? It's great, it really really is.
Sodom and Gomorrah: Genesis 19
What happens here? Well, first two angels come to Sodom and Lot invites them to stay with his family so that they don't have to spend the night in the street. They're all "no, it's fine" but Lot's such a nice guy that he takes them in and bakes them bread without yeast and tucks them in and tells them bedtime stories. A little later, all the men from the city come banging at Lot's door and tell him to send the men out so that they can have sex with them but niceguy Lot says no and tells them that he's got two sexy virginal daughters that they can have their way with instead. Then God smites the city for being evil.
Lots (Ha!) of people think that this story means that being gay is bad. Maybe what it really means is that God just doesn't like people raping strangers for fun.
The Holiness code: Leviticus 18:22 and 20:13
You know the deal here:
"You shall not lie with a man as with a woman; it is an abomination." "If a man lies with a male as with a woman, both of them have committed an abomination; they shall be put to death; their blood is upon them."
Also no pork, no tattoos, and no Harry Potter.
Leviticus is a book about holiness which really just means it's a list of things that sets Jews apart from non-Jews. Holiness is about marking yourself and your things as separate from the culture that surrounds you. Did you cut your hair short when you first came out and wanted everyone else to know you were gaygaygay? It's alright, I did too. It's kind of like that, only with things like not mixing seeds in fields or fibers in cloths and not rainbow bracelets.
So why is it so important to keep things separate? Because pagans mix things. You can't combine linen and cotton because pagans combine linen and cotton and you are not a pagan, you are a Jew and you do Jewish things. All these rules were part of God's covenant with the Jews and so breaking rules was like breaking a promise to God. According to the New Testament, when Jesus came, he made a new covenant with God's people that rendered all the old laws void and null. What I'm trying to say is: these guys shouldn't even be brought into the discussion.
1 Corinthians 6:9-11
So if the bits from the Old Testament are meaningless to Christians, why do they keep hating on the gays? Well, there are a few letters from Paul in the New Testament that look like they're condemning homosexuality.
"Do you not know that wrongdoers will not inherit the kingdom of God? Do not be deceived! Fornicators, idolaters, adulterers, male prostitutes, sodomites, thieves, the greedy, drunkards, revilers, robbers—none of these will inherit the kingdom of God. And this is what some of you used to be. But you were washed, you were sanctified, you were justified in the name of the Lord Jesus Christ and in the Spirit of our God."
But wait! Can we just talk about translation for a second? The Bible been translated from Hebrew, Greek, and Aramaic into Latin into Middle English into modern English. There's an alphabet soup of modern English translations including the NIV, NRSV, KJV, WGCIB, ASV, KJV2000 (coming soon to a gaming system near you), and BBE. In all that translation, something's bound to get lost, right? Especially when it comes to something that didn't even have a name until the 19th century. Homosexuality wasn't a thing until we decided to start dividing people up by the subject of their sexual attraction. Before homosexuality and heterosexuality were socially constructed, being a man who liked to have sex with other men was on par with having a hair fetish, it was something you did, not something you were.
So. There are two main Greek words that usually pop up in earlier translations of the passages that are cited.
Numero uno: "arsenkoitai"
Literal translation: males who go to bed
New Revised Standard Version translation: male prostitute [inferred meaning: who has sex with other men]
Why?: Lord knows. Actually he probably doesn't because–contrary to popular belief–he didn't write the Bible. It's worth noting that in Martin Luther's time, this word was translated as "masturbator," but since we're a little more down with that now, someone changed the meaning.
Numero dos: "malakoi"
Literal Translation: morally soft
KJV translation: effeminate
NRSV translation: sodomite
How did this happen?: In case you weren't sure, the historical consensus re: women has not been a shining review. Back in King James' times, women were considered to be wishy-washy in the morality department and so it makes sense that they would feel comfortable with this translation. But then the NRSV writers came along and were like "effeminate? does that mean swishy? they're probs talking about gay boys here," and changed the meaning again.
So there you have it. Next time another Yvonne Moore rolls into town, you can tell her that God doesn't hate fags but he's probably not the biggest fan of your poly-cotton power suit.