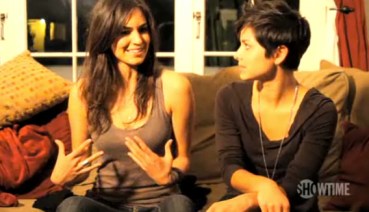 This week's episode of Autonatic combines some of the only things we genuinely love about The Real L Word: Tracy and Nat Garcia. If Stamie and her pajamafied kids had been there, it would've been love-overload and we'd be forced to rethink our stance on children going to bars. Also it was only five minutes long. If they could condense The Real L Word's hour-long shitfests into 22-minute programs, we might actually really like it? And we aren't Generationally ADD or anything. Like we read books and stuff.
Tracy and Nat take their beautiful, glowing selves to The Abbey — WeHo's premiere lesbian establishment since 1802 — for drinks with friends, including comedian Suzanne Westenhoefer, who we love, because only an a-hole couldn't love Suzanne Westenhoefer. She's not labeled as Suzanne Westenhoefer in this video, but we have fantastic gaydar.
There's some discussion of butch vs. femme and Nat accurately points out that Southern California's version of 'butch' is like, way different from the rest of the world's. Thankfully, though, no one used the word 'futch,' so we got to walk away from this debate with our dignity intact.
As far as Tracy's problem of not having a term for 'looking femme' while participating in 'butch' activities, like skateboarding, we know what that feels like. May we suggest that Tracy's AUTOSTRADDLING the perceived lines between butch and femme? Hm? Do you see what I just did there? That's what we do.
+
Once again, big thanks to Showtime for filming, lighting, editing, funding, producing, hosting, and sharing this week's episode of Autonatic which is also called More to L with Nat Garcia! We couldn't have done it without you! No, really, we really couldn't have. Because we're not owned by a large corporation and we have no money and can't even afford a goldfish.