Last week on Glee, I was stumped by the cultural relativity of Ms. Britney Spears, so when the sneak peek of this week's episode revealed that it would be about spirituality, I thought, I've got this shit covered. I'm from Alabama – the only thing I did more often growing up than going to church was attempt to get other girls to show me the training bras under their shirts. RELAX, I WAS STILL WEARING A TRAINING BRA TOO.
As it turned out, I was wrong. I did not have this shit covered, because the episode opens with Finn burning a grilled cheese sandwich and finding the scorched face of Jesus on the bread. I make a grilled cheese sandwich at least once every other day – why don't my sandwiches have an image pressed into their burn spots? WHERE IS MY BURNED IDOL?! Granted, if there's going to be a burned religious figure in my bread, it'll probably be Buddy Christ, or more realistically, Adam Lambert.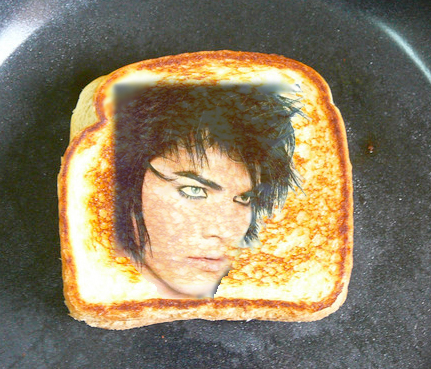 Finn cuts off the non-holy portion of his sandwich, then prays to the remaining bit for a football win since his team sucks.
Meanwhile, Kurt brings his dad, Burt, breakfast at his job. I have no idea what Kurt has brought him, or what Burt says he plans on eating instead of whatever good-for-you concoction Kurt has likely brought but I'd probably prefer Burt's meal myself which may be why I am a walking advertisement for a Wilford Brimley-style diabetic supply infomercial today.
Burt reminds Kurt about their weekly family dinner, in place since before Kurt's mom died. Kurt does not want to participate in this all that much anymore because he has way more hip places to be! The hills are alive with a Sound Of Music singalong, after all. Burt reminds him that he's stood by him always, even buying him a Maria-style bonnet as a kid (BEST DAD EVER) but this doesn't sway Kurt. He's ready to roll around in some edelweiss, family dinner be damned.
At Glee Club practice, Finn announces there's a new man in his life. Sadly for many of us who would enjoy the onset of any sort of gay love on this show besides somewhat implied lesbianism, it's not Puck, new football player Sam (who, as I mentioned in last week's recap, will from this point forward be known as Justin Squared), or any other eligible bachelor on this show. No, Finn has to hook up with this dude in sandals who doesn't even have a texting plan and is saving himself for a marriage that isn't legal in a crapton of states and many nations where this dude hangs out: Finn is now intensely involved with the Lord, and wants to sing all about it.
The Glee kids have a mixed reaction. Mercedes and Quinn go all "shout to the lord… "
Will Schuester wants to direct them less toward God and more toward personal spirituality since he needs this job to pay alimony.
Puck goes all profound and logical and shit and I kind of love him a lot and not just for this, but especially when his personal ode to spirituality is Billy Joel's "Only The Good Die Young,wp_postsa charming tune about getting in the pants of that girl we all knew in high school who was so religious she didn't even believe in wearing pants, but in a knee-length skirt kind of way, not in a Donald Duck kind of way.
Back at the Hummell garage, Burt is with a customer when he hits the floor and loses consciousness.
Kurt is unleashing some sixteen-going-on-seventeen-style oh-snap about his The Sound of Music singalong on a jock in French when Will & Emma come to get him to tell him that his dad is comatose in the hospital, and what follows is a teenage boy begging his dad to hear his voice and know he's there and to squeeze his hand if he hears him, and even I'm not cold enough to make a joke about this. My girlfriend would tell you all that I am actually a Cadbury egg, hard on the outside and gooey on the inside. On a recent trip to Florida she had me crying over Dumbo's mom and we weren't even watching Dumbo and now anytime I start to get emotional she Twitpics me a photo of a Cadbury crème egg.
Finn has been busy spending his time praying to Grilled Cheesus in the hopes that Rachel will let him grope her, and thus is pissed that no one pulled him away from his slowly hardening, stale idol to tell him about what happened to Burt who is apparently now a father figure to him without us, you know, resolving last year's blowup between them or anything like that. I'm distracted, however, by Brittany's earnestly written book report (produced in crayon!) about heart attacks, a gift from her to Kurt to pass on to the hospital.
Mercedes comes to Glee wanting to sing about God, coming up with a rendition of "I Look To Youwp_poststhat is both oddly filmed and oddly edited from a musical standpoint and really, I have no real issues with religion itself but if we're gonna go inspirational can we pick a good song that's going to make me pay attention instead of trying to figure out if I can see Mercedes's bra through her shirt? She does things to me, ladyfriends. She's kind of exactly my type.
Kurt loses his shit on the kids, hauling into a rant about how God is a fairy tale and he's like Santa Claus and also perhaps an elven wonder. Brittany wonders if God is an evil dwarf. I always picture God to be a combination of Zeus and Bowser or some shit, like a spike-covered white-bearded turtle in a bed sheet.
"I appreciate your thoughts, but I don't want your prayers,wp_postsKurt tells them, and yet somehow this still does not make sense to these kids.
Sue drops in just in time for our lesson on separation of church and state! Auto Correct in my word processor changed "lessonwp_poststo "lesbianismwp_postsin that previous sentence which I believe is AutoCorrect's way of giving a shoutout to the kickass Jane Lynch. Shut up and let me have a fantasy. She pulls Will and Principal Figgins in for a lecture on how this spirituality segment is screwing with our civil liberties. Sue recommends anyone who wants to sing for Jesus should attend Sweet Holy Mother of God Academy on I Love Jesus Street. I think I might have seal-clapped here but I can't remember because I aspirated some sweet tea in the process.
Rachel pulls Finn into her bedroom for a conference on the state of their union, which means she's putting on her controlling hat and Finn's getting an eyeful of boobage. She wants to make sure his recent conversion to Christlike living doesn't mean that he thinks she's going to allow him to let him choose their future mountain of babies' religious beliefs. No way! As a reward, he gets to touch her boobs. CHEESUS IS REAL.
Sue is Super Damn Serious about keeping religion out of schools and wants Kurt to help file a complaint about Glee's choice of lyrical topic for the week, which leads to the banning of spirituality week, which leads to people ragging on Kurt for speaking up, much like non-televised non-fictional people sometimes push their religion on others! Brittany gave Kurt a card that says heart attacks are just from loving too much. This root cause is also to blame for my poor grades in freshman math and possibly the grinding sound my old vibrator made before I replaced it.
Emma is pissed – pissed, I tell you! – about the complaint that Sue and Kurt made, and wants Sue's reasoning behind attempting to use common sense and logic barring those poor Glee kids from expressing their religion in a state-funded public setting. SUE GETS REAL, Y'ALL. She prayed for years for anything to help her sister, Jeannie, to make people see how amazeballs Sue thought and still thinks she is, but instead Sue's prayers went to the dead letter office in heaven and Jeannie still had Down syndrome, so Sue doesn't believe in God either. Emma basically has no argument left so she says that's arrogant and and the Sue Sylvester Hand Of Verbal Bitchslapping comes down with a righteous clap to let us all know that it's nowhere near as arrogant as trying to force religion on someone.
Finn prays to Cheesus in the locker room! Seriously, is he carrying Cheesus around in his backpack? Does Grilled Cheesus have his own special pocket in there? If there's a cheese-proof pocket in a backpack somewhere, I need to know of this thing's existence for immediate purchase.
Puck walks in and admits he's praying for Kurt's dad, and Finn says OF COURSE HE IS TOO, YOU GUYS, except he's really been praying for boobs and football and now to be quarterback again.
There's no more religion or spirituality allowed in Glee, so Rachel holds Finn hostage in a park so she can sing "Papa, Can You Hear Me,wp_postswhich does sound quite pretty but is indeed cringeworthy when the scene changes and Rachel is singing it to Kurt's dad while a third of New Directions is huddled around Burt's hospital bed. WHAT THE HELL, YOU GUYS. THIS SHIT IS CREEPY. Kurt is feeling my WHAT THE HELL sentiment just as strongly as he brings in an acupuncturist to try to help his dad and tells everyone to stop with their meddling prayers and to get the hell out of Burt's room.
Justin Squared finally shows up! Thank Cheesus; everyone else in this episode is giving me a headache other than Puck. He's in a football huddle talking about some move called "naked bootlegwp_postsduring the football game and sadly this is not a euphemism for gay boy shenanigans. Much to my football-loving girlfriend's chagrin I am clueless about this football crap so whatever it is, it gets Justin Squared hurt, which means Finn's the quarterback once more. CHEESUS STRIKES AGAIN.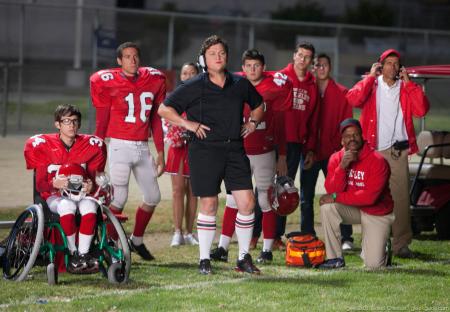 At the next meeting of New Directions, Kurt announces his dad isn't any better but he has a musical number prepared, which is always the way to go in the event of adversity. He explains that when his mom died he wanted Burt to say something to make it better, but he couldn't, so he simply took Kurt's hand. "I Want To Hold Your Handwp_postsis interspersed with flashback-like memories of Kurt's childhood. His kickass dad is out there with a small Kurt looking like a wee version of the Eleventh Doctor in a potentially tweed jacket and bow tie as he learns to ride a bike as well as Burt having tea parties with his tiny son, pinkies in the air, and at the cemetery when Kurt's mom died.
Kurt is crying. Most of New Directions is crying. Everyone on my Twitter feed is crying. I am not crying. Why am I not crying? Because my dogs are whining to go out. AGAIN.
After the meeting is over, Mercedes talks to Kurt in the hallway and says he's both pushing her away and closing doors without consideration, which is both valid but also extremely irritating when it comes to religion because everyone is a horse of a different color in this manner and when the horse in question sprouts a coat of bright gay rainbow flag. Mercedes wants him to go to church with her, promising he can wear a hat. Kurt is apparently easy for hats. I have been known to enjoy the company of a good hat but solely on other people's noggins. I come out looking like Dr. Seuss's worst damn nightmare in a hat.
Finn confesses to Emma that he and Grilled Cheesus have been on a high school crime spree which started so innocently. He only wanted to win a football game, and then it derailed into a life of high crime involving touching a real human breast and getting Justin Squared hospitalized. Emma tries to steer this guidance counseling session in a logical way, directly contradicting the speech about religion and spirituality and shiny ponies of faith she gave Sue earlier. God doesn't spend a lot of time talking to us via sandwiches, especially one that is probably five seconds away from being a health hazard.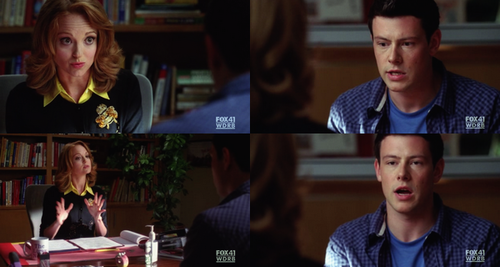 Finn is disillusioned.
Finn is distressed.
Finn is losing his religion.
Finn is losing his religion to the point where he storms down the hall and into the library while singing "Losing My Religion,wp_postsbecause we didn't have to just make this the most uneven wasted-potential episode ever but we had to bring the holy name of Michael Stipe and R.E.M. into this and it's just… there are no words, people. It's just bad.
Finn stares at Kurt creepily through a library bookshelf. I want to crawl under my couch and die except my couch is a futon and unless I become Polly Pocket there's no way I'm fitting underneath that bitch so instead I just cradle my dogs close to me and dream of a better tomorrow when I no longer have to try to recall this episode in detail.
Kurt goes to church with Mercedes in a hat that I would like to wear on my head if I didn't have a head with the proportions of a real-life Cabbage Patch Doll, and Mercedes asks the congregation to pray for Kurt's dad while outing him as a nonbeliever and going all "Bridge Over Troubled Waterwp_postswith a choir. I think I've watched too much American Idol because I did not even recognize this at first.
Sue goes to see Jeannie. They talk about God and why Sue doesn't believe in one – but Jeannie does. She wants to know if she can pray for Sue. Sue says yes. Even with the unbalanced residual WTFery of this episode, Jane Lynch is still amazing here, and I bow down to her epicness.
Kurt goes to see his dad again, all alone this time, and talks to him about their first family dinner after Kurt's mom died and how the chicken was raw and they laughed before wondering if it was okay to laugh yet. Kurt still doesn't believe in God after the disdain of his choirmates and Mercedes taking him to church, but what he does believe in is the relationship he and his dad have.
Burt squeezes Kurt's fingers. There is more crying. I try to refrain from Cadburying it up.
New Directions takes the stage to sing "One Of Us.wp_postsI remember when this song came out and it was considered blasphemous and everyone was all YOU'RE NOT SUPPOSED TO ASK QUESTIONS ABOUT GOD and OF COURSE GOD DOES NOT GO TO SONIC FOR REESE'S BLASTS and things of that nature and now it's like the most tame thing ever.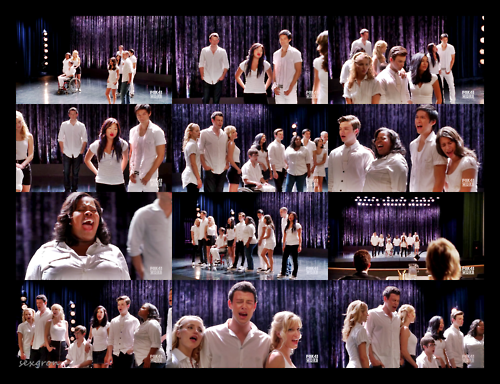 I spend the duration of this song staring closely at the white t-shirts the girls are wearing to see who has a visible bra.
Finn eats Cheesus, his falling napkin on the former altar of the paper plate closing out the episode, meaning to speak volumes about his faith or whatever. Next time: Finn gets food poisoning and expires belly-up like a lab experiment. Just kidding. Next week: duets? For the love of Cheesus, please be funny.