Full disclosure: I'm writing this from a bubble bath and my N-key keeps sticking so this is literally a labor of love for you guys.
Last week we met two potential new Glee kids — Sunshine the Philippina Wondersinger ChildstarGenius and "Chord Overstreet," the lovechild of Justin Bieber & Justin Taylor, who I'd like to call "Justin Squared" — and saw both young dreamers get a bit sidelined by Finn & Rachel.  The important thing to know here is that neither new kid showed up this week, so all the Justin Squared jokes I prepared while making my wholesome, life affirming dinner of grilled cheese and Ruffles are useless here.
So, this week the Gleeks decide they wanna be "current." Specifically, they'd like to do Britney Spears, a dream which Schuester squashes like a giant slimy bug with the shoe of his vocabulary and love for Christopher Cross/Michael Bolton.
Mr. Shu: Can you tell me who Christopher Cross is?
Brittany: He discovered America.
I had a similar theory. Anyhow, I grew up mocking Britney while listening to 90's college rock – even when 1999 had closed down shop – so perhaps this explains my surprise when she's considered relevant. (Meanwhile the entire Autostraddle editorial board has been looking forward to this episode with words like "epic" and "greatest television moment of all time" and perhaps Alex & Riese broke several New Jersey speed limits, made a few U-Turns and almost killed a man at Wendy's to make it home for this triumphant musical experience.) So, I'm going to hop in my TARDIS and go back to that glorious time.
Brittany doesn't want to do Britney Spears, 'cause she's been living in Britney's shadow all her life due to their phoenetically similar names. (Britney S. Pierece = say that ten times fast). Will's anti-Brit-Brit and now Brittany's giving him an excuse which he'll run with all the way to the crappy car he will replace later in this episode, but basically he's stuck in the past… I mean, Britney Spears is "morally questionable." Hm.
We meet Uncle Jesse (his name is, apparently, "Carl," but here he's Uncle Jesse, k?), Emma's dentist boyfriend who is very orange and talks to Emma like she's four and helps her enjoy a variety of colored grapes. He's gonna make ALL YOUR PLAQUE BLUE WITH A PILL so he can see how crappily you brush. Rachel has gross teeth. So does Brittney, who gargles with Dr. Pepper.
Cue music! Brittany lands in Uncle Jesse's chair (I should call him Dr. Uncle Jesse out of respect) and has a under-anesthetic hallucination-dream-thing where she reenacts multiple iconic Britney fashion statements while singing "I'm A Slave 4 U.wp_postsIncluding the snake. [I hate snakes. My childhood snake trauma comes from growing up in the rural south, where sometimes they'd end up in the house and my grandmother would kill them with brooms. WITH. BROOMS.]
This is much sexier: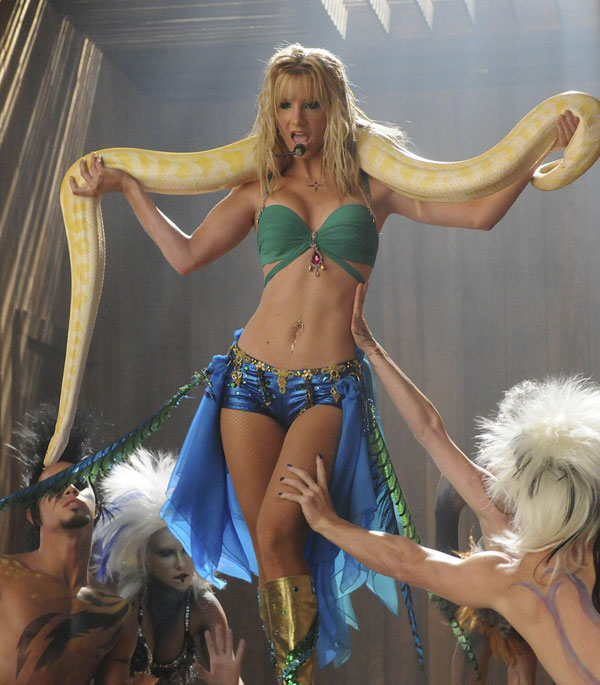 Brittany's teeth are so bad she needs a second dentist visit, but she brings her girlfriend I MEAN BEST FRIEND Santana this time although Santana doesn't need dental care.
Getting stoned on whatever the hell dentist-gas they used is the new huffing/sudafed guys. Really expensive huffing for people with good dental insurance.
(At this point the Autostraddle Editors have completely abandoned their laptops and are sitting, mouths agape and heads exploding with delight, saying things like "omg" and "this is happening.")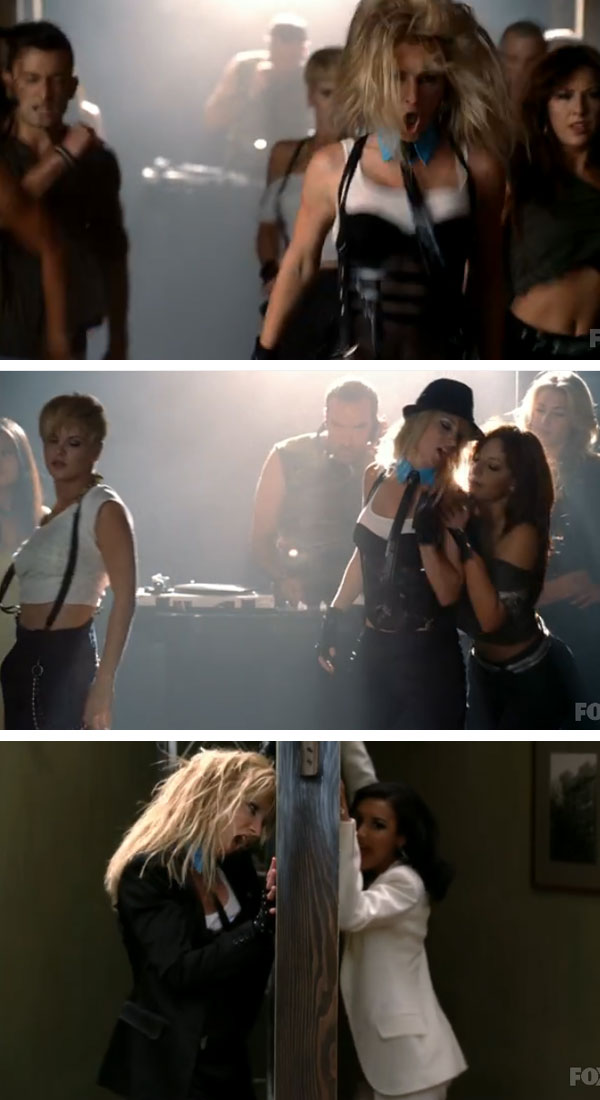 This time they jointly hallucinate a reenactment of the "Me Against the Musicwp_postsvideo, which is like… super lesbionic, except the random dudes they keep throwing in. I cry into the cookie dough I'm eating. Then Brittany hallucinates Britney is talking to her and it's pretty clear that Brittany wants to get commitment-ceremonied to Britney, amirite?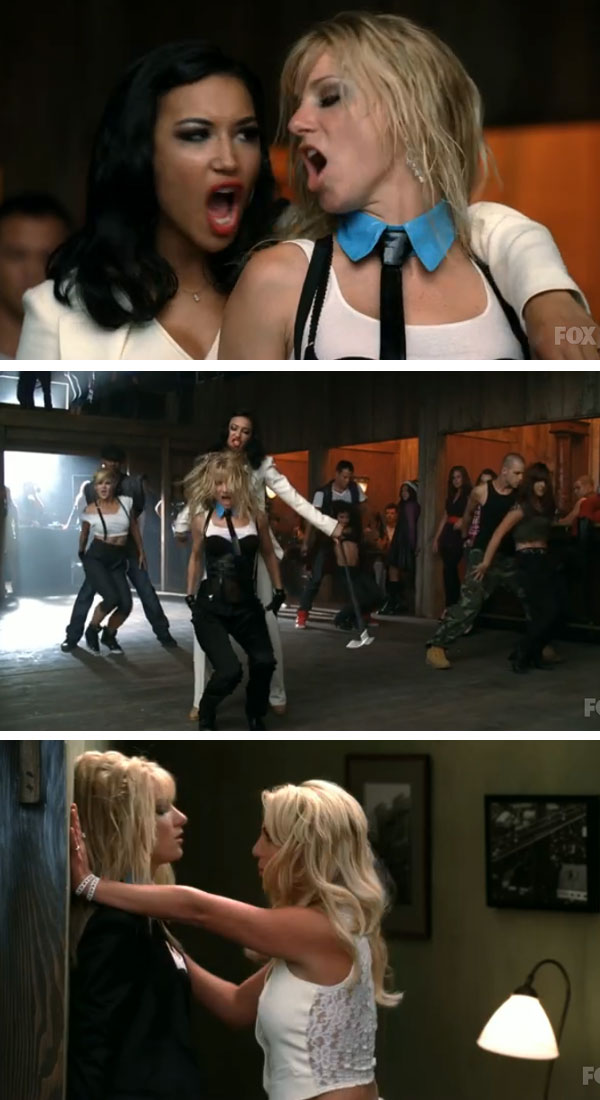 Meanwhile, in the Rachel Berry School of Boyfriend Possession we learn that football isn't part of the core curriculum. She likes being the only thing that makes Finn "happy" (despite the fact that he's miserable and being bullied by the same homophobes who harassed Kurt last year, because this is what everyone wants from their high school experience).
Brittany & Santana swing by to let Rachel know she dresses like "the bait girls on To Catch a Predator." Finn laughs 'cause it's kinda true.
This means Rachel's gotta visit the dentist, have her own gas-induced dream of reenaccting the "Baby One More Timewp_postsvideo and subsequently rocks the sexy schoolgirl outfit to school the next day, which totally kills the "bait girl" look. (Also Real Britney makes one of three cameos:)
Finn freaks out and tries to cover Rachel up. I want to hand these two a pamphlet on Healthy Relationships For Teens with "YOU'RE DOING IT WRONGwp_postswritten on the front in marker. Unfortunately the only available pamphlets in Emma's office are about "Hair Down There."
Will ends up in Dr. Uncle Jesse's Group Hallucination Chair, where they try to out-bro each other but lack quality hallucinations.
Will says he won't stop trying to steal Dr. Uncle Jesse's girlfriend unless Emma shows interest. He rides a teeny tiny sparklebug of hope to the car dealership and gets something yellow and shiny.
Sue, having found the blog-boy naked masturbating in the library to Rachel Berry fantasies, brings Will into the caf for a one-on-one in which she attempts to throw a rock in the still, shallow, yet beautiful, pond that is this episode.
BUT WILL WANTS TO GET WILD and go against Sue's advice, sweaty ass-stains be damned! This is how I make my decisions, too, Will: I look in the mirror and think of my greatest enemies and ask myself, "What would Sean Hannity/Dave Matthews/Judge Judy/the people that invented Pepsi do?wp_postsAnd then I do the opposite.
If you thought Will rapping was bad, you ain't seen nothing yet, because now he's gonna perform 'Toxic" with New Directions. It's a great little performance if you totally forget that Will hip-pumping Santana is the creepiest thing I've ever witnessed on this show.
Of course this performance sends the children into a Britney Spears sex riot and lest she allow her own head explode into a KY Intense Blob of Pre-Adolescent Hormonal Toxic Desire, Sue pulls the fire alarm.
Obviously it wouldn't be an episode of Glee without Sue threatening to ruin Glee in another fashion for the 5011th time. Unfortunately for her, Will Schuester is a cyborg and will never die, even if his funding gets cut 23% and the entire Broadway cast of Xanadu joins Vocal Adrenaline.
HOW IT ALL ENDS UP: Artie ends up on the football team after a rendition of "Stronger" – who cares how it happens, IT HAPPENS. There are at least two other Britney cameos, like this one: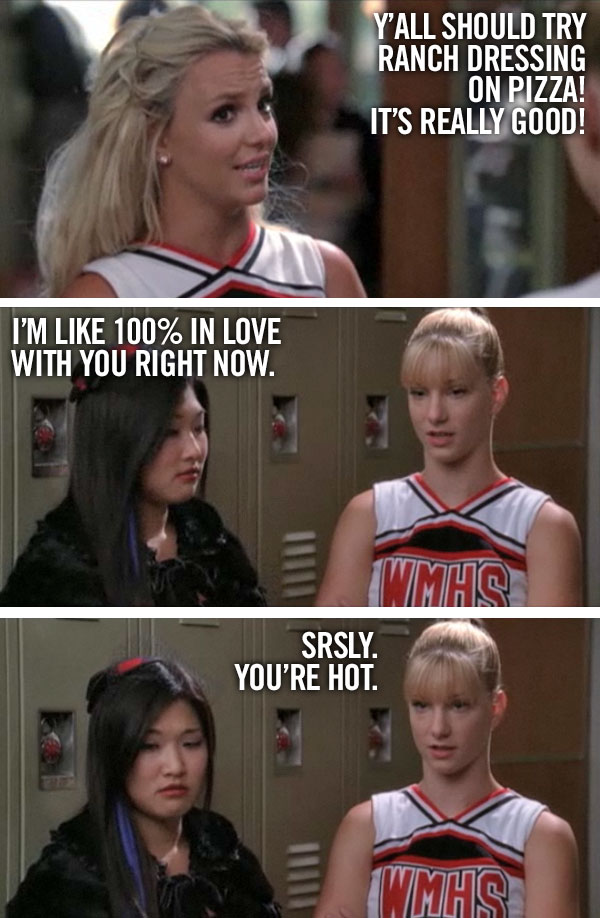 Finn makes it back on too, which pisses off Rachel, who tells him that he has to choose between football and her. SOMEONE HAND ME THAT PAMPHLET NOW.
Quinn approaches Finn and wants to get back together and Finn says no and at first I'm going did you just screw Quinn out of every ounce of character development that she earned last year? Except no! It's a test. Rachel asked Quinn to test Finn's love for her. …oh.
Will Freaking Schuester moans about something I wasn't actually listening to about how his life is meaningless without Emma.
Rachel closes out the ep with Paramore song and a special Jordan Catalano/Angela Chase holding-hands-in-the-hallway moment.
All the girls sing along. Quinn gives Puck a meaningful look that somehow relates to the song or whatever. Next week's episode is about spirituality; time to pull our souls out of the closet and make up for alll the homosexy material this week with a big dose of damnation.