Tuesday night was the season premiere of Glee on Fox. I think the best part was the beginning, but I cannot confirm this with 100% certainty because I actually missed the first two minutes. So according to Carly's tweet, this is the truth. I think that kid with the crazy curly hair was interviewing the students about rumors from the internet, and it was funny because they were bringin' it back around. The fact that Mr. Schuster shouldn't rap was brought up.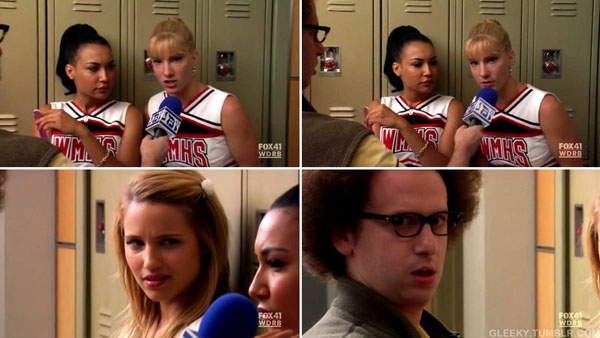 [Images from Gleeky]
I kind of just want to talk about next weeks Britney/Brittany episode considering the preview for it was my favorite part of tonight's episode. But umm I haven't seen that episode yet.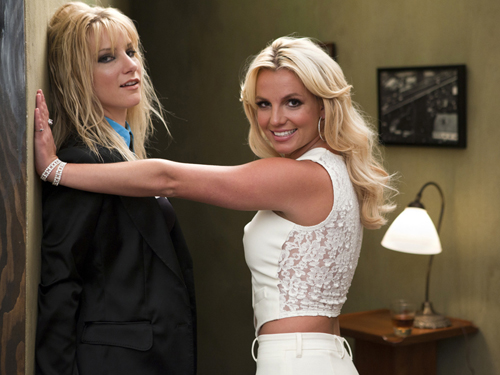 Look, I didn't know I was going to have to write something about Glee tonight just because we didn't post anything today and Riese was freaking out about it! I cannot possibly actually write about this episode! You see, my brain becomes zombified when I watch this show and here's a diagram to explain:
Those are my basic emotions. Oh, and add: "Everyone is hot" to that. I'm simple, you know? I like to dance. Everyone looked good though right? Is it just me or is Kurt really good-looking lately?
I have another question: why do we feel so weird when they do rap/hip hop songs? I feel it too, I mean, WHAT IS IT ABOUT THAT?!
Let me finish this up real quick, not in chronological order:
+ Quinn and Santana get into a serious fight. I liked it. (Brittany unenthusiastically yells "stop the violence!" from the sidelines. Love.)
+ Artie wants to play football even though he has no legs.
+ Why did Rachel and Little Miss Sunshine sing 'Telephone' in the bathroom? Was that just for funsies? Cause I think it was.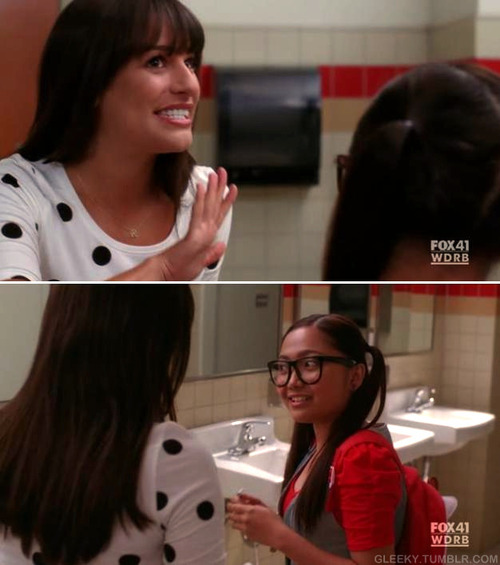 .
+ There's a new kid, he has a Bieber haircut and a big mouth. Like physically, legitimately, a big mouth. I'm not into this guy. He's too blonde and calculatingly good-looking. I just have a problem against freakishly good-looking young blonde guys singing well, okay?
+ Brittany never EVER disappoints with the one-liners. EVER. She wants to touch Coach Bieste's boobs.
+ This is totally not even a recap or whatever I don't know what it is and I apologize! Are you still reading omg.