On Monday, Paige said "I'm gay" and the whole world changed. On Tuesday, Santana told Brittany she wanted to be with her and said she had all of these feelings she was afraid of.
And last night in the United Kingdom, on the teevee program Skins, Season Five, Episode Seven; Liv, Mini and Grace do a bunch of coke and decide it's time to ask Franky, our favorite genderqueer fawn, about her sexuality.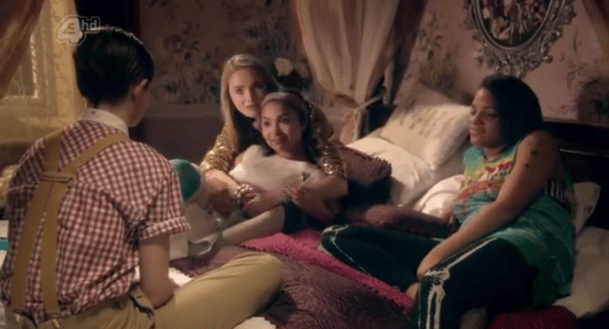 Mini: What's Franky's story then?
Liv: Franky is Viola, the girl dressed as a boy who can't get what she wants, whatever that is.
Franky: I know what I want.
Liv: And what's that?
Franky: What's what?
Mini: Well uh, Franky, you haven't really told us whether you're a — you know — or a —
Franky: A what or a what?
Liv: A LESBIAN.
Grace: Liv that's so —
Franky: — no, it's ok, I don't mind. And the answer is…. no. I'm not anything.
Mini: So you're bisexual?
Franky: No, I'm — into people.
!!!!!!!!!!!!!!!!!!!!!!!!!!!!!!!!!!!!!!!!!!!!!!!!!!!!!!!!!!!!!!!!!
Liv: Who are you into at the moment?
Part of me wants to smack Liv in the face and the other part of me notices that they're still just doing drugs and dancing, and that Liv is notably more concerned about Franky edging in on her boyfriend than she was about Franky being a lezzer, despite the locker room taunts that re-scarred all of us for life in the Season opener.
The music playing in the next scene — at a club where the boy Franky might like (Matty) leaves Liv (his girlfriend) to rescue Franky from a weird dude that's hitting on her — is Jessie J's "Do it Like a Dude." It's like everything is meta and a recap of some other recap.
Then! THEN! At play practice the next day, Grace, for no other reason than — I can only deduct — to specifically please me, directs Mini to kiss Franky even though Shakespeare didn't necessarily put that part in the play. This is, keep in mind, after it's been revealed that Franky likes people, and "people" includes "girls." Yet there is minimal hesitation.
Franky and Mini kiss. And there's a linger.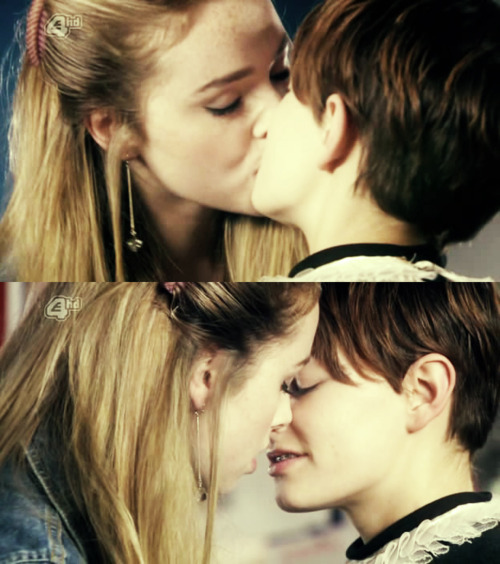 Alo's eyes get real big and then — then it's over.
Grace hops along onto being upset about Matty and Liv not wanting to be in the play and Mini wants to know if she's doing better at her part and then Grace and Rich have a fight. And SCENE.
+
At practice the next day, it's Matty's turn to kiss Franky. It's like The Shooting Tila Tequila Show up in here.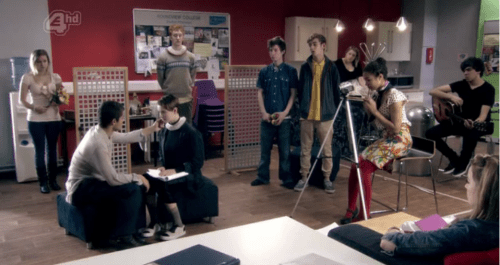 +
And when the time comes, the camera flashes to Mini: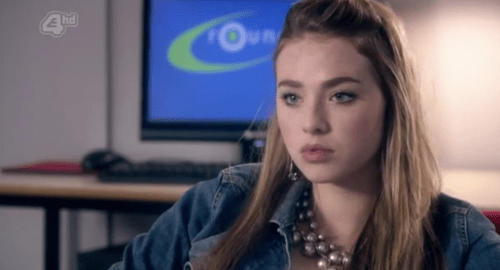 … and back to the kiss. When Matty and his Chord Overstreet lips swing into her neighborhood, Franky turns quickly. Why. Does she have feelings. I learned about feelings earlier this week on Glee.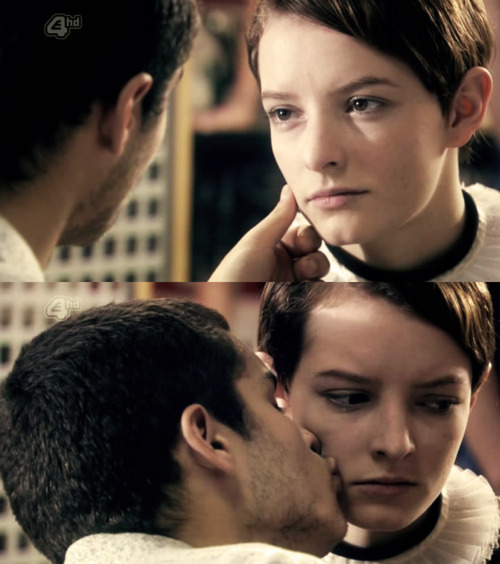 Unfortunately for us, Matty's a self-obsessed asshole STUPID BOY who doesn't deserve Franky, so this is really no contest, sexuality aside.
Then, during the play, Liv decides it's time to kiss Franky because EVERYONE KISS THE GENDERFLUID SEXUALITY FLUID GIRL IT'S FLUID WEEK YOU'RE GAY YOU'RE STRAIGHT GO WITH THE FLOW IT'S SHAKESPEARE MOTHERFUCKERS KISS EVERYONE PANROMANTIC CANNONFUCK HEADTHING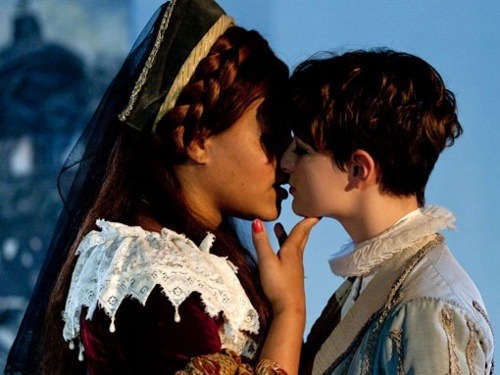 Franky feels so tender but also fierce. I hope that she doesn't feel like a canvas on which everyone can act out their desires. Being wanted by everyone but also no-one. I hope she doesn't feel that way. I don't think it's true, anyhow. But Mini was the Original Franky Bully. We know what that means.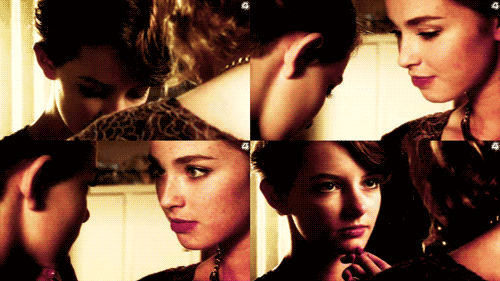 Then Liv yells at Matty because she saw him in the wings watching her kiss Franky like a "sick fuck" and he says "it's two girls kissing, of course it turned me on!" and then Liv asks Matty if he loves Franky and he says he loves Liv but won't say he doesn't love Franky, which makes no sense at all, because Franky and Matty have had like what, one conversation ever, in the field, and I think Franky held a gun to his head and was crying and he had on a trenchcoat and it was like Black Swan meets The Lost Boys meets Salute Your Shorts meets The Wire meets The Catcher in the Rye but who knows maybe they can communicate via cross-room body language like Ursula told Ariel she could do in The Little Mermaid.
Oh so and, here's what happens next week:
The amazing thing is that Franky is like a secret flirtmaster. That girl can suggestively stare a sexual response out of a tree. For crying out loud those eyes. I guess her and Matty could have staring contests forever and ever, maybe that could be romantic.
Part of what makes Skins feel so authentic (when it succeeds) is, obviously, the one-character episode format. We see them not only in their private lives but we see them literally alone. No other show spends that much time alone with kids in their rooms — the part we don't even see of our friends' lives — of anyone's lives. We see, sometimes excessively, how they feel about sex — Mini trying the positions she sees in magazines to be ready for her first time with Nick, Sid jerking off to shitty magazines or a picture of Michelle or Alo with his multi-screen porn-viewing set-up. We see their crazy families and the things they don't tell their friends — like there's so much on both ends when you're a teenager, so much family to hide from your friends and so much friends to hide from your family and so much heart and sex to hide from everyone.
And then we see them in the context of everyone else's world, and it's really hard to dislike a person once you know where they're coming from. Which is a lot like real life, too, I think. I'm glad they started with Franky. It's like she's our little Cub Scout leader for Season Five.
I don't even know. What's next. Sex riot, right? Equality?