Jessie J's debut single "Do It Like a Dude" dropped November 21st in the UK but word didn't reach Autostraddle headquarters 'til today — and just in time, as on January 7th 22-year-old Jessie J was announced as The BBC's Sound of 2011.  (Previous winners of this music-critic-and-industry-professionals- selected poll include 50 Cent, Corinne Bailey Rae, Adele and Little Boots.) She also snagged the 2011 Critics Choice BRIT Award.
Jessica Cornish — aka Jessie J —was 11 when she got cast in a West End production of an Andrew Lloyd Webber musical. Yup: the girl had serious pipes from the get-go. Cornish kept on performing through adolescence and attended performing arts schools. She then went on to pen songs for artists including Justin Timberlake, Chris Brown, Alicia Keys and Christina Aguilera. In fact, she's the lady responsible for Miley Cyrus's hypnotically obnoxious hit, "Party in the USA." Jessie has been writing and performing songs on her own YouTube channel for a while now, but 2011 will bring the release of her first album, "Who You Are."
Why should you care? Because you're gonna have some strong feelings about "Do It Like a Dude." Is "Do it Like a Dude" a gutsy genderfucking first single, or, as some have argued, just our latest serving of homoeroticized fetishized pop?
I'll tell ya one place where this single is gonna be ON BLAST — Dinah Shore Weekend and every lesbian club night for the rest of the year. Have you ever been in a lesbian club when "I Kissed a Girl" comes on? If you have, the thumping clangy sexy beats of "Like a Dude" will come as a welcome respite.
See, when "I Kissed a Girl" comes on, suddenly those eight words — I KISSED A GIRL AND I LIKED IT — are airlifted from context (Katy Perry kisses girls to attract the male gaze, the chorus is boyfriend-pandering, Perry is misappropriating bisexuality by reselling it as a party trick) and exhumed exuberantly by a sweaty crowd of lesbians. It'd seem that despite the myriad ways we've been wronged by Katy Perry, those eight words speak to a queer experience few other pop songs do and therefore it's become the default lesbian club jam.
Conversely, "Do It Like a Dude" is, on the surface, an anthem of independence — the only reaction Jessie J expects from your wannabe-boyfriend is his acknowledgment that lesbian sex doesn't need him. But does singing that she can do "it" "like a dude" just play into the idea that a thing must be "male" to be valid? No, I don't think so. See, Jessie uses "dude" as a term independent of its ascribed meaning. She's going all Butler on us by employing "dude" as an adjective encompassing "male" traits like strength/power/aggression rather than using it as another word for "man."  In this context she frees the term from its traditional application as a noun.
Compare "Do it Like a Dude" to Ciara's "Like a Boy": "Like a Boy" is a kickass song, and the video's got cute gender-bending costumes — but it's still about men. Ciara defers to the man she loves, asking him, "what if i had a thing on the side, made you cry/ would the rules change up or would they still apply/ if I played you like a toy? / Sometimes I wish I could act a boy."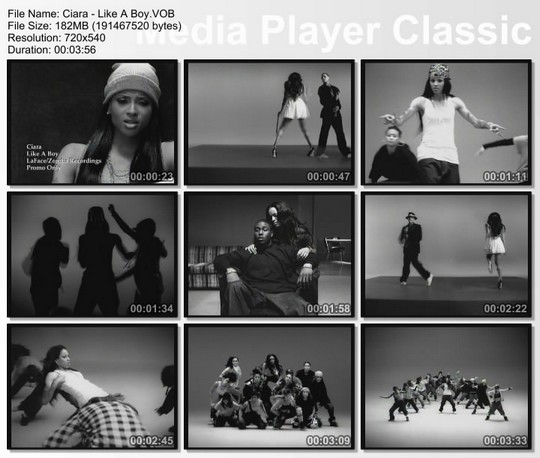 Although "Do it Like a Dude" employs some of masculinity's most misogynistic tropes, it also celebrates masculine women and uses these women to fuck with the highly gendered and outrageously potent "pimp" music-video image — which is pretty awesome.
My first reaction to this video was YES THIS YES THIS LIKE IT YES THIS!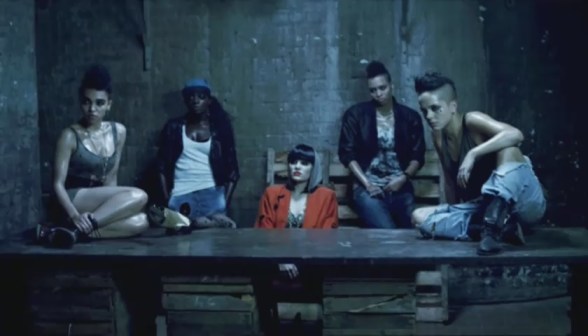 There's something unnervingly appealing/addictive/empowering about the video. Jessie J is like some psychotic quarter-alien quarter-Megan-Fox quarter-rhinestone lipcowboy quarter-geometric pop music avatar advertising American Apparel leotards and/or strap-ons while singing.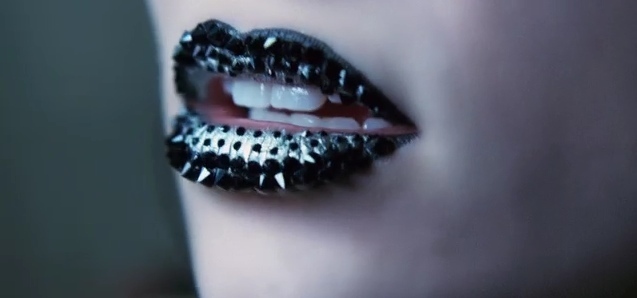 Jessie repeats "do it like a dude" in a jarringingly auto-tuned voice (unnecessary really as THE GIRL CAN SING-  Justin Timberake calls her "the best singer in the world right now"), gesturing terrifically towards her genitals with upturned palms or hurling her crotch forward into the air while cocking her knees outward like a flailing puppet. Her exaggerated psycho-eyes and jerky head movements assault the camera with "fuck you i'm fucking your face with my fucking song" energy reminiscent of Missy Elliot's "The Rain [Supa Dupa Fly]."
The center of Jessie J's physical power is, indeed, as her lyrics proclaim, squarely crotch-centric: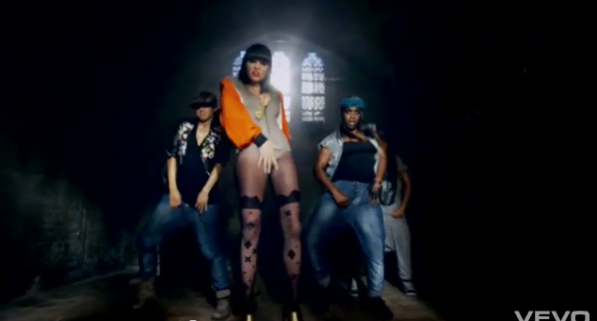 More importantly, however, are the background dancers (according to a reader tip — one of the dancers is Jessie J's girlfriend or ex-girlfriend):
These dirt-stained studs and butches posture with ecstatic, biting aggression, thrusting their limbs forward or out to flex their size and ability to intimidate. The scene drips with dirt, sex and unapologetic masculinity. When Jessie J strolls through the hellish underground lesbian club, she confidently eyes the women with a Shane-esque gaze. There's nothing uncertain or playful about the dyke sex here. It's alternatively Fight Club and Dance Club, No Boys Allowed.
Which isn't to say some elements of this video aren't problematic. I  mean, why do we have all these hot dykes of color dancing in wifebeaters but the only women who kiss in the video are these two, dropped in mid-frame like out of someone else's music video?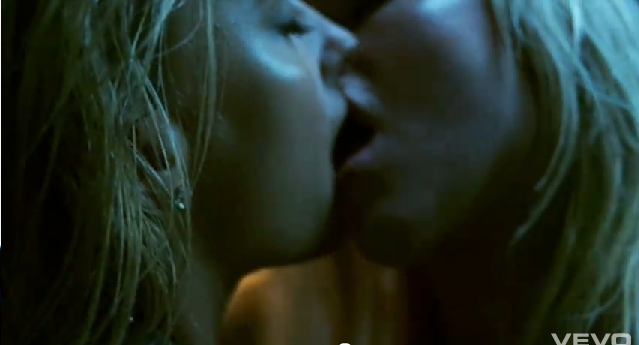 And what about the lyrics?
Boom Boom, pull me a beer
No pretty drinks, I'm a guy out here
Rollin' rollin' rollin' rollin' money like a pimp
My B I T C H's on my d*ck like this
Boys, come say what you wanna
Boys, you need to lick my dollar
Boys, gettin' hot under the collar
Is she "reclaiming" the language of "bitches," "pimps," and "on my dick," or does the manufactured packaged oversexed pop-shiny veneer of her presentation derail any potential progressiveness? If it's inherently degrading to use that language at all, then what language should she use? Could a pop song handle a message more nuanced than "do it like a dude"? Is it even possible to be progressive AND dancey these days? Even Lady Gaga's best songs are composed of tawdry one-liners like "I wanna take a ride on your disco stick." Ke$ha's "We R Who We R" rides #3 on the Billboard chart with"We're dancing like we're dumb-dum-duh-duh-duh dumb / Our bodies going numb-num-nuh-nuh-nuh numb / We'll be forever young-yun-y-y-y young / You know we're superstars / We R who we R."
I think Jessie J pulls it off.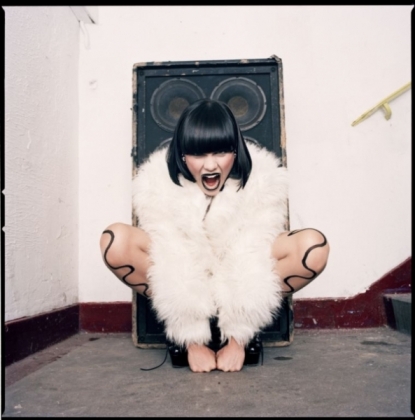 But let's get to the real reason you're reading this: is Jessie J gay?
Because to me, the queer sensibility of this video and the joke she's making feels uniquely authentic. It "pings," so to speak, and the dancers ping like how Heather Cassils pings in Lady Gaga's "Telephone."
So we're going to tentatively go with "yes." From lesbian site The Most Cake:
… yes – you guessed correctly. Jessie J is one of us; a big lezzie lesbo. Well, officials have not broached the subject yet but that promo, those haircuts, and the fact that her girlfriend is in the video (#musicinsiderconfirmed) all point to one big dykadelic conclusion.
A recent Contact Music article, as quoted on ONTD, refers to Jessie as an "openly-gay 22 year old," but that sentence seems to be removed from the original article which it cites:
The fast rising pop singer – who has previously penned hits for Miley Cyrus, Alicia Keyes, and Chris Brown – said she wrote her first release in 15 minutes as a reaction to the songs she kept hearing on the TV at the time.
She said: "At the time I felt that the chart was very auto-tune heavy. There was a lot of guys with their trousers down by their knees and their neck chains so heavy they couldn't hold their head up.
"And I just went into the studio and they played a beat and I just started singing, 'Do it like a brother, do it like a dude'.
"And it was a joke, I was laughing. I said 'let's write a joke song'. And within 15 minutes it was done."
Jessie, the openly gay  22 year old, also said she kept Rihanna in mind when she wrote the track, and feels that it has "her swag".
More importantly, there's nothing anywhere on the internet that even addresses Jessie dating ANYONE, man or woman. I've been writing about lesbians/pop culture for a long-ass time and generally that kind of exclusion almost always indicates homosexuality.
Does it matter? Is it fair to speculate? I endeavour to suggest that YES, it does matter. Music isn't like acting. Music is generally accepted as autobiographical to a certain extent — Katy Perry could play a lesbian in a movie, but we don't want to see her singing about kissing girls on an album. Raise your glass to us or shut up.
It matters because as a community we're pretty fucking sick of seeing our sexuality appropriated by straight people to meet their own (financial) ends and this song tastes different when viewed as one more straight girl's tacky re-appropriation.
But if she's gay, then we can forgive her overblown machismo lyrics and trust the familiar underlying message: it's just like our own jokey reactions to men claiming lesbians can't REALLY have sex.
But maybe "Do It Like a Dude" won't even be Jessie J's most dyke-friendly single. Who You Are, a relatively generic devotional to self-expression and self-love which starts out acoustic and breaks into a Beautiful-esque pop ballad, offers a less potentially problematic message that'll ring true for queers all over. It's obviously about compromising your true (GAY!) identity to please others:
I stare at my reflection in the mirror…
Why am I doing this to myself?
Losing my mind on a tiny error,
I nearly left the real me on the shelf …
"no,no, no, no…"
Sometimes it's hard to follow your heart
Tears don't mean you're losing, everybody's bruising
Just be true to who you are
Brushing my hair, do I look perfect?
I forgot what to do to fit the mould
The more I try, the less it's working
'cos everything inside me screams: no, no, no, no, no, no, no
That's the one you can play in the car after coming out to someone mean who doesn't understand how awesome it is that you can do it like a dude.
* Thanks to Nicole S. for the tip!