When P!nk let it slip that the music video her new single, Raise Your Glass, was going to include a gay wedding scene, a lot of people got excited, me included. If this were any other artist, I'd have just shrugged, but Pink isn't just any artist. I adore her. I've spent the last 24 hours lurking on her website waiting for this music video to drop, and now it has, check it –
[If you can't view the video, stream it on Pink's website]
Pink explained the gay wedding scene by saying, "I threw my best friend's wedding in my backyard. She is gay and it was a beautiful ceremony. At the end of it, her mom said, 'Why can't that be legal?' and started crying. It was the most heartbreaking thing I've ever seen and that's why I'm doing it in my video."
So what do you think? My number #1 feeling is her use of multiple pairs of black-rimmed glasses and how that's sorta funny, right? My #2 feeling is how the gay wedding is probably the least queer thing about this video, just tell me that your big homo heart isn't aching for that ripped black sweater.
Pink seems to be turning up the homogayness with each new album release – escalating from political commentary in Dear Mr. President (ft. the Indigo Girls) and a sex scene with her doppelganger in Sober, to some man-on-man pashing and a button-pushing bedroom scene with a nun. While there are some confusing statements floating about regarding the singer's own sexuality, there's little denying that when it comes to LGBT rights, Pink's on our side. It's a stand that just two weeks ago was acknowledged by the Human Rights Campaign with the 'Ally for Equality Award'.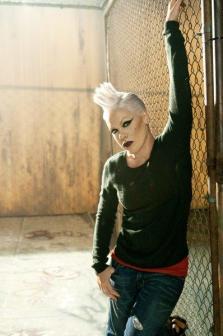 The video is entertaining and all, but I'm not overly fond of the song itself. The first time I heard it I exclaimed "what the f*ck is this!?" and scrambled to change the radio station. Dramatic, I know. But with the recycled Max Martin beat and trashbag lyrics ("Party crasher, panty snatcher, call me up if you a gangsta"), I assumed that I was listening to Katy Perry, or Ke$ha. Not the artist who I (still) wholeheartedly believe is our generation's greatest pop star.
What I do love about this song is its spirit. Underdog anthems are Pink's best trick, and "Raise Your Glass" is her biggest call to arms yet ("Raise your glass if you're wrong in all the right ways"). Pink's forthcoming Greatest Hits… So Far record celebrates a catalog of music that celebrates individuality, and as the lead single this track makes perfect sense. It's just a shame that it's not her greatest hit… so far.