In many parts of the world, the nights are getting longer and the days are getting colder, and you probably need a cute jacket and/or coat that will actually keep you warm. Alternatively, perhaps you are ready to make the dive into a denim jacket and want to know which denim jacket paths have been trod before you. Either way, we've got you covered. This is what we wear.
---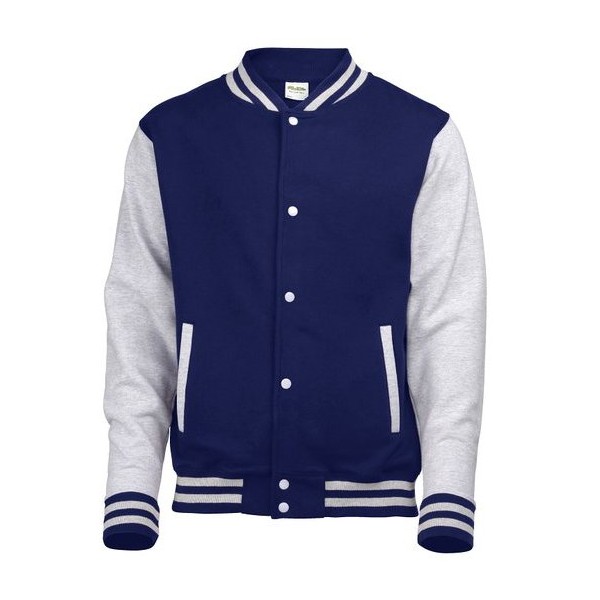 My IRL jacket is actually from the children's section at Target; it's blue and yellow with a patch that says "C Division" on the front. Unfortunately for children and for you, Target no longer appears to sell the exact same jacket, but that doesn't change the fact that varsity jackets are the perfect item of clothing. They're versatile, look good with everything and you always look like you made a ~fashion choice~ intentionally, not like you threw on the closest thing to the door before you left the house. Furthermore, they ping very gay, but not in a way that will get you dirty looks from straight people. I think straight people are onto bomber jackets, but I am guessing it will take them maybe another nine months to fully get wise to varsity jackets. If you've been wondering how to signal to other queer people that you're queer, the answer is a varsity jacket. Virtually every time I wear mine I get complimented on it, and that compliment is virtually always from a queer person. Truly a #lifehack.
---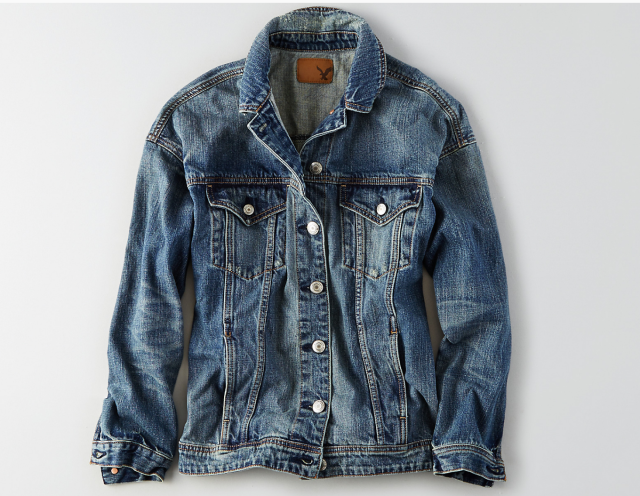 Oh here we are with your basic denim jacket that is just dying to hang out with you by the bonfire. It keeps you moderately warm. It displays your patches and enamel pins. It awaits your Sharpies and your paint splatters, your dirt, your blood, your earthy guts. This jacket knows what time it is. (It's denim jacket time.)
---
As the leader of the Gay Grease Gang Pink Ladies (along with my co-rizzo, Cecelia, who has this same jacket in a smaller size), I pretty much had to get this jacket. But even if I wasn't obligated, I still would've because it's super cute and stylish and goes great with my aesthetic. This is probably my favorite jacket I've ever owned.
---
When you introduce cold weather I often become immobilized in the morning, unable to transition from sleep clothes into real ones. This jacket is an enabler. If, say, I don't necessarily make it out of sleep pants, no one's necessarily the wiser. They could be cool, expensive health pants in this jacket. A t-shirt becomes a distressed top. Fashion!
---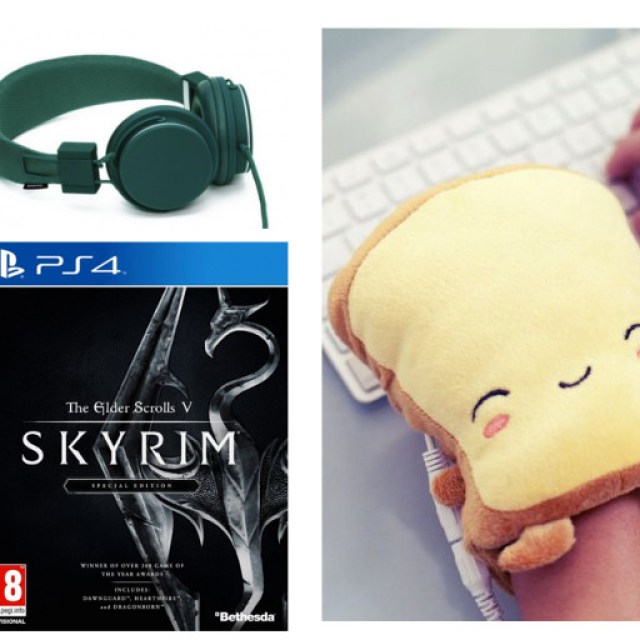 When I lived in Georgia, I hardly even needed a coat. Not that it doesn't get cold in the south; just that you're always moving from central heating and air to central heating and air, with a temperature controlled car ride in between. A coat in Georgia serves the purpose of keeping you from shivering when you're taking a short stroll into and out of a building, or while you're waiting for your heat to warm up in your car. New York City is a whole other beast, because you're walking everywhere all the time, and sometimes it'll be, say, the middle of December and your landlord still hasn't turned on the heat. (Yes, it's illegal, but try telling that to him.) Anyway, the point is, I have a lot of coats now that I live in the northeast and my favorite one is my fall time coat because it's basically like wearing a sleeping bag on my body. It's soft and warm and doesn't take up too much room when I stow it away in my backpack. It's machine washable. And it's layerable (which is important because another thing about NYC is temperatures inside buildings in the winter fluctuate 30 degrees in any given direction).
---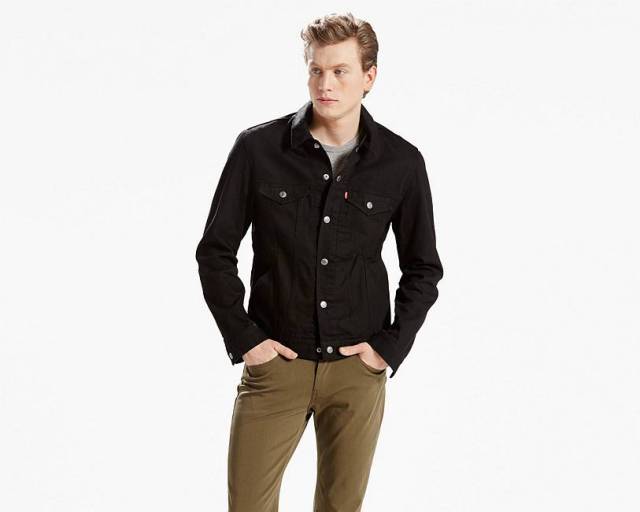 I have the commuter version of this, so it's water resistant and has reflective patches. I've used it as my it's only kinda raining jacket for two years now. If it's really cold out I'll wear a cable knit wool sweater or a hooded sweatshirt underneath.
---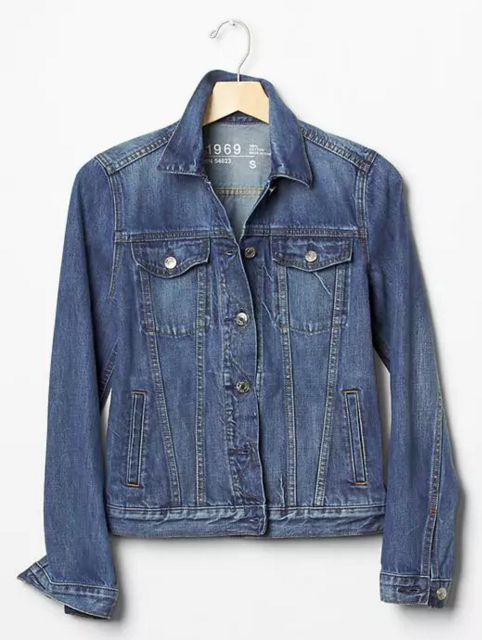 Denim is the queen of my heart. She's warm enough to keep me from shivering on an early fall morning in Texas, but not too warm that I need to take it off once the temperature rises. She also increases my cool points by 100000% whether I'm wearing it with a dress, shorts and a tee, or fancy chinos and a button-up. Plus! You can put pins all over it!
---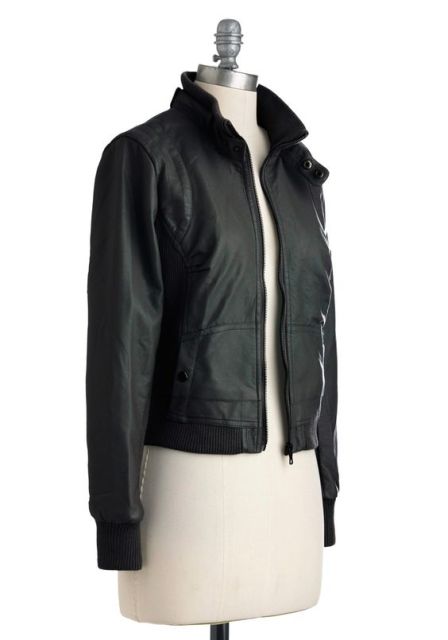 We don't really do weather here in Los Angeles (though it is raining as I write this, hooray!), so our jackets don't need to be particularly hardworking – but this one more than suffices. The sleeves and waist are partially quilted, so it keeps heat trapped in when you need it. But it's still very breathable if you leave it unzipped. I ordered this jacket years ago and didn't wear it for a long time because I never felt badass enough, to tell you the truth. Now that I've hit my fashion stride and know I deserve to look great at all times, thank you very much, I'll pull it out the second it gets chilly. Modcloth doesn't carry this specific jacket anymore, but you can rock some similarly striking alternatives.
---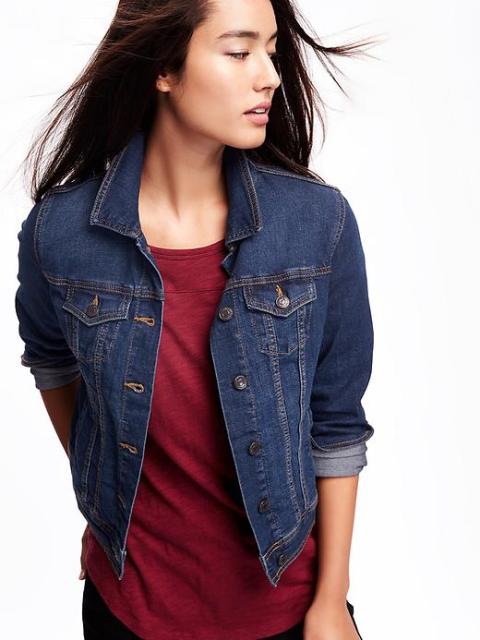 I only own one jacket and it's this one. In Texas, this is basically the only jacket you need for fall and most of winter. It's warm enough and stylish enough to go with all the things. As my lovely coworkers who beat me to contributing to this post have said, denim jackets look extra cool if you add pins!
---
This spring I went to A-Camp for the first time and like a lot of people (at least four in my cabin alone), I became envious of The Outsiders cabin, who wore cool denim vests with patches and buttons. So immediately after camp I secured a vest and decked it out. But with the cold weather approaching, I still don't want to give up my denim vest. So I bought this denim vest jacket. It isn't very warm but it's still 80 degrees where I live, and I'm still wearing it anyway.
---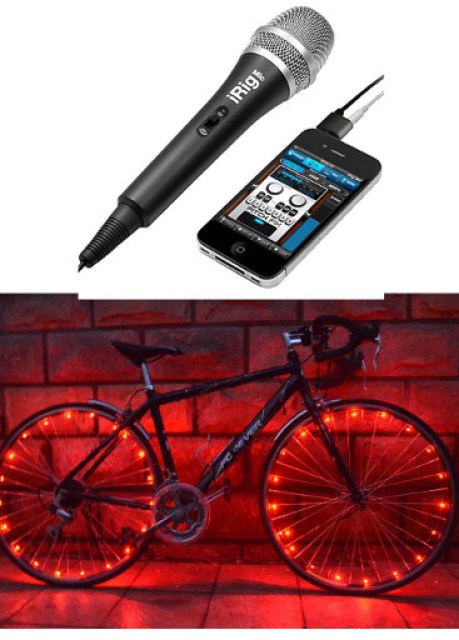 For years I bought the cheapest coat I could find and for years I wore two hoodies underneath and still shivered my way through bitter New York winters spent working nights next to the open doors of various concert venues, enduring various strains of assorted illnesses like a big dummy. At long last, I blew some of my hard-earned cash on this Brooklyn Industries coat and let me tell you, it's like a giant sleeping bag you can walk around in. I'll never go back. Bury me in this thing.
---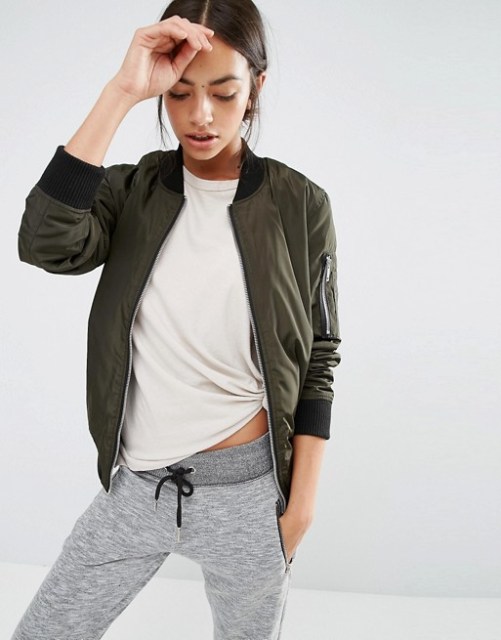 Like most hip queers (see above), when fall comes I'll wear my light denim jacket like it's a second skin. There are days, however, when you need something just one step up in warmth, and a two-step up in cool. Those are the days for your bomber jacket.
Firstly, let's be real: there are very few things hotter than a lady pilot. Secondly, this is the perfect jacket for laundry days. The neutral olive-green goes great over everything. This girl is literally wearing, like, a cheap white Hanes tee and sweat pants and look how hot she looks. Button up? It's a dressy night out. Cute dress and some high-tops? Perfect for a stroll down Brooklyn ave. Ratty t-shirt? Ooh, are you in a band? Glitter bandeau + repurposed cheerleader skirt? You're probably Cecilia and you can pull off literally anything, you glorious diamond.
(P.S.—that size-zip arm pocket is the perfect spot for hiding emergency tampons or gum or whatever. You're welcome.)
---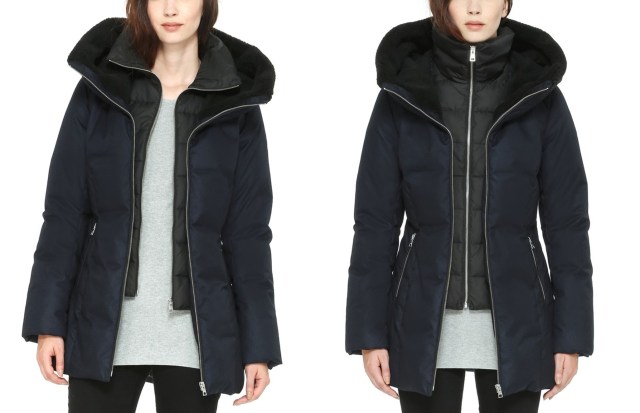 If you live in the Midwest, especially in a city where you primarily get around by public transportation, your first line of defense against the fluctuating weather patterns is your jacket. I had lived in Chicago for about four years when I decided to invest in what effectively can be described as both a jacket and a down-filled sleeping bag, and it's the an amazingly perfect coat that I still wear five years later. The Zafina Jacket by Soia & Kyo is by far the best coat I've ever owned. I had to apply for a credit card to officially purchase it, but it was completely worth it. I haven't needed to buy a coat in so long that this style it's gone from the entire internet, but! You can get a similar style to the coat I own here.
The jacket features an enormous hood that sort of looks like you're rocking a lady cobra situation, which I'm a huge fan of. It also has a double-zipped closure and the interior is full of down, so it keeps you WARM, which is I think the whole point of having a coat? The pockets are lined with a soft flannel-like material so, basically it's nice in there. It's also form fitting, which is not my experience when looking for effective coat options. Most of the time really warm stuff ends up looking shapeless and like an actual sleeping bag. When zipped up, it hugs your body and gives it shape, so you can look attractive whilst staying warm. Win-win! I also get ridiculous amounts of complements on this coat, so if you love those extra affirmations, this is another great way to stay warm during the colder months! Also my cat really enjoys using this coat as a makeshift bed.
---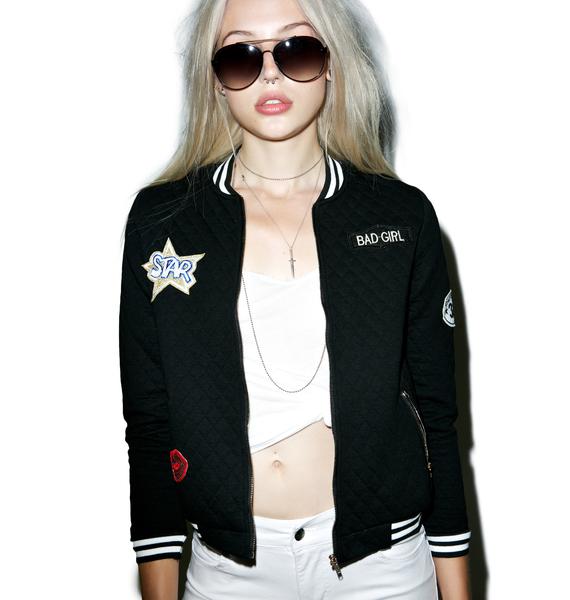 I don't want you to buy this jacket because I'm very protective of my brand and I hate owning the same things as other people and if I see you in it I will have to stop wearing it. But I do want you to know I own it.