Feature image via shutterstock.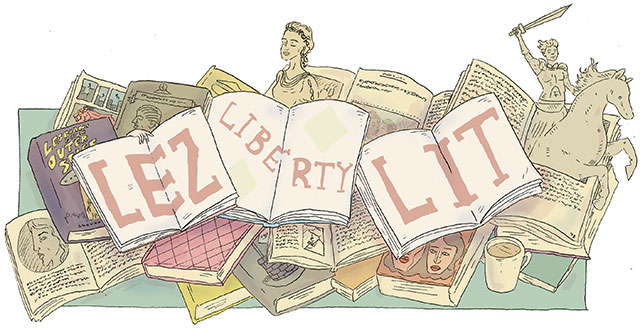 Hi and welcome to this week's Lez Liberty Lit!
Things About Queer Books (And Other Books Relevant To Your Interests)
Other Side Press is a new small press that will publish LGBT youth-oritented books, especially comics. In an interview at Bitch, cofounders Melanie Gillman and Kori Michele Handwerker discuss queer webcomics, fiction, representation and more. Gilman notes:
"Positive queer romance in general is an extremely important genre, and one we don't see nearly enough of. So many of the "tragic queer" tropes in mainstream lit are tied to romance—like horrible unrequited love, falling in love with your straight best friend, being rejected by everyone you thought cared about you, etcetera, etcetera. We need more media for young readers that counters that negative representation—stories that tell kids their gender and sexuality are normal and can be a positive force in their lives, and that they can look forward to healthy, fulfilling relationships in the same way that straight cis people can."
Most representations of trans women are written by cis authors, which is why this weekend's first-ever Trans Women's Writing Workshop is so important.
Read these books by indigenous authors. Also read these books by indigenous authors living in Canada.
Stop trying to label genre and gender.
A reminder: self love is more important than perfection.
At the New Yorker, Jia Tolentino writes about white status anxiety in fiction and how the future belongs to their minor, minority characters.
Are you into bullet journalling? There are some book-related pages you can add to that.
Attention national park queers: these 100 books are for you. (Inexplicably missing the "Death in the" series.)
Jaquira Díax was profiled at the Rumpus.
Emojis aren't destroying language: "Emojis, hashtags, text speak, they exist because they name a new reality, one we are just beginning to understand. Signifiers—and significance—remain, even though the signs change. Perhaps what we speak of as language is at best an imprecise and clunky mechanism for the meaning we aspire to, or perhaps […] language is life itself—creation and resurrection and healing."
The form of the novel started with rape.
This all-ages reading list of women doing rad things includes Women in Science, Bad Girls Throughout History, and other titles relevant to your interests.
Women's friendships are finally becoming more present in fiction.
Fiction should reflect gay married life in a way that isn't normalizing.
The first trans woman in Western fiction (written by a cis writer ugh) appears in Nightwood by Djuna Barnes.
Is the term "academic writing" an insult?
In internet writing, what happens when someone else gets there first?
What pronouns do you use for pets?
"The more I approach my writing process as a form of kink, the more I produce," writes Amber Dawn.
A northern California library has introduced bicycle-based book mobiles.
At the Los Angeles Review of Books, Jenny Zhang discussed "poetry, fiction, publishing, reading, teaching, funerals, the role of poets in a society, the relative misery of day jobs, intimacy, profanity, and even poop," noting:
"Narratives inform the way we think about things. We have certain expectations for certain mediums. What we might put up with narratively in say a reality TV show medium or Hollywood film medium, we would not in fiction writing. And I myself expect a certain level of introspection and self-awareness in fiction that I don't for other narrative forms, which reveals my own biases. When I would show my students what I thought was a good story, their reactions were often, This is so weird. Why is this so weird?"

Book Things To Do In Person
19 August, Ottawa: Ottawa Capital Pride is holding a one day comic convention with entirely queer content (101 Lyon St. N), 11 am to 11 pm.
4 September, Melbourne: As part of the Melbourne 2016 Writers Festival there will be a queer literary salon (Bella Union), 5:30 p.m.
Know of a queer event with literary merit? Send it to us! The Liberty Lit is bi-weekly.
---
Books! They are really great. You just won't believe how great they are. You may think that the Internet's great, but that's just peanuts compared to books. In Lez Liberty Lit, we talk about queer books and literary shit that's happening that you should probably care about.
The name "Liberty Lit" was inspired by the short-lived literary journal produced by Angela Chase at Liberty High School in 1994.