Culled and adapted from the 6,000+ videos submitted on YouTube (we made one too), the new book version — It Gets Better: Coming Out, Overcoming Bullying, and Creating a Life Worth Living — features handpicked essays and letters from contributors famous and obscure, gay and straight, including Barack Obama, Ellen DeGeneres, David Sedaris, Suze Orman, Hillary Clinton and Autostraddle's own Gabrielle Rivera!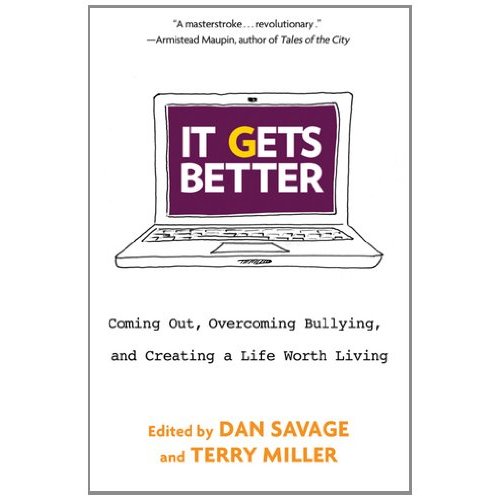 Inspired by the hoards of rich and famous celebrities voicing what she felt to be empty promises, Gabrielle's #ItGetsBetter video stood out from the thousands and caught the attention of Dan Savage because she contradicts the entire thesis of the campaign:
"…as a gay woman of color, I just want to let the youth know that it kinda doesn't get better. I'm gonna be real. I'm not rich, I'm brown and I look like probably most of you. It doesn't get better, but what does happen is that you get stronger. You realize what's going on, you see how people are, you see how the world is. And, as an adult, you learn how to deal with it."
We initially discovered Gabrielle last summer through "Spanish Girls Are Beautiful," the 20 minute short film she made  in 2007 and made her spill the details on How [She] Turned Straight Actors Into Badass Butch Queers In Three Days Flat.  She recently voiced her frustration with the Oscars not giving any love to "For Colored Girls" and introduced you to her favorite poet/musician/playwright, Rock Wilk.
Check out her story in the Lambda Award winning Portland Queer: Tales of the Rose City, her interview with My Latino Voice and gabriellerivera.com.