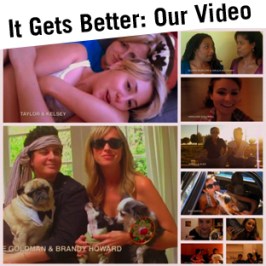 Unless you've been living under a rock (we're not judging if you do, it happens), you probably know about Dan Savage's It Gets Better Project, which enlists homos to speak to youths via YouTube about how high school is a battlefield for your heart. Celebrities with shiny hair tell schoolchildren about how much better things are when you have a hit record and bang hot lesbo-chicks all day. In between those vids, you can hear real stories from normal not-fancy human gays all over the world. You might cry a little.
You probably wondered, where's Autostraddle's video, are they too busy reading editorials of the It Gets Better project to actually get better? Nah. We just needed it to be special and wanted a big complicated project to ensure a constantly haphazard publication schedule.
"Why are we waiting for permission to talk to these kids? We have the ability to talk directly to them right now. We don't have to wait for permission to let them know that it gets better. We can reach these kids."
We enlisted the worldwide troops for this one. However we can't figure out how to get it on their site I keep getting an error message help.
The It Gets Better project requires you to put your location in the title. We can't fit it all in there, so how's this… (location is where the video was shot)
Starring:
DJ Carlytron & Photographer Robin Roemer (Autofocus) — Queens, NY
Actress Sarah Croce (Miss April) & AS Design Director Alex Vega — On the Road somewhere between New York and California (two bois, one road)
Celesbian Nat Garcia (Autonatic, More to L) & her dogs — Los Angeles, CA
Comedians Gloria Bigelow & Dalila Ali Rajah (Cherry Bomb TV) — Los Angeles, CA
Actress Julia Osen Averill (Miss February) — Brooklyn, NY
AS Intern Elizabeth — Chicago, IL
AS Intern Daphne Duck — Belgium
AS Intern Lily (College Lesbianage) — New York, NY
Tech Blogger Morgan — Boston, MA
Technostraddle Editor-in-Chief Taylor and Video Assistant Kelsey — Oakland, CA
Nicole Pacent (Miss June, Anyone But Me) & Jenn Klein — Los Angeles, CA
Vikki (Up Popped a Fox) and her cute family — Minneapolis, MN
Editor-in-Chief Riese Bernard & Managing Editor Sarah F. P. — Ann Arbor, MI
Actress Haviland Stillwell — West Hollywood, CA
Comediennes/actresses/executives Julie Goldman & Brandy Howard (In Your Box Office) — Los Angeles, CA
---
Before you go!
It takes funding to keep this publication by and for queer women and trans people of all genders running every day. And A+ members keep the majority of our site free for everyone.
Still, 99.9% of our readers are not members.
A+ membership starts at just $4/month.
If you're able to, will you join A+ and keep Autostraddle here and working for everyone?
Join A+