Carmen's Team Pick:
I have a huge confession to make: I have never woken up in the morning feeling like P. Diddy. After all, he's kind of old and he doesn't even know his own name. I have, however, woken up numerous times feeling like Kanye West.
It's a kind of invincible feeling — like finally getting the girl, catching the bus you should have missed, making it out of a seemingly impossible situation, or kind of just feeling like the coolest fucking person on Earth. No matter how great you feel, though, feeling like Kanye West is not the same as having his life experiences. For example, Kanye West's Twitter account is a great daily dose of inspiration, but be warned: imitating Kanye cannot and will not produce the same effects as his own work. Sometimes I tweet long-form Twitter essays in his classic DONDA style. Nobody emails me. Once, I tweeted "I just threw some kazoo on this bitch" and most people just assumed I was daydrinking. And the last time I talked about listening to classical music on Twitter, someone texted me to ask if I was okay.
The only way to truly feel like Kanye online is to be Kanye himself. And now you can.
Galactic Café's "Life in the West" provides you with a once-in-a-lifetime opportunity to experience life as Yeezy. You start by logging in to Twitter with the username kanyewest and from there, you watch as people mindlessly tune into what you say, praise you for talking nonsense about cherub imagery on carpets, and even reward you for using too many ellipses.
The game also allows you to tweet – but the object of the game is to tweet Kanye's own wisdom, and not your own spin on it. Only the right letters will type out in the message, until you have one of Kanye's signature sayings next to the "Tweet" button. You basically just type gibberish until something moving comes out, kind of like the king himself.
It's like practice for being a superstar rapper, an exercise in self-indulgence, and a waste of time at work all at once. In short, it's amazing.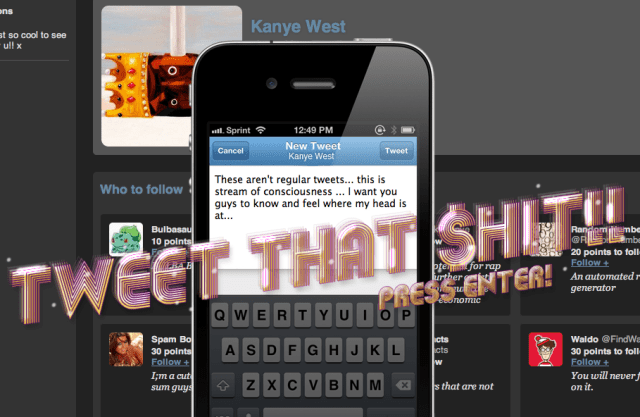 Eventually, you'll wake up feeling more like Kanye West everyday. And that can't ever be a bad thing.