Hello! So many stories and so little time, let's get started!
THE SECRET LIFE OF THE AMERICAN TEENAGER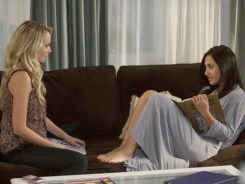 ABC Family has officially overtaken Logo as the best place to see girls kiss other girls. This time, it's on a show I mistakenly believed was about Bristol Palin when it premiered in 2008, The Secret Life of the American Teenager. Last week, the hour-long teen drama, which centers on young Mom Amy Juergens and her impossibly clear-skinned family and friends, aired an entire episode in which gay rumors about various characters were a running situation, and surprisingly they pulled it off with relative aplomb.
For several episodes now, various interested parties have been spreading rumors about Amy's Mom, Anne (Molly Ringwald, who looks even hotter now than she did in the 80's), being gay, the root of which seems to be a suggestive facial expression shot in the direction of Amy's fiancé Ricky's lesbian Mom, Nora, played by Anne Ramsay.
With the topic hanging heavy in the air, Amy's friends, sexually adventurous Adrian (Francia Raisa) and Grace (Megan Park) let it slip that they've both thought about kissing the other, which eventually leads to this:
I'll admit that I'd not seen one episode of this show until last week, when I managed to catch up on enough of Season Four to get a handle on where this plotline fits in. Looks like tonight's episode will raise some interesting questions as well!


PRETTY LITTLE LIARS
Speaking of ABC Family, AfterEllen chatted with Marlene King about what this season has in store for Emily, our lesbian lover from Pretty Little Liars.
AE: …I've heard some speculation that Emily might hook-up with some boys this season. I know she's bisexual in the books. Is that the direction you're taking her?
MK: It's not our intention. I want to choose my words really carefully here, because Emily is going through a period of mourning and loss and confusion, and she may make a decision or two that will take her on a winding road — but she definitely quickly comes back to her understanding of her sexuality.
AE: That's true to life. Grief can make you do all kinds of things. What can you tell me about potential love interests for Emily going forward. Are Samara and Paige still around?
MK: We haven't seen Samara yet, but we're only on episode nine right now. Paige is still a part of the show. She's not around for the first five episodes, but she does come back into Emily's life. And they sort of start off a few steps behind where they were in the finale. They're trying to find a way to be friends.

THE GLAAD AWARDS
The GLAAD Awards came to San Francisco this week (the New York and Los Angeles awards already happened), hosted by Dianna Agron (with help from Mario Lopez & the amazing Rita Moreno) and featuring special guests including Pretty Little Liars' stars Ashley Benson, Ian Harding and Shay Mitchell, lesbian comedian Fortune Feimster and trans advocate & writer Janet Mock.
Awards went to Days of Our Lives, Grey's Anatomy's Shonda Rhimes, Grey's Anatomy itself, Las Aparicio, The Huffington Post, and Facebook. Mhm. They gave Facebook an award for their role in supporting LGBT user visibility, or something. Hopefully next year they'll reward Alexander Graham Bell for inventing the telephone, enabling LGBTs to speak to one another out loud.
Dianna Agron: "I've kissed girls before, it's fun."
At some point, a kiss with Dianna Agron was auctioned off, and many hoped the opportunity would go to a lady, perhaps one of those famed Faberry Shippers. Instead, the grand prize went to… her agent's boyfriend?
She also had a nice time being adorable with the children of Jennifer Tyrrell:


GIRLS
Just FYI, two straight girls made out on the HBO comedy Girls last night for a relatively long time, which was a funny surprise. Also I'm into this storyline with Hannah and her boyfriend Adam, who I hate, because it's really accurate about that part of a relationship (or friendship, even) where you start to wonder if this person you've signed up for is not actually just weird or mysterious, but unstable and insane — like you just then realize how many blanks you filled in about them with your own projections/assumptions instead of actual evidence, and who knows what could happen next, or who they really are. You know what I mean?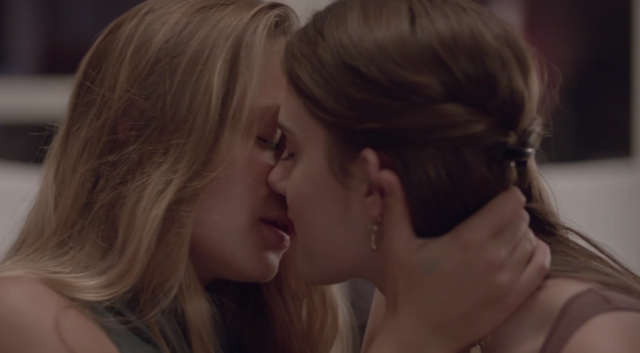 Last week's episode introduced a lesbian character who had a hard time opening a beer bottle with her mouth.