Hey, Autostraddlers, what's up? I've missed you. I really have. I actually meant to have written this for you a few weeks ago, but you should know something about me. I'm late, Autostraddlers. I'm the type of person who is always late. My friends know this. My family knows this. The guy at library returns counter knows this. Whether it's self-imposed deadlines, dinner dates or my menstrual cycle¹, you can count on me to be at least five minutes to weeks late.
The worst part is, I never have any real excuse for it. Sometimes I wish I was ethnic just so I could claim to be on "Mexican time," or "Indian time," or "Jamaican time." That makes it sound cool. Every non-white friend I have uses their ethnicity as an excuse for being late. If only being on "white time" was a thing. That would be amazing. "Gee willikers, I'm sorry I'm late! I must be on white people time. You know, I'm just so busy…buying organic produce and inadvertently oppressing other cultures. It's a jam-packed day! I've got to turn a blind eye to third world genocide later. My my, it's a big day being white!" Nope. It doesn't quite work.
(Before you get all poclitical² on me, Autostraddle, I'm not saying that all white people are like that. Some of us are. The only sweeping generalization I'm comfortable making about white people is that, for some reason, we all go mental for Toblerone. I don't know what it is about chocolatey nougat in the shape of a triangle, but we love that shit. Also, I'm not saying that I really want to be ethnic. I like being white just fine, what with all the opportunities, representation in the media, and the never getting-arrested-for-no-reason. It's a pretty sweet deal, overall.)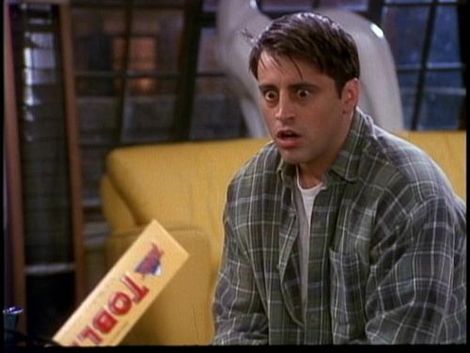 Now, some of you may be thinking that I already have a built-in excuse for being late. I can just claim to be on "lesbian time," right? The problem is, I've never really understood the concept of "lesbian time." What is it? Are we late because we're too busy going down on each other? Are we late because it seemed to take us until the debut of  The L Word to realize we were allowed to wear things other than ill-fitting corduroy and vegan sandals? Are we late because we're spending too much time doing the journaling exercises presented in the self-help classic CoDependent No More? (Okay, maybe that last one is just me.)
Usually I'm late because I've slept in. I've been known to set my alarm to go off ten minutes before I have to be somewhere, completely and utterly forgetting about the concept of "travel time." "I have to be there at eight," I think. "I'll leave at eight!"
A few things happen when I realize I'm going to be late. First, there is the rapid shedding of morning routine. I start thinking, "I don't need breakfast; I can grab something in transit. Showering? That's for divas. Sure, I'm in a pajama shirt, but it's almost like a regular t-shirt a person would wear in life. I could be that person. I am that person! So what if my hair's sticking up? People have hair like this. I'll tie my shoes in the elevator. Teeth-brushing? Please! I'll chuck some gum in there. Pants? They're half way up, man! I'll do the rest outside. Hey, this creased sheet print on my cheek actually looks kind of cool."
Then, a series of physics-defying rationalizations goes through my head. "Okay, so if there's no traffic and no red lights, I can make this on time. Yeah, I just have to hurry, and I can totally make it. If there's no traffic, no red lights, and I roll out of the cab while it's still moving, I'll be there on time. Yes. This is totally do-able, especially if the space-time continuum collapses. Or if there's a traversable worm hole. For sure. I'll totally be on time. I'll just slip through the worm hole. Perfect plan. Maybe I'll just be ten minutes late. What's a mere fifteen minutes? It's not a big deal. Who gets upset about twenty little minutes? It'll be fine."
What is time anyway? I mean, how can I be late, if it's always just the time it is. It's the time it is, and I'm where I am. I'm here now, and that should be enough. Seriously, are you going to be mad at me for showing up ten minutes late? Look at me, I'm helpless and adorable! You should be relieved I showed up at all. I know I am.
How do I continually get away with this ridiculous behavior? Well, I've learned some tricks. The key to being late is to act slightly annoyed and frantic when you arrive. Show up sweating, looking a bit disheveled. Bonus points if you're missing half a collar, with a twig or two stuck in your hair. What you need to do is subtly suggest to everyone already there, that your life is more hectic than their lives. Yeah yeah, they were on time, but only because they don't have to deal with the huge and important things you have to deal with. The goal is to prevent anyone from asking you why you're late. You need to have an attitude that stops the inquiry before it even starts. The question on people's minds shouldn't be, "Why are you late?", the question should suddenly be, "Hey, why did we schedule this thing so god damn early? That was inconvenient!"
A friend once told me that being habitually late is a way to compensate for a fear of abandonment. I guess the idea is that when you're late, you can guarantee that the other person will already be there. You don't have to wait for anyone. You don't have to confront your fear of being alone. It sounded like a bunch of ridiculous, psycho-babble mumbo jumbo to me. But I let her keep telling me about it anyway, because I didn't want her to leave.
That reminds me, I should get going. I probably won't ever get to the bottom of my problem with being late. I've actually got a thing to go to now, and I'm running early. Check that out! I have seven whole minutes before I need to be out the door, and I'm all ready to go. Hey, I think now's a perfect time for me to rearrange all my books alphabetically by genre, sub-genre, and major theme. This is great! I've got heaps of time. I think I'll start up that worm compost bin. Maybe I'll hem these pants. I know! I'll make stew!
¹ OMG J/K LOL!! One of the best parts of doing it with chicks is never having to worry about bringing unwanted, un-planned-for humans onto the planet. AM I RITE, LAYDEES?!
² I just invented this term for "political lesbian." Poclitical. I think it works. Let's keep it.