This Saturday night in New York City, all the stars of earth, stage and screen aligned for a magical evening celebrating homosexuality and other glorious aspects of the LGBTQ experience. It was called The Glaad Media Awards!
The evening was hosted by Naya Rivera and Cory Monteith, who play Santana Lopez and Finn Fucking Hudson on everybody's favorite television program, Glee! If you're not familiar with Glee, the important thing to know is that Santana Lopez is the lesbian, and we all love her, and Finn Fucking Hudson is a talent-free potato sack, and we hate him.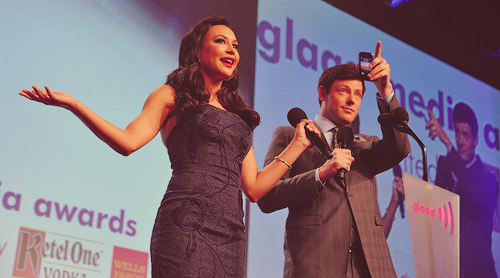 Dancing With the Stars, which featured trans megastar Chaz Bono and homosexual galaxy smasher Carson Kressley this year, won Outstanding Reality Program. Pariah, which should've also won an Oscar but did not Because Of The Patriarchy, was rewarded with "Outstanding Film – Limited Release." I've been looking into becoming a limited release myself.
Katy Butler, the delightful teenager from Ann Arbor, Michigan (my hometown!) who campaigned for the MPAA to change the rating on the documentary Bully so that the kids it's about could actually see it, snagged The Special Recognition Award, and Zach Wahls, the child of two lesbian Moms whose impassioned plea for marriage equality at the Iowa House for Representatives went massively viral last year, gave a Special Presentation. I bet it involved magic tricks!
Bernadette Peters presented the Vito Russo Award to Broadway and "Smash" producers Craig Zadan and Neil Meron. The Vito Russo Award honors "an openly LGBT media professional who has made a significant difference in promoting LGBT equality." Also, our friend Mombian won for best blog! Isn't that nice?
The most important thing that happened all night long was when somebody paid $5,000 to kiss Naya Rivera — personally, I would've paid $5,000 to have Naya Rivera and Heather Morris kiss each other more often on the teevee, but that wasn't up for sale.
Nor was the $15,000 towards punching Finn Hudson in the face on the auction block, but it was there for kissing Cory Monteith. Other people who sold their lips for money include: John Stamos.
Other things that got awards include Ricky Martin, Battle Against Bullying and this article from The Boston Globe.
Other people who were there include: Dakota Fanning (Runaways, Twilight); hip hop icon Russell Simmons; Megan Hilty (Smash); Padma Lakshmi (Top Chef); Adepero Oduye and Kim Wayans (Pariah); Olympic figure skater Johnny Weir, Tracey Gold(Starving Secrets with Tracey Gold); Laverne Cox (Musical Chairs); Jay Manuel and Isis King (America's Next Top Model).
At the end of the ceremony, everyone felt really happy.