This week on Pretty Little Liars, we were promised A's big reveal but knew, due to the Rules of Television, that promise-keepers are losers/weepers and chances that we'd get all the answers were slim/none. Clearly there's no limit to the length of Rosewood's school year or the amount of psychological torture its prettiest littlest liars are capable of enduring. At this point, they really should all just move. Because why be here…


…when you'd be so much happier HERE!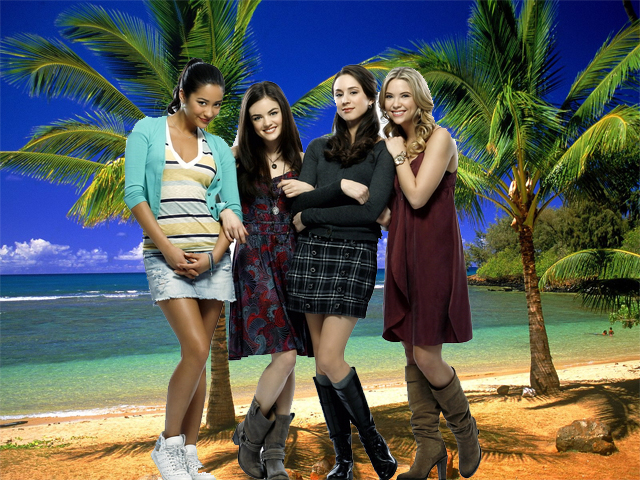 Anyhow, due to the inherently epic nature of a season finale, I decided to attempt a recap of the entire g-ddamn episode (usually I stick to the gay parts), which may or may not have been a poor estimation of my talents/time/abilities. Then there was this stuff happening with my apartment and furniture that you care about less than you care about Aria and Ezra swapping spit in the Blue Lagoon, so long story somewhat-shorter-than-necessary — this is late, and I'm sorry. Also it's not funny. I mean, it's funnier than if you did it yourself (unless your name is Jacob Clifton or Heather Hogan), but it's not, you know, really funny. It's really not funny at all and I think that's 'cause there is SO MUCH PLOT, like SO MUCH, that there's really no room for jokes, and so maybe deciding to recap this episode was stupid on so many levels! Anyhow please comment to make me feel better, please.
Here's the episode, if you're nasty!
Let's get going!


We open in Spencer's Pretty Little Pantry Kitchenspace, where her newly-installed flat screen television announces that Garret Reynolds has pled "not guilty" to the murder of you-know-who and that the P.D. suspects Garret Reynolds joined the force to conceal his criminal activities and compensate for the shape and size of his genitals. (The last part is implied.)
Spencer says 'twas Jenna who gifted the coppers with the Infamous Page Five of the Autopsy Report (not to be confused with Page Six, which is already chock-full of Blind Items), and Aria requests they "put Ali to rest," which'll obviously never happen, ever. Hanna's already masticating all over page seven:
Hanna: "Ian's dead, Garrett's in jail — Melissa and Jenna were both in Ali's room that night too. They may not have killed Ali, but they're definitely guilty of something."
As if on cue, psychopath Melissa saunters in, leans suggestively on the freshly-shined granite countertop and dishes some creepy shit about her confidence in Ian's innocence and her confidence in The Liars' psychological inability to murder anybody.
Driven by the eternal gnawing hunger of the Ian Fetus, Melissa eyes the cup of ice cream Aria has apparently been coveting all scene long, having surely gone to the store, selected & purchased her scoop and transported the scoop to Spencer's without letting it melt even one teeny tiny bit. "Are you gonna eat that?" Melissa asks, and Aria is like, whatever weirdo, you need all the sweetness you can get.
Melissa: "Is this peanut butter?"
Aria: "Toffee."
Melissa: "Mmm. It is good. Thanks."
Melissa dashes with her Baskin-Robbins and A drops a mobile-text-message to threaten the ladies with body bags, which makes Aria very nervous because she's unsure if A's body bag will go with the multi-colored body bag she's already wearing.
Hanna's like, "Ugh, why do I have Courtney Love hair suddenly?" (silently) but immediately Spencer spies a "messenger" at the door, surely imported from the 15th century or whenever messengers were last used to deliver invitations to school dances everybody probably already knows about, and bequeaths the liarz with A's specially annotated versions of the Masquerade Ball Invitations.
Spencer, looking just as arbitrarily psychotic as her sister, walks all fugue-like to the window, stares at something/nothing and intones: "Hide and seek was my favorite game with Melissa. You wanna know why? I always won." Okay, weirdo.


And cut to Rosewood High School of Eternal Autumn, where the Pretty Skittle Liars continue talking about themselves/A, and Aria's brain continues to excreet gems like this:
Aria: "Parties and body bags go together like drinking and driving."
It's with this same attitude that Aria dresses herself every morning.
I don't really even know what they're talking about anymore, besides everybody being A, but Emily says this, and it's genius:
Emily: "Guys, I don't trust Melissa as far as I can throw her and Ian's fetus, but let's not forget that Jenna also knows about the Jenna thing."
And speaking of genius:
Hanna: "The only person I know that's smarter than Spencer is her sister."
Spencer: "Um, I take offense. Melissa did score higher on the Wechsler scale, but when you take into account my scores, and the Flynn effect, combined with real-life accomplishments, the gap in our IQ's is virtually nonexistent."
They've got 'til midnight the next day to return A's Palm Pixie which leaves only a slim window for additional sleuthing, so after exchanging endearing glances of appreciation for Spencer's myriad quirks of intellectual defensiveness, the foursome agrees to play another round of "digging through Ali's duffel bag" AGAIN that evening. Just in case they missed a dead body or confession or creepy living doll the first 45 times or, who knows, maybe somebody's lost sunglasses and/or umbrella will turn up.  Or something like this:
Mona Mony, adorned in a Michael Jackson tribute red leather jacket, busts the spy meet-up to squeal about the ball and invites everyone to accompany her costume-shopping voyage at a "vintage shop one town over," aka the One Tree Hill set across the lot.
They collectively decline, but it's Hanna's turndown that really stabs Mony Mona in the genitals, 'cause Mony Mona has a big fat lesbian crush on Hanna…. OR DOES SHE?!

Cut to later that day at Chez Pedo Ezra, where Aria's apparently got access despite his absence and probs spent her lunch break smelling the furniture and rubbing her pelvic bone against his Many Books.
Hanna's stressed 'cause she's gotta lie to Caleb and Mona regarding her whereabouts and they're blowing up her phone like the barn where Jenna got blinded.
Hanna's been losing patience at quicksand pace lately, and it's understandable that the state of relative life-peace enabled by her understanding boyfriend,  Mony Mona's Big Fat Lesbian Crush, her impeccably arranged face and the blouse/belt situation she recently snagged off a Blanche Deveraux Memorabilia ebay blowout auction has made Hanna crave normality AND OH — honesty.
Hanna: "I'm lying to everyone I care about. And I don't even know why I started lying to begin with."
Let's ignore the sheer inanity of Hanna's sudden amnesia and her consequential inability to recall the golden rule that you can't be pretty or little without being a liar and move forward, shall we?
Of the four, Hanna's always been the most reluctant about the psychotic A-labyrinth they're all embroiled in, and the most eager to return to normality. See, Emily's got to solve the puzzle 'cause she's got this untenable attraction to "the right thing" (punishing evil-doers, rewarding the good, making sure life is fair). Wechsler Scale Spencer's got the strongest familial stake in the matter but moreso Spencer's the Genius who's gotta get the right answer, always, has gotta untangle all of life's messy strings. Then there's Aria, who's just terrified of being alone for one second and therefore tends to err on the side of groupthink.
And we return to poor Hanna, perched atop Ezra's sled-bed of Amore, who just wants to make out with her lesbian boyfriend and/or lesbian girlfriend and tell everyone the truth about everything including but not limited to The Truth About Jane.
Aria tells Hanna to get the fuck off that bed 'cause it's crime scene I MEAN it's "sacred ground," which's maybe the lamest way ever to inform your friends that you've ridden Pedo Ezra's homey hobby horse, but who cares, really, let's get back to this pen Spencer found:
So, via Ali's bag, they've got half a postcard for "The Lost Woods Resort and a pen reading "Dougherty's Landing" and via The Internets they have Google Maps and after smashing all those concepts together, the Liarz decide to visit this little hideaway themselves.

Cut to the foursome driving to The Lost Forest Woods Spookytown Scareville Resort, where they'll either meet their true deaths, get bedbugs, or find out who A is.
Basically the idea here is that Ali, that tricky bitch, maybe stayed here once, like maybe the day she died or the day she picked up a new wig at That Cute Vintage Shop in Brookhaven, and maybe also she was flown here via helicopter by Ian, or something.
Emily: "What would Ali be doing up here?"
Hanna: "She wasn't bagging a deer, that's for sure."
What if she was though? What if all this whole mix-up was just a hunting accident?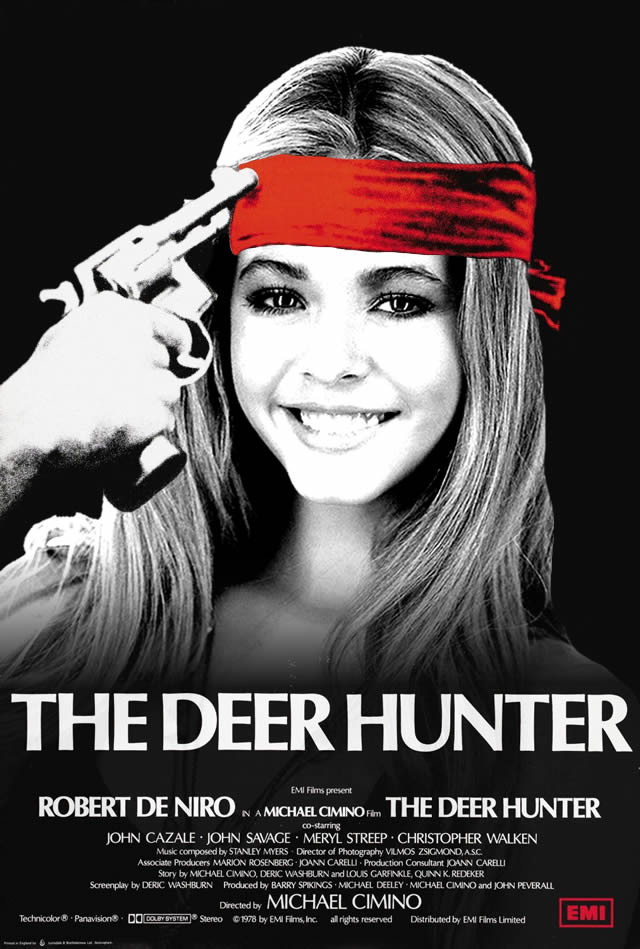 Confronted with hands-down the creepiest shit ever, the high-on-mystery Liars trample through the muddy dark stormy rainy night of terror to secure a romantic room.
The over-eager clerk's got about one millon more facial expressions than the ladies, especially in the eyebrow area, and he claims no knowledge of Ali's Vivian Darkbloom alter-ego. He shares some appropriately menacing shit about high vacancy rates and five minutes and $14.99 later, the Liarz are checked the fuck in.
Oh also, at some point A dashes about in the dark night air, probs playing hide-and-go-seek with Melissa and Count Chocula. Count Chocula always wins.
Before anyone can scream HOTEL PARTY, Hanna in her fantasticness and surely tip-top-trendy shoes slips in the mud, thus cementing Hanna's conviction that this is all really quite totally absolutely without-a-doubt-fucked, but Spencer's high on Detective Fumes and is already digging through their chateau for ambiguos clues.
Spencer's jonesing to get her hands on the registration book and its potential well of secrets and so she and Aria dash out to get their breaking & entering on — sidenote, I love that Spencer's always got a flashlight on hand — while Hanna hops in the shower 'cause she's a dirty dirty girl.
Since her vanishing, Maya has only called when Emily's got no service or is away from her phone, which is sketchy as fuck. This hasn't yet culled Emily's feelings for Maya, as evident by Emily's desperate beseeching facial expressions every time she misses a call or gets an alleged text message. Clearly The Lost Forest Woods Spookytown Scareville Resort vacation is an opportune moment for Maya to call, and she does, because Emily's so far into Buttfuck Egypt she's breaking sodomy laws overseas.
Thus Em moseys out of the room like a fucking idiot, phone held high in the pitch-dark sky, as Hanna showers. The camera angles and music all point to a Psycho re-creation which thankfully doesn't end in Hanna getting stabbed in the face. Oh, also A's lurking around too, obviously.
Meanwhile, Team Sparia have successfully busted into the office and secured crucial details regarding Vivian Darkbloom's staycation at the The Lost Forest Woods Spookytown Scareville Resort on a date very close to the day she disappeared, so we're all rightly proud of ourselves and everybody goes to bed alive.

Next morning. Day of the dance and everybody's suddenly dateless, or whatever, but they absolutely can't miss it because they've got swell costumes and a date with death. It must be jarring, constantly going from murder mystery to school dance and back again.
Oh also, A is spying on these bitches via glory hole, a la Porky's:
Hanna's dateless 'cause Caleb's Mom is in town, or something, which's devastating as Hanna's costume is a strictly Couples Costume so now everything is ruined.
Hanna: "I've wanted to be Juliet since Bridget Woo beat me out for the part in the 6th grade."
Emily: "Looking back, I think I wanted to be Romeo."
Hanna: "So, will you go to the party with me?"
Emily: "I'll be your date, but I'm not dressing like a dude."
DAMN.
This is what A's wearing:

Spencer stops by Toby's landing to beg for forgiveness, but he's very distracted moving pieces of wood from one side of the frame to the other.
She tells him to stop being that guy who wouldn't let anybody in, which's profoundly selfish on Spencer's behalf as he did let Spencer in, and she (because of A, but still) pushed him out about as fiercely as possible. So Spencer walks off set as Toby fields a call from… DR. SULLIVAN?!!?!

We then mozy to another wooded/treed area, where Not-Blind Jenna is applying her 67th coat of blood-red lipstick like the creepy motherfucker she is, and we're meant to realize that she's absolutely not blind anymore, if she ever was. Because you know, she drove that car to that place. She's that not-blind.
Jenna saunters her not-blind ass over to a romantic picnic table, where a darkened human is sitting — but we can't see the human 'cause the camera angle is from right behind the human.
Jenna: "I've thought about this moment so many times, wondering what I would say to you if I saw you again."
Is that 'cause she couldn't SEE before, or 'cause the person wasn't around before? Mystery abounds.
Jenna hands The Mysterious Mute a tacky Old Navy hat with something inside it, probs dead mice, anthrax or a Mockingjay pin, and then entones: "They're all gonna be at the dance. You know what to do."
I like how they speak in code even when nobody's nearby.

Cut to Rosewood High's Masked Midnight Garden Ball of Good and Evil But Mostly Evil, broadcasting live from the enormous Rosewood Auditorium!
Spencer's dressed as a killer bee, Emily's going for Miss Sea World 2012, Hanna is The Snow Queen and Aria's dressed as AP Geometry.
Spencer: "We have three hours to find out who A is before A finds us."
This is an admirable projection considering after a year or two (?) they've yet to secure a solid lead, but the gym decor suggests a magical night is in store. Everybody knows that putting a mask over your eyeballs completely obscures all other identifying facets of your identity.
Everyone pretty-promises to be "in this together" and to rendez-vous at midnight, "no matter what happens," which I think means that no matter what happens, there's no possible way that they'll rendez-vous at midnight.
"It's four against one," says Hanna. "I like those odds."
"They just want a good show, that's all they want," says Gale.
"There's 24 of us Gale, and only one comes out," says Katniss.
"I don't like those odds," says Riese.


Pages: 1 2See entire article on one page