0. 2/20/2012 – Here/Queer Call for Submissions, by Riese
1. 3/02/2012 – Queer Girl City Guide: Montreal, Canada, by Sid
2. 3/05/2012 – Playlist: Here/Queer, by Riese
3. 3/05/2012 – Queer Girl City Guide: Portland, Oregon, by Lesbians in PDX
4. 3/07/2012 – Queer Girl City Guide: Brighton, United Kingdom, by Sarah Magdalena
5. 3/07/2012 – Oh But To Be A Queer in Sicily, by Jenn
6. 3/08/2012 – City Guide: Seattle, by Marley
7. 3/11/2012 – City Guide: Washington DC, by Keena
8. 3/13/2012 – Here/Queer: Sydney Mardi Gras Is On Your To-Do List, by Crystal
9. 3/14/2012 – Queer Girl City Guide: Spokane, Washington, by Ana
10. 3/15/2012 – Queer Girl City Guide: Cleveland, Ohio, by Lora
11. 3/16/2012 – Madison, WI and W4W Entertainment, by Emily
12. 3/16/2012 – Queer Girl City Guide: Dublin, Ireland, by Una
13. 3/19/2012 – Queer Girl City Guide: Vancouver, Canada, by Kathryn
14. 3/19/2012 – Things We Wrote That You Loved, by The Team
15. 3/20/2012 – Here/Queer: Boogie Down Bronx, by Gabby
16. 3/21/2012 – Queer Girl City Guide: Columbus, Ohio, by Dominique, Annie, Kat, Liz & Mila
17. 3/24/2012 – Queer Girl City Guide: Santa Fe, New Mexico, by Sam
I've lived in Santa Fe for about nine months and I've never fallen in love with a place as quickly and fiercely as I have with the "City Different." Others feel this way too, as evidenced by the local economy's driving factor—tourism. People love to come here (and stay here!). The city's near-perfect weather, massive art scene (second only to NYC in the United States), and cohesive architectural style (Pueblo Revival) draw many different types of people to Santa Fe all year long. Santa Fe is an "escape" of sorts — it's quiet and mountainous and some people find it magical. Residents welcome tourists, despite the fact that they might butcher the pronunciation of the Spanish-named streets and crowd the tiny, one-way dirt roads with their massive SUVs. We welcome outsiders because that's what Santa Fe is all about. That's what makes Santa Fe awesome for residents, awesome for visitors, and especially awesome for the gays. Because I'm a lesbian, and I'm 24-years-old, and I've already done all this, and it only makes sense that things will be easy for you too!
+
The Lonely Bar
+
Santa Fe is very small (there are only 70,000 or so full-time residents), the majority of the people are old enough to retire, and the nightlife in general is pretty quiet. That said, there is one gay bar/club: The Rouge Cat (101 W. Marcy)! It is female-owned, but it's also pretty male-dominated and tend to have a 30+ crowd. On the main level, there's a comfortable but chic sitting area and small bar. Most of the cocktail-drinking folks here are in their thirties (or forties/fifties?) and male, so go on the weekends (even though you'll have to pay a cover) and head downstairs. It's darker and there's a DJ, another bar, and many more women.
+
Food and Friends
+
Mostly all places in Santa Fe are gay-friendly. I say this from experience because I have been (and am) that girl who drunkenly "takes on the town" whilst having zero regard for anything but myself and the girl I want to make out with right then.
If you're downtown, I'd recommend Marble's Taproom (60 E. San Francisco) because you can sit outside all year round (there are heaters!) and get in some prime hippie watching.
Coyote Café's Cantina (132 W. Water) is only open in the summer, but it's also an awesome outdoor spot with some great lady-meeting potential.
If you're in the Railyard area (which you should be!), head to the Cowgirl (319 S. Guadalupe) or the Second Street Brewery's new location, which is attached to the Farmer's Market Pavilion (1607 Paseo de Peralta). Chances are you'll meet a crunchy, most-likely-artistic, possibly-musician-ish lady at one of these places. I recommend you embrace collapsible hula hoops AKA the best conversation starters of all time.
+
College Life For Students and Beyond
+
I moved to Santa Fe from Boulder, Colorado, which is really the "quintessential" college town. For a while, I thought Santa Fe beared zero resemblance, but I slowly began to understand how awesome the college scene here is. It's a little more subtle which is nice in comparison to a place like Boulder, which was so in-your-face with its frats and neon tank tops and wayfarers everywhere you turned.
Santa Fe Community College is a huge part of the community and is great because it offers options for all types of students. They have a student-run gallery on Canyon Road (in the heart of the art district) called Red Dot Gallery (826 Canyon). Visit it!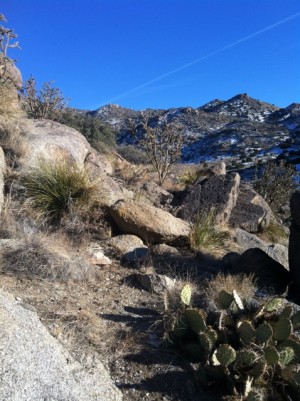 St. John's College (a small, liberal college on "The Hill") is also fairly fantastic! This much I know about St. John's: they host a series of free outdoor concerts on their athletic fields every Wednesday in the summer called "Music on the Hill," their dining hall serves cheap, delicious food (even for non-students) AND some of my favorite hiking starts right in their parking lots. I'd recommend the Atalaya Trail—six or seven miles gives way to totally awesome 360-degree mountain views although it is exposed so if you don't do well in the sun, it might not be for you.
+
The General Scene Around Town
+
Hippies arrived everywhere in the 60s and 70s, right? A couple years later, a lot of them grew up, started families and lost (most of) their hippie tendencies. Not here! A lot of people say that Santa Fe never changed after that initial counter-culture infiltration. What I'm saying is: people here are really laid-back, very open to new and/or different people and things and overwhelmingly accepting. Sometimes, I feel like I'm living in a world that is part vacation and part Twilight Zone. Most Santa Feans do not care if their child's five-year-old classmate has two mommies. In fact, they probably won't even NOTICE. In terms of "support for LGBT families," we're basically living in Tomorrowland; differences aren't only embraced here in Santa Fe, they're celebrated and expected! As far as strictly gay things go, there's unfortunately no "gayborhood" but there are plenty of gayish places like the Railyard. For those of you more advanced in years, there is one LGBT retirement community called Rainbow Vision on the outskirts of Santa Fe.
+
Bookstores and More
+
There aren't any big chain bookstores in Santa Fe, so if you're looking for a massive selection, you won't find it here. But if you're looking for incredible independent shops with culture and a sense of neighborhood friendliness, we've got the place for you.
Collected Works (202 Galisteo) is an independent and locally owned bookstore and coffee house, located downtown, with book signings/readings, live music, talks, and more.
If you're closer to the Railyard, visit The Ark (133 Romero). Their highest-selling book, which I think is generally indicative of the feeling of the store, is 2013 Oracle by David Carson.
"The 2013 Oracle looks beyond 2012 with a powerful divination system, including a mirror-finished card deck, a colorful printed cenote cloth to contain and focus the oracular energies, and a four-color book to explain and interpret the guidance of the ancients."
Overall, these are both great bookstores that are involved with the community, and will go to pretty great lengths for customer satisfaction.
+
Arts Groups
+
I could write a book about "the arts" in Santa Fe. On Canyon Road, there are more than 100 galleries in a one-mile stretch. Throughout the rest of town, galleries are sprinkled everywhere. Go to these galleries! Every one you can! Even if you don't like the arts. Trust me, you will meet interesting people and you will learn something. Ask questions about the work, embrace your feelings about the pieces, and listen to what others and/or the artist might have to say. If the artist has a studio attached, ask to visit it; be curious and you will be rewarded. Gallery openings are a big social event–they're usually on Fridays–and also provide a great excuse to talk to the cute artists you've been scoping out.
SOL at the Santa Fe Brewing Company is a cool venue that holds concerts. Besides the convention center (which brings in amazing acts like the Pixies and the Smiths sometimes), it is the only place around town to see a "real" concert. The Santa Fe Brewing Company also makes some pretty good beer.
+
Dating Scene
+
The dating scene is a little bit tricky, especially for those under 30. Like I said, Santa Fe is small and generally sleepy, so it takes some work to work the dating scene. Just remember that going to bars, getting drunk, and hooking up is not always the best way to meet girl, so be open to new dating opportunities. Try networking (meetup.com and OKCupid have been do-able, in my experience) and seek women out in unconventional settings — at book readings, on biking/pedestrian trails, in the dog park, at gallery openings, and at the Farmer's Market.
+
Diversity
+
Opinions on racial/cultural diversity in Santa Fe (not New Mexico, not Albuquerque, etc.) differ. You might find tension between Native American populations, Spanish populations, Hispanic populations, and Anglo populations or you might not.  Economic diversity is alive and well, but varying socio-economic groups are extremely segregated which. At the same time, Santa Fe is somewhat upscale and you don't have to do much to ignore the outside world. I'd caution you to stay educated about what's going on!
+
Safety
+
Santa Fe is generally a safe town when appropriate precautions are taken to avoid danger. Since it's quiet and closes down pretty early, it gets a little bit creepy at night, so take a friend with you if you're alone. Avoid areas that are desolate, be smart, and you'll be fine. The majority of crime in Santa Fe theft and burglary, so just lock your stuff up!
+
Cost of Living
+
The cost of living is pretty significant in Santa Fe, especially close to downtown, but it's not too too high. I'm an entry-level worker with a SUPER entry-level salary and I support myself fairly easily. The good news: Santa Fe has the highest minimum wage in the country. It's $10.29 per hour.
New Mexico is underrated. I can't say this enough times to make people believe me. Santa Fe is innovative, unassuming, and the air is really clean. It's not for everyone, but if you think it might be for you, try it! I think you'll like what you find.
Part of an ongoing series of Queer Girl City Guides.