0. 2/20/2012 – Here/Queer Call for Submissions, by Riese
1. 3/02/2012 – Queer Girl City Guide: Montreal, Canada, by Sid
2. 3/05/2012 – Playlist: Here/Queer, by Riese
3. 3/05/2012 – Queer Girl City Guide: Portland, Oregon, by Lesbians in PDX
4. 3/07/2012 – Queer Girl City Guide: Brighton, United Kingdom, by Sarah Magdalena
5. 3/07/2012 – Oh But To Be A Queer in Sicily, by Jenn
6. 3/08/2012 – City Guide: Seattle, by Marley
7. 3/11/2012 – City Guide: Washington DC, by Keena
8. 3/13/2012 – Here/Queer: Sydney Mardi Gras Is On Your To-Do List, by Crystal
9. 3/14/2012 – Queer Girl City Guide: Spokane, Washington, by Ana
10. 3/15/2012 – Queer Girl City Guide: Cleveland, Ohio, by Lora
11. 3/16/2012 – Madison, WI and W4W Entertainment, by Emily
12. 3/16/2012 – Queer Girl City Guide: Dublin, Ireland, by Una
13. 3/19/2012 – Queer Girl City Guide: Vancouver, Canada, by Kathryn
14. 3/19/2012 – Things We Wrote That You Loved, by The Team
15. 3/20/2012 – Here/Queer: Boogie Down Bronx, by Gabby
16. 3/21/2012 – Queer Girl City Guide: Columbus, Ohio, by Dominique, Annie, Kat, Liz & Mila
17. 3/24/2012 – Queer Girl City Guide: Santa Fe, New Mexico, by Sam
18. 3/24/2012 – Here/Queer: Oxford, by Sybil
19. 3/26/2012 – Get Baked: Australian Edition, by Crystal
20. 3/26/2012 – Here/Queer: Brooklyn Under the Radar, by Samken
21. 3/27/2012 – Queer Girl City Guide: Albuquerque, New Mexico, by Juanita


Albuquerque. AKA "the Duke City" or "Burque." Before moving to Manhattan in 1999 to attend graduate school at NYU, I spent the first 23 years of my life residing in Albuquerque, New Mexico, and the last two of those years as an out lesbian. The hospital I was born in, the high school I attended and the undergraduate university from which I earned my bachelor's degree are all located within a 1.5 mile radius of each other. It goes without saying that this city holds a special place in my heart. Still, I sort of have an "it's complicated" relationship status with Albuquerque.
Someone once jokingly said that if Santa Fe, the second gayest city according to the Advocate, is known as "the city different," then Albuquerque is known as "the city indifferent." Things move at a snail's pace in this city, and even though Burqueños are some of the nicest people you'll ever meet, the city is often resistant to change. My type-A, I-needed-that-on-my-desk-yesterday personality is often at odds with a city that is notoriously known as "the land of mañana." As with anything else in Burque, if you want girl-on-girl action, you have to be patient and look hard for it. But once you find it, you'll be pleasantly surprised.
+ 
I Love the Nightlife, I've Got to Boogie
 +
There are no officially designated lesbian bars in Albuquerque, and there are only three gay bars catering primarily to men. However, there is plenty of girl-on-girl boogie in Burque to fill up your dance card. Here's a lesbian nightlife roundup that you won't find in a Fodor's guide:
Established in 2001, the Albuquerque Kings Club, Burque's premiere Drag King performance group, draws a sizable lesbian crowd to their events. They perform in Burque's three gay bars (The Albuquerque Social Club, Effex, and Sidewinders) and at Evolution, the straight-but-gay-friendly bar that took over the space once occupied by Albuquerque's only lesbian bar, the now-closed Exhale. Kings Club member Rocco Steele is the first trans man to hold the Mr. New Mexico Pride title.
Albuquerque Social Club (4021 Central Avenue) Albuquerque's only "members only" LGBTQ club draws more of an old school crowd. They host women's parties featuring DJ Madie, one of Burque's veteran lesbian DJs, on the first and third Fridays of the month. Memberships range from $5 to $30 annually.
With a capacity of 750, Effex (420 Central) is Albuquerque's newest and largest gay club. Here you'll find go-go dancers, a roof-top lounge, one of the largest dance floors in the city, and a young, diverse crowd of gay, lesbian, bisexual, queer, and curious party-goers.
Fire Womyn Events (Various locations) Promoter Alma Rosa brings in big name acts, like Bitch and God-Des & She, to her monthly dance and performance events for womyn by womyn. The crowd is extremely diverse; no matter what your age or style, you will never feel out of place. Alma Rosa's rationale behind having rotating venues is to increase the LGBTQ community's access to venues that are usually not accessible to them and to shift business owners' perspectives of our community. Subscribe to Fire Womyn for their calendar of events.
Giddy-up, cowgirls! Sidewinders (8900 Central Avenue) is Burque's queer country bar. Alma Rosa of Fire Womyn events brings the lady-loving-ladies a new party here every Wicked Wednesday, complete with 50 cent tacos!
+
Other Queer-Friendly Bars
+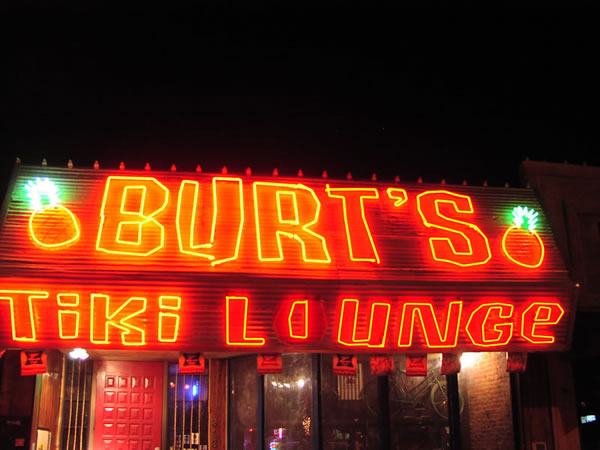 Burt's Tiki Lounge (313 Gold Avenue) This hipster/Rockabilly live music venue could be straight out of Quentin Tarantino's Death Proof! With its anything goes attitude, you're bound to find some lesbian/bi/curious action going on here. Located in what was once Albuquerque's only lesbian bar, Evolution (6132 Fourth Street), no longer billed as a gay club, draws in dance and music lovers of all sexual orientations.
+
LGBTQ Activities, Events & Soirees
+
While not strictly a queer group, the The Duke City Darlins are a queer-friendly, all female promotional street team and modified (i.e., pierced, tattooed or otherwise personalized) model company. They host charity events and volunteer to raise money and awareness for marginalized groups and women's health issues, among other advocacy initiatives. Founder and CEO Dezy Hardin Darlin is bisexual herself, and her business partner, Chief Executive Director, Brittany Darlin, is one of the lead members of GetEQUAL New Mexico. Bisexual CFO, Suzanna Bonesteel Darlin, says that she "feel[s] as though [they] are one of the most accepting, openly supportive organizations for the gay community. [They] participate in Pride every year, winning 2nd place last year for our float, as well as support and participate in gay marriage/LGBT rights rallies." This sexy group of ladies ROCK!
One of the original 100 roller derby leagues in the U.S., Duke City Derby is comprised of teams from Albuquerque, Santa Fe and Taos. Duke City Derby is queer-friendly and welcoming to women of all shapes, sizes, races, and ethnicities. DCD belongs to the Women's Flat Track Derby Association (WFTDA), a national organization of roller derby leagues with hundreds of leagues internationally that just last year adopted a policy that allows transgender skaters to play in their organization.
Lesbian comic Dana Goldberg, a native New Mexican, is the host and producer of Southwest Funny Fest, an annual comedy event that benefits New Mexico AIDS Services. Goldberg brings in other headlining funny lesbos like Fortune Feimster of Chelsea Lately.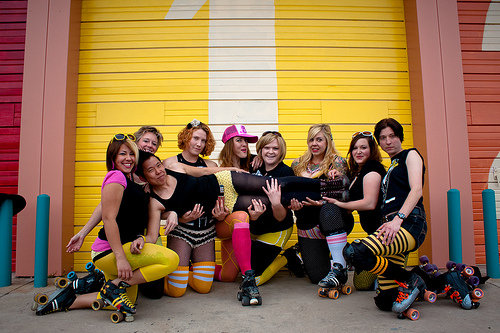 The Southwest Gay and Lesbian Film Festival is an annual film festival that started in Albuquerque in 2003. Produced by Closet Cinema, an Albuquerque-based nonprofit organization dedicated to showcasing queer cinema in an attempt to highlight the richness of the gay, lesbian, bisexual, and transgender experience, the festival showcases distinguished LGBTQ shorts and films from around the world.
Yes, I've been to a Burque Pride Parade or two. But I've also lived in Manhattan since 1999. With that in mind, would it really be fair for me to assess Burque's Pride events? From my point of view, all I can say for Albuquerque's Pride Parade is that there is one. And that's a start; no matter how big or small the gathering, it is always inspiring to see fellow queers stand in solidarity with each other. With Burque's population now inching closer and closer to one million, though, I hope to see the city step up its Pride events in the future.
+
For Your Food and Caffeine Fix
+
Ok, so here's where I feel New Mexico beats New York hands down – New Mexican food! I was told that I could find the best of any type of cuisine 24 hours a day in NYC. 13 years later, I am still searching for delicious, authentic New Mexican food. (No one in NYC knows what a sopapilla is!) New Mexican food is not Mexican food; it's not Tex Mex–when a New Mexican says chile, we don't mean that chunky Tex-Mex mess with beans; and it's not Cali-Mex. Albuquerque is highly regarded as a culinary city, with a unique cuisine that is influenced by U.S., Native American, Mexican and Spanish cultures. We eat chile with everything, so bring your Pepto!
Wait, everything? Everything! Take for example the homemade vanilla red chile fudge, dark chocolate red chile truffles, and green chile peanut brittle served up at The Candy Lady (524 Romero Street) in Old Town Albuquerque. If you're into a different type of spice, visit the Candy Lady's sexplicit adult sweets section.
El Patio (142 Harvard Drive) New Mexicans often argue about which restaurant serves the best chile. And while I'm not going to enter that debate right now, I will tell you to come here with a huge appetite, order the carne adovada stuffed sopapilla, and be prepared for some heartburn.
Flying Star Café (3416 Central Avenue) Come here for queers cruising queers, drinking coffee, eating cake, cruising queers, posting flyers advertising their next band gig or art show, drinking coffee or cruising queers.
Open seven days a week from 5am to 1am, Frontier Restaurant (2400 Central Avenue) is a Burqueño's version of a NYC diner, only better due to the fact that their array of items, from their flour tortillas to their fresh squeezed lemonade, is prepared homemade daily. Frontier is located across the street from the University of New Mexico, so you'll find lots of artists, college students, graduate Teaching Assistants, and professors hanging out and people-watching all day.
So, you punked out? Your stomach couldn't handle all that heat. You need some of that fancy pants, local, organic Northern California style familiarity to soothe your queer belly? Well then, The Grove Café & Market (600 Central Avenue) is right up your alley, with their house-made granola, organic yogurt and Intelligentsia coffees and teas.
+
Tats
+
Burque is a pretty heavily-tatted city. All Is One Tattoo & Design (139 Harvard Drive), Evolution Tattoo (4517 Central Avenue Northeast) and Route 66 Fine Line Tattoo (5511 Central Avenue Northeast) are only a few of the finest places to get inked.
+ 
Gay(ish)borhood
 +
Nob Hill — sometimes called "Snob Hill" because of its high end boutiques and boho vibe–is not technically a "gayborhood," but it's the closest thing Burque has to one. Located along historic Route 66, Nob Hill is home to a number of queer friendly establishments including the Flying Star (mentioned above), the Guild Cinema (an "eclectic" cinema that shows indie films), and the La Montanita Co-Op Food Market (um, hello).
+
Hoods to Avoid
 +
There are lots of places to avoid, especially at night. Gang activity has been a problem for Albuquerque, and the city often ranks way above New York and Los Angeles in terms of violent crime. (Less than 10 years ago, it was within the top 10 most violent cities, which is ironic considering everyone I know back home is always concerned about my safety in NYC). My recommendation to anyone regardless of their sexual orientation is to travel in packs when the sun goes down. Don't let its beauty fool you; Burque still has a "Wild Wild West" mentality.
 +
College Life
 +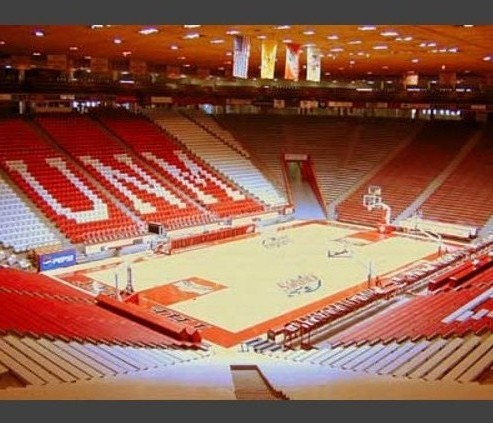 The University of New Mexico gave me some of the best memories of my life. I didn't go to a top notch or gay-friendly high school; as a "townie," I knew a lot of locals and I didn't share the same views or post-high school graduation goals with many of them. UNM, located right on Route 66 near Nob Hill, is an artsy, laid back, hippie-dippy campus that allowed me to just be me. Even though I stayed home for undergrad, the mentality on UNM's campus is so different from that of the city at large that I felt like I went away for college. There are lots of great queer resources on campus, including the LGBTQ Resource Center, the UNM Feminist Research Institute, the UNM Queer Straight Alliance, and the UNM Women's Resource Center, to name a few. It doesn't hurt that UNM has a beautiful campus known for its unique, Spanish-Pueblo style adobe buildings.
 +
Go Team!
+ 
If you're a big sports enthusiast, you probably already know that, with the exception of the Albuquerque Isotopes, a minor league baseball team, New Mexico doesn't have any professional sports teams. If you're truly a REAL sports enthusiast, you know that Burque makes up for its lack of professional sports teams with our college sports. Burque is Lobo country! The UNM Lobos have an excellent athletics department, sending many players on to the NBA and NFL, and their basketball teams play at the Pit, one of the loudest arenas in the country!
+
LGBTQ Community Centers/Support Groups/Resources
+ 
Located on the University of New Mexico's campus, the The LGBTQ Resource Center is open to students as well as to the general public. Out country singer Chely Wright recently opened a "Like Me Lighthouse" LGBTQ community center in Kansas City, Missouri and in an interview with MSNBC, she stated that she hoped to open one in Albuquerque in the future. Fingers crossed! We've also got Equality New Mexico, Get Equal New Mexico and the Transgender Resource Center of New Mexico.
 +
Get Up!
 +
Albuquerque is home to the world's largest International Balloon Fiesta, as well as the world's longest double reversible tramway.
 +
Get Out!
 +
If you're an outdoorsy dyke, then Burque is perfect for you. New Mexico's natural beauty is unparalleled, so get out of the bar and hit the great outdoors. Here are some day (or longer) trips that my friends in NYC don't believe I've taken. (Is it the glitter top or the heels that throw them off?)
About 1 hour from Burque, Bandelier National Monument has great hiking, camping, wildlife and cliff dwellings.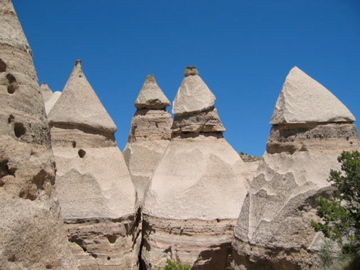 You can find hot springs, river walking, waterfalls, hiking, and camping approximately 1.5 hours from Burque at Jemez Springs. Don't forget to stop in at Deb's Deli.
About one hour from Burque, you can go hiking, catch amazing views, tent rock formations and wildlife at the Kasha-Katuwe Tent Rocks National Monument.
Summer sports like hiking, biking, nature walks, camping, and picnicking and winter recreation like skiing are just 15-30 minutes away from the city at the Sandia Mountains. Watermelon, anyone?
Santa Fe: Just 45 minutes from Burque. The state's capital and the oldest capital in the United States has over 300 art galleries and museums combined, including the Georgia O'Keefe Museum. If the Santa Fe Opera is in season, catch a performance at their open-air Crosby Theater.
+ 
Gay Rights NM
 +
New Mexico is a BIG state…and a swing state. Albuquerque is more conservative than Santa Fe, but more liberal than some one-horse towns further south. New Mexico in general offers domestic partnership benefits to state employees, but a recent, more comprehensive domestic partnership bill never even made it out of committee. On January 4, 2011, Attorney General Gary King issued an opinion stating that that a valid same-sex marriage from another jurisdiction is valid in New Mexico. While New Mexico doesn't perform gay marriages, King's opinion hasn't yet been tested in the courts or legislature.
In more current glitterific homo news, New Mexico Governor Susana Martinez (R) recently lost her hairdresser over her anti-gay marriage stance. Stylist Antonio Daren cut Martinez's hair on three different occasions but decided to decline further appointments until the Governor changed her opinions. When Martinez's camp called Daren's salon to see if he would change his mind, Daren held firm. He. Betta. Werk!