0. 2/20/2012 – Here/Queer Call for Submissions, by Riese
1. 3/02/2012 – Queer Girl City Guide: Montreal, Canada, by Sid
2. 3/05/2012 – Playlist: Here/Queer, by Riese
3. 3/05/2012 – Queer Girl City Guide: Portland, Oregon, by Lesbians in PDX
4. 3/07/2012 – Queer Girl City Guide: Brighton, United Kingdom, by Sarah Magdalena
5. 3/07/2012 – Oh But To Be A Queer in Sicily, by Jenn
6. 3/08/2012 – City Guide: Seattle, by Marley
7. 3/11/2012 – City Guide: Washington DC, by Keena
8. 3/13/2012 – Here/Queer: Sydney Mardi Gras Is On Your To-Do List, by Crystal
9. 3/14/2012 – Queer Girl City Guide: Spokane, Washington, by Ana
10. 3/15/2012 – Queer Girl City Guide: Cleveland, Ohio, by Lora
11. 3/16/2012 – Madison, WI and W4W Entertainment, by Emily
12. 3/16/2012 – Queer Girl City Guide: Dublin, Ireland, by Una
13. 3/19/2012 – Queer Girl City Guide: Vancouver, Canada, by Kathryn
14. 3/19/2012 – Things We Wrote That You Loved, by The Team
15. 3/20/2012 – Here/Queer: Boogie Down Bronx, by Gabby
16. 3/21/2012 – Queer Girl City Guide: Columbus, Ohio, by Dominique, Annie, Kat, Liz & Mila
17. 3/24/2012 – Queer Girl City Guide: Santa Fe, New Mexico, by Sam
18. 3/24/2012 – Here/Queer: Oxford, by Sybil
19. 3/24/2012 – Get Baked: Australian Edition, by Crystal
In honour of Here/Queer, I'm going to show you how to cook some iconic 'Stralyan dishes: Anzac biscuits, meat pies and pavlova. Not all of these were necessarily invented in Australia, but we've claimed them as our own.
All recipes are adapted from recipes found on taste.com.au.

Anzac Biscuits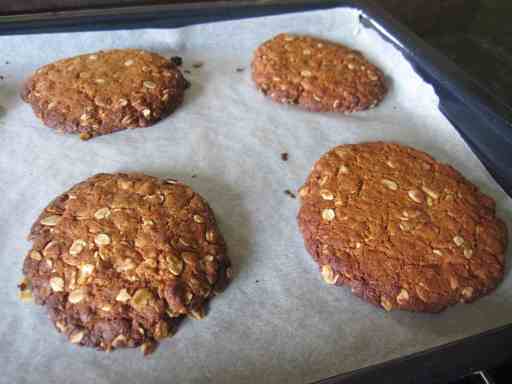 Anzac Biscuits were sent to soldiers from the Australian & New Zealand Army Corps (ANZAC) during World War I, hence the name. Now they're a staple on Aussie supermarket shelves. The best thing about Anzac biscuits is that they're perhaps the easiest and quickest things in the world to make, and they've got quite a long shelf life.
The recipe for Anzac Biscuits is pretty much the same in every publication; it's tried and true and even published on Wikipedia. To mess with it too much would be un-Australian.
Ingredients:
1 cup plain flour, sifted
1 cup rolled oats
1 cup desiccated coconut
3/4 cup brown sugar
125g butter, chopped
2 tablespoons golden syrup*
1 teaspoon bicarbonate of soda
* Golden syrup is comprised of refined sugar cane and can probably be replaced with any liquid sweetener such as corn syrup, a light treacle or honey. If golden syrup isn't available in your country, this forum will help you find a suitable substitute.
Method:
1. Preheat oven to 180°C / 356°F and line two baking trays with non-stick paper. Mix flour, oats, coconut and sugar into a large bowl.
2. Melt butter and golden syrup in a small saucepan over medium heat. Combine the bicarb soda and two tablespoons water in a small bowl and then stir it into golden syrup liquid. If the liquid becomes frothy then don't fret, that's normal. Add it to flour mixture and combine.
3. Roll 1/4 cup of mixture into balls and place on the baking trays, then flatten. Bake for 20 minutes or until the biscuits look like they're about to burn, whichever comes first. Allow them to cool and you're done.

Meat Pies
Fact: if you tell an Australian that you're cooking a pie, they're most likely going to assume that you're talking about a savoury dish/meal, not a dessert. Australian pies are single serving-sized and typically filled with meat mixes such as minced beef, steak and kidney, and chicken and vegetable. Pies are like Australia's answer to grilled cheese in that they're available at most food outlets and are particularly popular at 3am.
There are two important things to note before making this recipe. First, the filling takes 1.5 hours to cook and then another 3 hours to cool, so it's best made the day before. Second, this recipe works best using small pie tins. If you don't own these, you can forego the pastry base and use 6x small oven-safe bowls or 1x standard pie tin.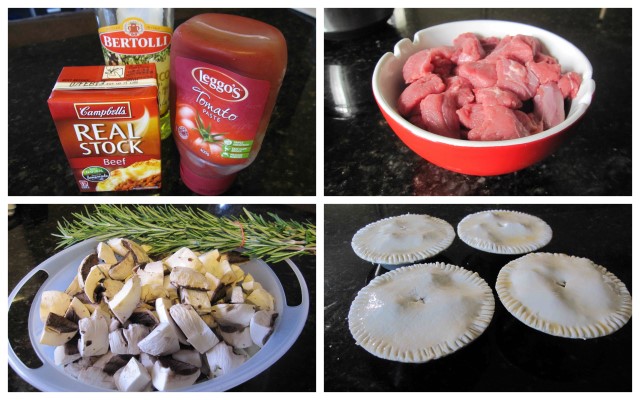 Ingredients: (makes 6 pies)
700g gravy beef*, cut into 2cm pieces
2 tbs plain flour
500g cup mushrooms, quartered
1 brown onion, coarsely chopped
3 garlic cloves, crushed
1 – 2 tbsp chopped fresh rosemary, depending on how much you like rosemary
1.5 cups beef stock
2 tbs tomato paste
3 frozen shortcrust pastry sheets
3 frozen puff pastry sheets
1 egg, lightly whisked
Olive oil
* Gravy beef comes from the shin of the cow – we think it's called 'beef flank' or 'boneless shin' in other countries. If you're uncertain then ask your friendly local butcher! Or just go with any inexpensive cut of beef that you know tastes good when slow cooked.
Method:
1. Place the beef in a large bowl and toss with flour, and then season with salt and pepper. Add half of the beef to a large saucepan and cook on medium heat until browned. Transfer to a plate, and then cook the remaining beef. Set plate aside.
2. Add the mushroom, onion, garlic and rosemary to the saucepan and cook for 5 minutes. Stir in the meat, stock and tomato paste and bring to a simmer. Reduce the heat to low and cook with the lid on for one hour.
3. Uncover the pan and cook for a further 30 minutes, and then set aside for 1 hour to cool. Transfer the filling to a bowl and then place in the fridge for 2 hours to cool. It's a lot of waiting, I know, but it's worth it.
4. On the day you want to eat your pies, preheat oven to 210°C / 410°F. Cut the shortcrust pastry sheets in half diagonally and then line the bottom of 6 pie tins, allowing the sides to overhang. Brush the edges with egg and fill the tins with a level amount of beef mixture. (Note: if you decided to use oven safe bowls or a large pie tin, add the beef mixture directly to the bowls/tin – without the shortcrust pastry bottom. Then move on to step 6.)
5. Cut puff pastry sheets in half diagonally and cover the top of the pie. Use a fork to seal the edges, then brush the top with egg and trim excess pastry. Cut a small cross in the centre of each pie and then bake in oven for 30 minutes or until the pastry turns golden. For a true blue Australian experience, serve the pies with tomato sauce (ketchup) and chips (fries).

Pavlova
Pavlova is a meringue-based dessert that is originally from New Zealand but very popular in Australia. This was my first ever attempt at making one and I was pleasantly surprised at how easy it was.
Ingredients:
6 egg whites
1 1/4 cups white sugar (caster or normal)
2 tsp cornflour
1 tsp white vinegar
1/2 tsp vanilla extract
300ml thickened cream
1 – 2 tbsp icing sugar mixture
2 limes, juice and finely grate the rind
Sliced fresh fruit – I like bananas, kiwi fruit and strawberries, but any soft fruits will work.
The pulp of 3 – 4  passionfruit
Method:
1. Preheat oven to 120°C/250°F. Line a large flat oven tray with foil and brush with melted butter, then dust with cornflour. Using a toothpick or knife, draw a 20 – 25cm circle in the butter/flour.
2. Use an electric mixer to whisk the egg whites until soft peaks form. Add the sugar one tablespoon at a time, beating well after each addition. You need to beat until the meringue is thick and glossy and the sugar has dissolved. (Rub meringue between fingers, if you feel any grit then it needs more whisking.)
3. Add cornflour, vinegar and vanilla to egg whites and then whisk until just combined. Spoon meringue onto the foil, using the circle you drew as a guide. Smooth the sides and use a spatula to form little peaks around top edge of pavlova.
4. Bake in oven for 1.5 hours or until pavlova is dry to the touch. Turn off oven and leave the door ajar, allowing the pav to cool completely.
5. Whisk the cream and icing sugar in a medium bowl until firm peaks form. I only use 1 tbsp of icing sugar mix, but if you like super sweet cream then perhaps throw another one in. Spoon cream onto the top of pavlova and spread it around the middle, leaving about an inch of base showing on the sides.
6. If you're using banana, toss the slices in lime juice and then drain. Pile the fruit in the centre of the pavlova and then dress with lime rind and passionfruit pulp. Now eat! (I stored left-over pavlova in the freezer and it tastes surprisingly good frozen).