0. 2/20/2012 – Here/Queer Call for Submissions, by Riese
1. 3/02/2012 – Queer Girl City Guide: Montreal, Canada, by Sid
2. 3/05/2012 – Playlist: Here/Queer, by Riese
3. 3/05/2012 – Queer Girl City Guide: Portland, Oregon, by Lesbians in PDX
4. 3/07/2012 – Queer Girl City Guide: Brighton, United Kingdom, by Sarah Magdalena
5. 3/07/2012 – Oh But To Be A Queer in Sicily, by Jenn
6. 3/08/2012 – City Guide: Seattle, by Marley
7. 3/11/2012 – City Guide: Washington DC, by Keena
8. 3/13/2012 – Here/Queer: Sydney Mardi Gras Is On Your To-Do List, by Crystal
9. 3/14/2012 – Queer Girl City Guide: Spokane, Washington, by Ana
10. 3/15/2012 – Queer Girl City Guide: Cleveland, Ohio, by Lora
11. 3/16/2012 – Madison, WI and W4W Entertainment, by Emily
12. 3/16/2012 – Queer Girl City Guide: Dublin, Ireland, by Una
13. 3/19/2012 – Queer Girl City Guide: Vancouver, Canada, by Kathryn
14. 3/19/2012 – Things We Wrote That You Loved, by The Team
15. 3/20/2012 – Here/Queer: Boogie Down Bronx, by Gabby
My friends laughed when I mentioned the topic of this piece. Gay life in the Bronx? Yeah ok, good luck with that. Truth: this piece would be a hell of a lot easier to write if I lived in Brooklyn or Manhattan. That's where the real lesbosexy stuff is and that's where the rest of us flock to get laid and get twisted.
But I LIVE in the Bronx, and I'm proud of that.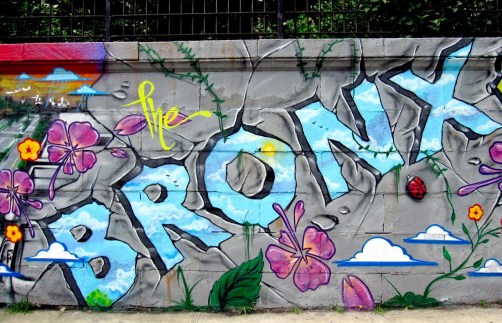 It's not that there aren't any homos in the Bx. Actually, it's bursting with hot young happy queers of all shades and degrees of presentation. What's different here is the ability or lack thereof to sustain queer enterprises such as bars, clubs, and bookstores. Although the economic structure of the Bronx is diverse, in the areas I've experienced there isn't enough disposable income for GLBTQ hot spots to thrive (and what money there is to spend almost always goes to the Yankees.) That's the rule. The community I live in can't maintain an all-queer space in the same way it can't maintain something like a Whole Foods or a fancy organic dry cleaner. It doesn't mean that we don't do our thing. It doesn't mean we don't support each other or individual business owners or community centers, like the Bronx Pride Center. It just means that for big things to get poppin', we generally have to figure it out for ourselves.
So finding homolicious thangs to do in the Bronx takes a little creativity and some fearlessness. Without exclusively homo safe spots, we've got to exist in the open at all times and not give any fucks. But that's what Bronx life is like for all of us: Not giving ANY fucks. The Bronx is the birthplace of salsa music, hip-hop, break-dancing and the best damn pizza on the planet. Eat that, Brooklyn.
Here is a do-it-yourself guide for enjoying a queerified Bronx on a date or with your homegirls.
The Date
You like a chick. Want to take her out to do things, and are tired of the same-old same-old.
Take her to the Bronx Zoo! (2300 Southern Boulevard, Bronx NY 10460)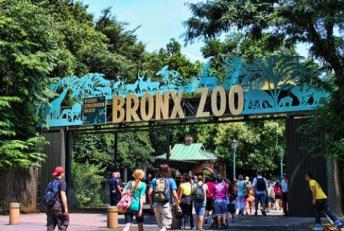 It's FREE on Wednesdays, by the way, for all of us who are on budget but still want some lovin'. Now some of you may have issues with animals in captivity and I totes get that, but the Bronx Zoo is so on point with preservation and maintaining natural habitats etc. that it's ok to let those feelings slide for a day and enjoy yourself. First, you MUST check out the Butterfly Garden. It's like entering an old school hot air balloon filled with butterflies. Hold hands and watch them land on your chest, and watch this chick you're on a date with turn into a fucking butterfly princess. 
Can you handle that? There is nothing more romantic anywhere in New York, seriously.
After that, if you haven't exploded from all of the warm yummy feelings, head over to the sea lions. At 11am and 3pm, they feed those cute bastards. For half an hour, you're allowed to relive your childhood while pressed shoulder to shoulder with your date. If she smells good and is laughing, then you're in the best spot ever. Sea lions are like lesbians. They love water, acting foolish and getting treats for doing tricks. You will essentially die of cuteness at the Bronx Zoo. So what if there are kids and families around? They're not looking at you and your boo holding hands. They're too busy making sure the kids don't get eaten by monkeys. Note: It's also fun to play spot the queermos at the Zoo.
So you went to the Zoo, now it's time to go to the beach!
Wait, there's a beach in the Bronx? Yes, Virginia, there is indeed a beach in the Bx but I wouldn't go swimming in that shit. Orchard Beach (1-99 Orchard Beach Rd, Bronx, NY 10464) serves two queer purposes: First, there's a boardwalk for lady scoping, in-lining and general loitering. Second, it can be super romantic if you go at the right time…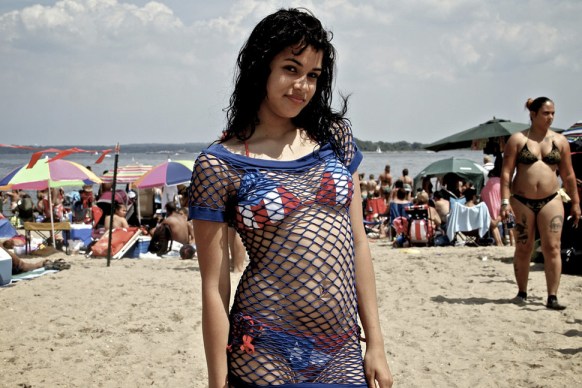 For Bro-Dates and Chick Watching
Go in season, on the weekend, in the middle of a sweltering July because there will be hordes of half naked women, predominantly of color, basking in the sun waiting to be devoured. Yes, you have to share the space with non-homos but once again, no one gives one goddamn if you're gay or whatever. Set up a blanket, lesbian pulp fiction novels, bust out some illegal beverages*, a blunt and people/hot chicks will make their way to you. I promise.
*Stop at a bodega on the way in and ask for a 'nutcracker'. You'll get an alcoholic drank in a Styrofoam cup that will have you on your ass while tasting like Kool-Aid.
For Romance
After you leave the Zoo, a Wednesday afternoon during early June is the perfect time for romancing the queer of your dreams at Orchard. Hold hands, walk the Boardwalk, climb rocks, and swing on the swings (cuz there's a playground!). Watch the old Puerto Rican dudes play handball (FYI handball is Puerto Rican Tennis: rackets + a blue rubber ball & concrete wall) and revel in this little spot of beauty in an otherwise congested and gritty borough. The majority of the beach will belong to just the two of you.
For a drink on the way out, stop at City Island and check out JP's Seafood restaurant (703 Minnieford Avenue Bronx, NY 10464). The booths are cozy and the place is dark with a view of the water. Here's where timing comes into play: I don't do City Island on the weekends. I'm bougie and that places turns into a Terror Squad video and I'm so not into that. Love this track, love my Bronx people but I'm not into this scene unless it's full of lesbians.
Don't like seafood? Good. Me neither. Gross. Wanna ditch Orchard Beach before the masses invade your love fest? I've got two spots for you: The Curry Spot and Brisas Del Caribe.
The Curry Spot (4268 Katonah Avenue Bronx, NY 10470) is a traditional Indian food restaurant in the North Bronx. It does banging business off its delivery. What does that have to do with anything? Well, it means that you and your date will have the entire place to yourselves for dinner. The waitstaff dudes are happy you're there and don't care what you are or how you identify, as long as you like the food.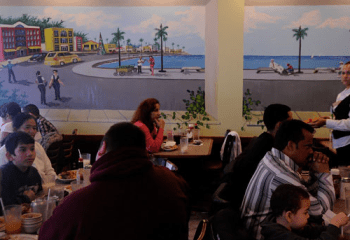 Brisas Del Caribe (1207 Castle Hill Avenue Bronx, NY 10462): Holy crap, Brisas is the BEST spot for Puerto Rican food!
If everyone's Rican grandma, aunt and mom shut themselves in a kitchen and cooked just for you, this is the food magic that would occur. This place is ALWAYS busy, crammed full of hungry hungry POCs and foodie types. Don't be surprised if the waitresses give you an attitude, like I said, we don't give a flying one but the food is as delicious as the attitudes are big. The eats are cheap and deliciosos. Order: arroz con habichuelas rosadas, maduros, dos coronas y mofongo de camarones. Your taste buds will thank you and no I won't translate. Just trust me, baby. Your date will think you've morphed into Shakira and you will for sures get laid.
Cruising, more date stuff and CULTURE!
Looking for a fresh pair of timbs, some fly urban gear and possibly a smoking hot AG girlfriend to make your own? Head to Fordham Road at the intersection of E 190th Street. Bring cash and be ready to walk. Fordham has everything. Hit up the street vendors for accessories like Virgin Mary bracelets, rainbow graffiti belts and all the hot shit hipsters haven't assimilated and regurgitated yet.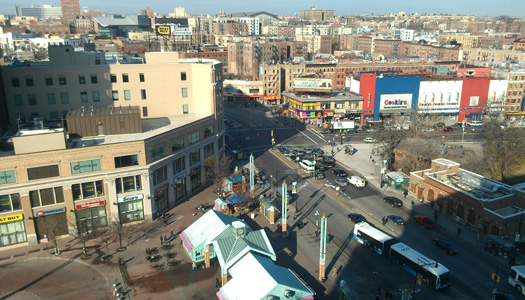 Hit up V.I.M. for flannels, t-shirts, timbs and XXL gear. You'll walk past Footaction, Dr. Jay's and enough sneaker stores to fill your fetish for fresh footwear. For grub, skip the Popeyes and head for Maria's Taco stand. $5 gets you the best set of tacos and a drink in the area. Also, it's a prime spot to chill and take in the scene. Maria's stand is right by the Metro North Train station and the bus depot. Peep the Fordham U girls in all their glory (that is if you're not on a date. If you are, keep your eyes on her, asshole.)
Bronx Park Billiards & Café: (2020 White Plains Road NY 10462)  Café my ass. It's more bar and billiards than café but mofos wanna be fancy so whatever. Thursday night is Ladies' Night which means mad heteros on dates and mad HOMOS!!! Chicas play for free after 8pm and the top floor becomes a mega cluster of lesbians. I've definitely run amok here and woke up with so many random numbers and photos in my phone. All it takes is one smile and a hello to break the often impenetrable lesbian ice. The hip hop music plays all night and the spacious playing area makes it a great lounging spot. Note: On other nights of the week, especially Friday and Saturday nights, it can get a little hot. Police and security are needed but dudes like to fight so whatever. Either go home or just go on Thursday. Shit, it's still the Bronx, you know?
Check out The Bronx Academy of Arts and Dance (841 Barretto Street , Bronx , NY ). Their upcoming BAAD!Ass Women's Art Festival is happening March 16th-31st. March 30th is their spoken word segment featuring wickedly talented queer artists J Skye Cabrera and Karen Jaime. It is a must see event, fer realz. Bring your date. Show her that you've got your pulse set to ALL the hot queer events errryyywhere.
One last thing about queer culture in the Bronx, it's also an organic thing. My queer experience in the Bx initially relied on one friend of mine, Marisol Smalls, and her Lesbian Lunacy parties.
Mari invited every lesbian she knew and encouraged all of her guests to invite all the lesbians they knew and viola! Through word of mouth and obsessive social networking, the grandest most EPIC of lesbian house parties were thrown!
Seriously, no club or ladies night or girl party could have ever introduced me to other queers the way Mari's parties did. That's how we do shit in the Bronx. We don't wait for someone to invest in a space and try to start a queer night, we start our own. Mari is still doing her thing, creating events for women of color and spreading out to the other boroughs. Check her out on Twitter to be up on the latest shenanigans.
Also, Bronx Gay Pride is celebrated with a huge festival.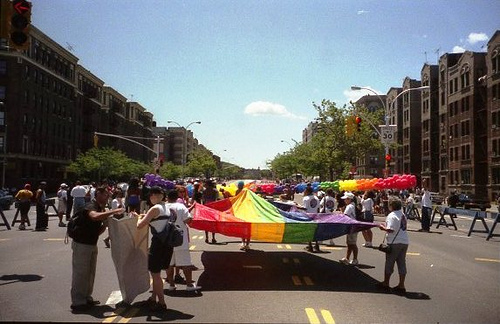 Last year it was held in Crotona Park, and I was able to volunteer with the HRC for the day. I met a million beautiful queers of all races, colors, sizes and identities. Growing up, I thought I was the only homo in the Bronx. But the instant visibility and feeling of family at Pride felt so freeing, like I could finally relax. It's a queer event definitely worth hauling your gay self up out of the haze of Manhattan for an afternoon and seeing another side of life in New York.
I hope this guide brings more beautiful women to my badass borough. It definitely doesn't represent everyone's Bronx experience, though. Maybe some of you know gay places in the Bx that I haven't been to. Like the alleged gay night at club Warehouse on the Grand Concourse that could just be the stuff of legends. Have you been there? Is it real?  I'd love to hear about it all!  The Bronx is for lovers, especially lesbosexy ones.