The 2012 Lambda Literary Award finalists have been announced! I want to read everything.
The Lambda Awards started in 1988 with a mission to celebrate and preserve LGBT literature. Nominated books deal with queer subject matter, are written by queer authors, or both. 2012 had a record number of nominations, with over 600 titles from about 250 publishers. This year's winners will be announced on June 4 at the CUNY Graduate Centre in New York.
This year, the awards re-opened to all authors, regardless of sexual orientation. The change marks a return to the beginning of the awards, which did not always require the winners to be LGBT-identified (In 2009, the Lambda Literary Foundation controversially changed its policy to reflect the fact that the awards would go to LGBT-identified writers.).
The Lambda Awards have also struggled with representation — separate categories for transgender fiction and non-fiction only appeared last year, and separate categories for bisexuality appeared the year before that. In 1992, an anthology on bisexuality competed and lost in the Lesbian Anthology category. In 2004, a transphobic book made the lists of finalists in the Transgender category until protests and petitions got it removed. Last year, authors started to debate the place of personal queer identity in queer literature in their own acceptance speeches. This year, the three new (sponsored) awards meant to recognize queer authors can go to "one gay man and one lesbian" and "one male-identified and one female-identified author," which excludes bisexual and trans* people.
In sum: the Lambda Awards are not perfect, though they have been slowly improving and will hopefully continue to do so. But they do recognize queer literature, and having as much recognition of queer art as possible is something to get behind. The following books are the 2012 finalists I'm most excited about, not in order, and the ones I am most obsessively adding to my "to read" pile.
What are you looking forward to reading? What do you have in a pile next to your bed right now? Let us know!


Lesbian General Fiction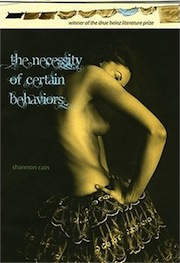 The Necessity of Certain Behaviors, by Shannon Cain
This collection offers a wide look at sexual desire an identity and includes stories about a polyamory utopia, a zoo for homosexual animals, a steam room, and others. According to its review in the Rumpus:
"The hip, quirky scenarios of Cain's debut collection, which won the 2011 Drue Heinz Literature Prize, partly explain why her work stands out among debut short fiction, but they don't explain why these stories are so good. The satisfaction they offer has less to do with Cain's (wonderfully bewildered) characters or (satisfyingly non-gimmicky) plot developments, I think, than it has to do with her dead-accurate sardonic tone. And given how delicious that tone is, I'm surprised Necessity didn't attract more attention last year. In these stories, the characters and the narrator both speak in 'the flat tones of their urban language,' as one story names it, with an effect of subtle but satisfying irony."
Lesbian Memoir/Biography
Small Fires, by Julie Marie Wade
Small Fires is a self-reflexive book about childhood and being a daughter. From the publisher:
"There are floating tea lights in the bath, coddled blossoms in the garden, and a mother straddling her teenage daughter's back, astringent in hand, to better scrub her not-quite-presentable pores. And throughout, Wade traces this lost world with the same devotion as her mother among her award-winning roses. Small Fires is essay as elegy, but it is also essay as parsing, reconciliation, and celebration, all in the attempt to answer the question — what have you given up in order to become who you are?"
Transgender Fiction
The Butterfly and the Flame, by Dana De Young
I love dystopias! (I mean. To read about.) In a dystopic 2404, being gay is a capital offence, capital punishment is back, women are not allowed to work, and forced marriages are everywhere. Fifteen-year-old Emily La Rouche is being forced to marry her landlord's son. If she refuses, her family will suffer, and if she agrees, the world will discover that she was born a boy, and so she flees across post-apocalyptic America in search of a new home. From the Bibrary review:
"Emily's story is an emotional one, a tragic tale that contains just enough hope to make the heartache and the sorrow palatable. She's a wonderfully well-rounded character, but one who is plagued by the dual angst of being a teenager and being transgender. Only a transgender author could so accurately portray the depths of Emily's emotion, whether it's her suicidal despair as she fashions her own noose, or her blissfully innocent joy as she is gifted with her first dress. Throw an arranged marriage into the mix, with the intended's family wholly ignorant of Emily's secret, and you have the makings for a complex take of human relationships."
Transgender Nonfiction
Tango: My Childhood, Backwards and in High Heels, by Justin Vivian Bond
Tango is a novella-length childhood memoir from Justin Vivian Bond, a transgender actor, performance artist, and singer-songwriter, that I read because Autostraddle told me to. In his review on Autostraddle with Annika, Sebastian says this:
"Before I go on about how great this book is, I want to be honest: the first time I read it, I didn't like it that much. I think I went into it hoping that as a memoir from Justin Vivian Bond, someone who has navigated the world 'between' genders with grace and poise, and even glamour, that Tango would offer some real insight into gender and gender identity. One friend who read the first half or so said it seemed like 'a lot of regurgitation without reflection.' And that's how I initially felt – I wanted V to tell us what it all meant, damnit! Plus I had a hard time wading through the stories of sexual rendezvous between teenage boys.
But then I read it again. And I realized my expectations of the book were all wrong. It's not a memoir of Mx. Bond's life or career or a study of how V bends gender – it's a memoir of V's childhood. It's not supposed to be some insightful reflection or an educational piece.
It's a story (well lots of stories) about a kid who is still trying to figure shit out… without the luxury of normality."
Bisexual Fiction
The Correspondence Artist, by Barbara Browning
The Correspondence Artist is a largely epistolary novel (read: told in letters, or in this case emails) about Vivian and her love affair with an artist. According to the Bookslut review:
"The Correspondence Artist is a mysterious romance we only get to see in the rarified aether of online communication, and she capably relays the sensation of that perilously ambiguous world. Addressing the audience directly in the beginning, her narrator Vivian explains that what follows is a one-sided history of her ailing romance with a nameless 'paramour,' an internationally renowned artistic figure. Since this person places a very high premium on privacy, she's decided to create not one but four separate fictional lovers behind whom she can disguise the real details of the affair. But these different characters also allow her to try and explain various parts of her lover's real inconsistencies and endearing flaws."
Bisexual Nonfiction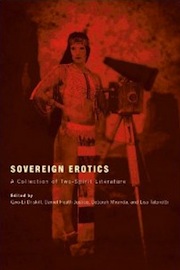 Sovereign Erotics: A Collection of Two-Spirit Literature, edited by Qwo-Li Driskill, Daniel Heath Justice, Deborah Miranda, and Lisa Tatonetti
Sovereign Erotics is a finalist in both Bisexual Nonfiction and LGBT Anthology, which is pretty awesome. It's also the only book published since 1988 that focusses on the writing and art of Indigenous two-spirit and queer people. From Amazon:
"This landmark collection strives to reflect the complexity of identities within Native Gay, Lesbian, Bisexual, Transgender, Queer, and Two-Spirit (GLBTQ2) communities. Gathering together the work of established writers and talented new voices, this anthology spans genres (fiction, nonfiction, poetry, and essay) and themes (memory, history, sexuality, indigeneity, friendship, family, love, and loss) and represents a watershed moment in Native American and Indigenous literatures, Queer studies, and the intersections between the two.
Collaboratively, the pieces in Sovereign Erotics demonstrate not only the radical diversity among the voices of today's Indigenous GLBTQ2 writers but also the beauty, strength, and resilience of Indigenous GLBTQ2 people in the twenty-first century."
LGBT Anthology

Persistence: All Ways Butch and Femme, edited by Ivan E. Coyote & Zena Sharman

This book is the best. Contributors include Bevin Branlandingham, Rae Spoon, Zoe Whittall, S. Bear Bergman, Anna Camilleri, Leah Lakshmi, Amber Dawn, Karleen Pendleton Jiménz, and other awesome people. In her review on Autostraddle, Marni writes:
"The words butch and femme are pretty loaded for some people — which is good! The book is as much of a reclamation as it is an explosion of our understanding of and experiences with butch and femme identities. It includes essays that cherish and celebrate butch and femme as well as seek to critique, expand, and redefine these categories. Most importantly, it offers playful and unique insights into the complexities of our fierce (and fiercely-vulnerable) messy-perfect queer lives. This is The Way That We Live for real."
LGBT Young Adult
Huntress, by Malinda Lo
Huntress is set in the same world as Ash (Lo's first novel, a lesbian retelling of Cinderella), but centuries earlier, and incorporates elements of the I Ching. Like Ash, it avoids stereotyping gay characters and falling into the traditional plotlines of gay YA. On her website, Lo writes:
"I knew that I wanted certain things in the story: A girl having an adventure. A romance with sexual tension. A world on the verge of dying (I'm a big fan of dystopians). Powerful, creepy fairies. Weapons. And I wanted it to be a hero's quest. As I noted in my writing journal back in October 2008 when I was figuring out what would happen, 'The point of the quest is to bring order and harmony back to the mortal world.' Putting all those things together, the book that came out was Huntress."
LGBT SF/F/H
Steam-Powered: Lesbian Steampunk Stories, edited by JoSelle Vanderhooft
Lesbians and steampunk are together at last in this collection of fifteen short stories, edited JoSelle Vanderhooft. Contributors include Sara Harvey, Mike Allen, NK Jemisin, Shira Lipkin, Meredith Holmes. Matthew Kressel, Beth Wodzinski, Georgina Bruce, JosSelle Vanderhooft, and Aml El-Mohtar. According to Goodreads,
"The 15 tantalizing, thrilling, and ingenious tales in 'Steam-Powered' put a new spin on steampunk by putting women where they belong — in the captain's chair, the laboratory, and one another's arms. The women push steampunk to its limits and beyond."