Okay, so, Homo Depot's Home Depot Foundation is throwing a little contest called "Aprons in Action," via which multiple non-profits compete for a bunch of money they need to perform Good Deeds for their communities. One of the non-profits in the running for the big payout, Jewish Family Services of Metropolitan Detroit, just-so-happens to employ my dear dear Mother, who would like me to use my "powers" for good and implore you all to vote for JFS. (My Mom is a social worker, sidenote.)
Every month for eleven months, Home Depot's "Aprons in Action" has given a different non-profit $25,000 in Home Depot gift cards to "better their communities." Home Depot associates volunteer their time/talent through "Team Depot" to provide the hands-on know-how and labor necessary to carry out these community improvement initiatives.
These eleven months of gifting have reached their climax this month, when every single day you — yes, you! — have the chance to pick which of these 11 non-profits will secure the grand prize of 250,000 bones (second place gets $150k and third place gets $100k).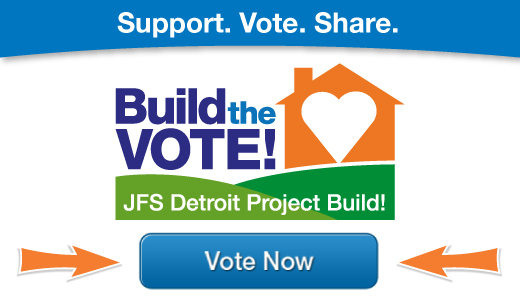 Jewish Family Service needs these monies for their Project Build! situation, which matches people in need of home repairs with professional builders, remodelers and suppliers to ensure that everybody has a chance to live happily and safely in their own homes without walls falling on their faces. In particular, JFS focuses on meeting the special home-adjustment needs of elderly and disabled persons in Metropolitan Detroit.
Also, FYI, even though it's called "Jewish Family Service" and my Mom is Jewish, you should know that Jewish Family Services helps all people, not just Jewish people. So even if you hate Jews, you should still vote for them. (You should also reconsider your decision to hate Jews, because that's Anti-Semitic AND we make really good soup.)
A summary of Project Build:
About Jewish Family Service – Project Build!:
Jewish Family Service (JFS) is dedicated to helping individuals and families cope, survive and thrive in an ever-changing world. They provide personalized psychosocial and mental health services to individuals and families in the metropolitan Detroit area.
What Project Build wants to do with the money when they win:
Proposed Project:
If Jewish Family Service were to win the grand prize of $250,000, they hope to invest in the infrastructure of Project Build! to ensure that hundreds of low-income and physically challenged people in Southeast Michigan can live in safe and functional homes.
Over the last few years, hundreds of individuals have been assisted by Jewish Family Service. People who have contacted us in the past year include:
+ A 19 year-old young woman has been bathed by her mother for the past three years on her bed because she cannot access her bathroom with her wheelchair

+ An eight year old boy with Cerebral Palsy needs a ramp for the front of his house

+ A seventy year old man with Parkinson's Disease needs widened doorways and other modifications so that he can remain living in his home
Project Build! can make a home safer for an older adult, provide independence for a person who has a disability, and provide a functional and clean home environment for a low-income family. With this funding, Project Build! would significantly improve the lives of hundreds of individuals and families in metro Detroit for many years to come.
Voting for JFS is important on several levels, most notably the fact that due to a series of brilliant life decisions, most notably inventing this website, I'm rarely financially able to actually visit my Mom or send her nice things in the mail. But if you vote for JFS, then all will be forgiven, like it'll be the Day of Atonement!
On a more general and perhaps more convincing level, you've probably gotten the memo that the economy in Southeastern Michigan isn't exactly booming, and a lot of families have been really hit hard by the recession. With budget cuts depleting our community of so many imperative social services, initiatives like Project Build are needed now more than ever.
Also, my Mom says that Jewish Family Service is super LGBT-friendly. In fact, despite the fact that my Mom and her partner Susan cannot legally marry in Michigan, my Mom can put Susan on her health insurance. Isn't that lovely? It is.
You know what else is lovely? Helping people.
You can vote once every single day!