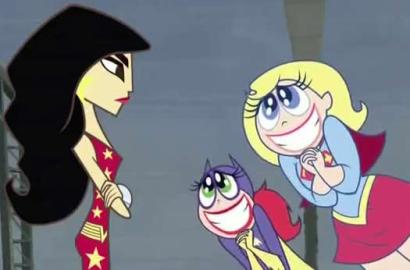 Intern Grace's Team Pick:
The first installment of "Super Best Friends Forever" superhero-themed, animated miniseries premiered last morning Saturday on Cartoon Network, and Wonder Girl, Batgirl, and Supergirl will never be the same again. Headed by Lauren Faust, who worked on "Powerpuff Girls," "Foster's Home for Imaginary Friends," and everyone's favorite "My Little Pony" reboot, "Super Best Friends Forever" addresses the friendship between some of DC's lesser-known women superheroes. Spoiler alert: They enjoy burritos and giving each other a hard time.
It's an interesting commentary on superheroes and superheroines in general, really. It's a different perspective on these characters, and I appreciate how fleshed-out they are, especially since the entire episode is only a minute long. The more I watch it, the more I like it. I am a little concerned the show might be sugarcoating the badassery of these women with cuteness (rather than sexiness, as is common in comic books) to make them easier to stomach for a broader audience, but I trust Lauren Faust's judgement. Mostly, I am in love with how creative this episode is. All 75 seconds of it.