=+
+


0. 2/20/2012 – Here/Queer Call for Submissions, by Riese
1. 3/02/2012 – Queer Girl City Guide: Montreal, Canada, by Sid
2. 3/05/2012 – Playlist: Here/Queer, by Riese
3. 3/05/2012 – Queer Girl City Guide: Portland, Oregon, by Lesbians in PDX
4. 3/07/2012 – Queer Girl City Guide: Brighton, United Kingdom, by Sarah Magdalena
5. 3/07/2012 – Oh But To Be A Queer in Sicily, by Jenn
6. 3/08/2012 – City Guide: Seattle, by Marley
7. 3/11/2012 – City Guide: Washington DC, by Keena
8. 3/13/2012 – Here/Queer: Sydney Mardi Gras Is On Your To-Do List, by Crystal
9. 3/14/2012 – Queer Girl City Guide: Spokane, Washington, by Ana
10. 3/15/2012 – Queer Girl City Guide: Cleveland, Ohio, by Lora
11. 3/16/2012 – Madison, WI and W4W Entertainment, by Emily
12. 3/16/2012 – Queer Girl City Guide: Dublin, Ireland, by Una
Dublin is the HQ of the Irish LGBT scene. In a city of one and a half million people, it's where queers from the rest of the country tend to gravitate towards so the queer population is disproportionately larger than that of the rest of Ireland. I recall in the past there was some bizarre statistic about there being more gays in Dublin per capita than in San Francisco, although it was probably just part of an overstated hook for people to write stuff about the 'pink economy'. Over the past decade, there's been an explosion in international communities emigrating here, so the scene is pretty diverse, especially on the male side. Also in the past decade, there's been a sea change in the city and it's becoming increasingly gay friendly.
I've lived here my whole 29 years, worked in the city centre as a journalist and broadcaster, and have DJ'd on and off the queer scene. Like most cities where things are constantly evolving and sometimes backtracking, everything is in a state of flux. You're talking about a country where homosexuality was finally decriminalized in 1993, divorce was only officially legalized in 1997, abortion is still illegal and selling or purchasing alcohol on Good Friday during Easter weekend is banned. But you're also talking about a city that likes to party, a city that has a young population that is growing up without ever knowing the days of social conservatism. So despite dealing with a conservative Catholic hangover and dealing with the current economic shitstorm that's led to 1,000 people emigrating every week, the scene still has it going on.
A cultural note about local Dublin nomenclature: the postcode numbers are easy to figure out, 1 and 2 are the city centre, even numbers are southside, odd ones are northside.
 Public Houses and Party Houses
Essentially, Dublin city centre is a neighbourhood. Split between the vaguely gentrified southside and the more rough and ready northside by the river Liffey, you've also got the tourist quarter of Temple Bar on the banks of the southside. The pub is the number one destination for tourists heading to Dublin, and there's a reason for that: there are loads of them, and it's the main social outlet for Dubliners and people living and visiting here.
There are no strictly lesbian bars per se, but one of the advantages of living in a small city that mightn't be able to sustain a scene divided on gender is that clubs are pretty mixed and host stand-alone nights catering to guys or girls. Gay boys, gay chicks and everyone in between happily coexist within the same environs, with many people preferring gender and sexuality-mixed spaces.
The Front Lounge (3 Parliament Street, Dublin 2)
The Front Lounge, or 'Flounge' is pretty much the favourite pre-clubbing drinking spot in town. Or, you know, mid-week accidental wine and cocktail drinking establishment (AKA a place to mack on lesbian "professionals") It's a cool bar with rolling temporary queer-ish art exhibitions, a nice staff and an occasionally rowdy atmosphere if there's a rugby match on or during Tuesday's hit-and-miss karaoke sessions. Decent cocktails (two for one on Thursdays) and a slightly older crowd (late 20s, 30s and 40s) in comparison to the more hectic club scene make it a long-established chill place to hang out. It's split on a lower level and upper level by a few steps, and for whatever evolutionary reason (stair-climbing aversion?) chicks tend to hand out on the lower floor.
PantiBar (8 Capel Street, Dublin 1)
Run by the doyenne of the Irish drag scene, Panti, this bar is queerer than the more commercial clubs in the city and its programming shows it. Thursdays are Make and Do-Do, a free craft night where competitors grab pipe cleaners and plasticine and work on creating something around a weekly theme in order to win a bottle of vodka. Every week without fail, no matter what the theme is, someone will make a giant dick or something to do with insulting the Pope. Fridays host The Hutch by northern drag queen Bunny, she of impossibly miniscule waist and cutting tongue. It's a free cabaret night with queer and lesbian burlesque, musical interludes, drag, performance art and whatever you're having yourself. Saturday night Panti and Bunny team up for a drag show that covers everything from interpretations of soap operas to Joan Crawford movies, X Factor performances, pictionary and Whitney Houston interviews. It's also dog-friendly, with a pool table in the basement, decent pop on the stereo, awesomely designed posters as décor, and a vending machine selling butt plugs and lube.
The George (89 South George's Street, Dublin 2)
Generally the first stop for anyone who transitions from coming out to going out, The George is the oldest gay bar in the country. It's been an institution of drinking, flirting, hook ups, fun and drama for 25 years, and fits the template for your typical cheesy, drag-heavy, poptastic gay club. Everyone from Kelis to No Bra has performed here, and bingo on Sundays with the rather brilliant drag queen, Shirley Temple Bar has been going since 1997. Conversations beginning with "so I ended up in The G" can either be of the joyous or shame spiral kind, depending on your tastes.
The Dragon (64 South George's Street Dublin 2)
A few doors up from The George is The Dragon, a loud, high octane gay club with dancers on scaffolding over the bar and a sticky dancefloor. It can be quite male, although the student night PRHOMO on Thursdays brings out plenty of young dykes who come to dance to pop remixes from scene stalwart DJ Ruth and order cheap shots.
Mother (Saturday nights @Copper Alley, Jamestown, Dublin 2)
One of the best queer nights on the scene, Mother focuses on the music; it's synth pop, disco and quality electronic tunes in a small basement club opposite the back of the Front Lounge. As a profit share for the national publication GCN (Gay Community News), it pulls in a fun queer crowd who are there to let loose. Recent guest DJs have included JD Samson and Austra.
Bitches Be Crazy (secret venues)
Now I may be biased because I'm the resident DJ at BBC, but this is the best thing to happen to the lesbian scene in Dublin in years. It's a shutter-down speakeasy vibe where patrons bring their own booze and dance until the early hours of the morning and has taken place so far in two secret warehouse and studio venues in the city. Yes there are mass sing-a-longs to everything from '212' and 'You Oughta Know,' yes the two dykes running the joint, Katie and Ragin, occasionally have to stop frisky chicks from getting it on and yes it sells out every time it's on. The popularity of Bitches Be Crazy amongst dykes has spread to queer boys keen to hit up something different on the scene, adding a more non-gender-exclusive vibe.
Cacophony (@Thomas House, 86 Thomas Street, Dublin 8)
Run by artivist Will St Leger who formerly hosted Mother, Cacophony is a queer club night with live music from lesbian punk-ish bands and queer alternative rock outfits. Gritty and rocking.
Sauce (@The Kitchen, East Essex Street, Temple Bar, Dublin 2)
The reopened Kitchen nightclub (owned by Bono and The Edge) didn't really bring back the dance music explosion we'd hoped for, but Sauce on Sundays is holding its own as a dance-music-orientated gay night.
Sunday Social (@The Sycamore, Purty Kitchen, Temple Bar, Dublin 2)
Across the street from The Kitchen, the Sunday Social happens in the rooftop bar of the Sycamore Club. Pray that the elevator is working and you don't have to walk up flights and flights of stairs. This is decent night for people who are going hell for leather at the weekend, want a pint to round off the weekend, or restaurant and bar worker on their night off. The open rooftop means you can smoke without trekking downstairs.
Glitz (Tuesdays @Dandelion, 130-133 St Stephen's Green)
You know when you walk into a big club and think "WHO ARE ALL THESE PEOPLE?" that's Glitz to me. Home to X Factor stars performances and ear-blistering pop, it's for people who should know better than to go out on a Tuesdays night and those that do but still go.
Dyke-Magnet Bars
In the absence of having a lesbian bar to hit up, there are obviously several other joints that lesbians gravitate towards. This is just a loose list because you could add in dozens and dozens of pubs in the city centre but then you'd be reading this FOREVER and go blind and that wouldn't be good.
The Garage and the Workmans (10 Wellington Quay, Temple Bar, Dublin 2)
The Garage Bar is a sawdust-on-the-floor, wooden-stools-under-your-ass friendly trash bar, with loud rock music, unisex bathrooms, and cheap pitchers of beer. It backs on to The Workmans, a relatively newly refurbished music venue and two-storey bar with a vast smoking area that lay dormant for a years before being re-opened in 2010 with a lick of paint, alcoholic ginger beer in the fridge and decent DJs rocking indie, electronic and generally quality tunes. The clientele is young and therefore a good space for playing the never-ending 'hipster or dyke?' game. Downstairs in the venue gigs and comedy nights fill most evenings, with acts such as Anna Calvi, Gold Panda, Dan Le Sac vs Scroobious Pip packing the room.
Hogans (35-37 South George's Street/Fade Street, Dublin 2)
An open, woody, relaxed bar with low-lying tables, Hogans has long been a gay-friendly establishment, but gets slightly taken over by shirts at the weekend.
Kelly's  (35-37 South George's Street/Fade Street, Dublin 2)
Upstairs from Hogans over an excellent French restaurant L'Gueuleton is this bar. A snail sign outside mean some people call it 'the snail bar', but the lack of a name means it's also referred to as 'the No Name bar', the 'secret bar' (not very secret) or 'Kelly's', given that's the name of the boutique hotel it's actually in. A cool lounge with a smoking area underneath a marquee, it gets packed late at the weekends, but is decent for an after work cocktail, or pre-club, um, cocktail.
Twisted Pepper (54 Middle Abbey Street, Dublin 1)
Hosting probably the best, and certainly the most cutting edge, dance music acts in town, the Twisted Pepper draws in a young hip crowd into techno, dubstep and beyond. In the daytime, there's a bookshop upstairs, an excellent café 3fe on the main floor and an independent record store called Elastic Witch in the back. The collective that run this place, Bodytonic, also have a old-man's-pub-turned-hipster-Mecca called The Bernard Shaw in South Richmond Street, Portobello, Dublin 2 that's also a good place to hang out. Especially if you were born in the 1990s.
WAR (@Andrews Lane Theatre, 9 Andrew Lane, Dublin 2)
WAR is the bastion of pop in the city, a polysexual party where shit gets cray. The age profile is young (18 to early 20s max), Britney is God, and every raised surface is danced upon.
Grogans (15 South William Street, Dublin 2)
With a wraparound on-street seating and smoking area, you'd be hard pushed to find a better people-watching spot in town. Grogans is the low-fi type of place that you'll always spot a mate sitting outside, and will inevitably be dragged over to have a pint of Guinness and a ham, cheese and mustard toasted sandwich. Cluttered with art inside, writers, artists, musicians, and people with generally little better to do during the day, try to get to the bar past the guys who have been sitting on stools there for the past thirty years. A Dublin institution, and the only place to laze away a Sunday afternoon.
Restaurants and Cafes
Al's Stage Door
A perfect people watching spot with a rainbow flag flying outside, populated by Temple Bar residents theatreheads taking a break from the Project Arts Centre nearby.
The Larder (8 Parliament Street, Dublin 2)
Opposite the Front Lounge, the Larder is a gay-friendly restaurant that backs onto Crane Lane where a trio of a gay sauna, pizza joint Skinflint, and strip club call home. Their cheap steak night is a draw for dating lesbians and gays going for a pre-Flounge meal.
L Mulligan Grocer (18 Stoneybatter, Dublin 7)
Dykey by virtue of it being in the Stoneybatter neighbourhood, Mulligans is a old school pub and foodery that focuses on good quality Irish victuals; think scotch eggs, mussels, vegetable pies and fish and chips washed down with craft beers and whiskey.
CrackBird (60 Dame Street, Dublin 2)
A pop-up that became stationary, CrackBird is chicken heaven with four-packs of beers, resident DJs, a hot staff, and a young crowd chowing down on soy garlic chicken legs and semolina chicken crunches.
Skinflint (19 Crane Lane, Dublin 2) A sister of CrackBird, Skinflint serves up pizza named after the staff members' mothers. If you're into vermouth, the Lady Winter cocktail is a winner.
Cornucopia (20 Wicklow Street, Dublin 2)
A casual wholefood and vegetarian café/restaurant that has been on the go since 1986.
Café Irie (11 Fownes Street, Temple Bar, Dublin 2)
A veggie-heavy creaky but cool café upstairs from a vintage store in Temple Bar, Café Irie is as chilled as its name, with decent healthy sandwiches, wraps, soups, salads and juices filling the menu.
Foam Café (24 Great Strand Street, Dublin 1)
Around the corner from Dublin's small Italian quarter, Foam has head-spinning décor; it's as if a drag queen exploded upstairs. We're talking about a picnic bench under a pink feathered umbrella, bright artwork crowding the walls, and random sculptures and light fittings jostle for space. Comfy couches mean you can lounge around reading magazines until the colour scheme gets too much.
Love, Angel, Music, Baby
Pride
Pride is obviously the big one. Taking place over the last week in June, Dublin Pride Festival sees the usual mix of club, live music, family, historical, and community events over a week before a massive party on parade day. The parade marches through the entire city, culminating in a concert at the outdoor amphitheatre of Dublin City Council's civic offices. Endless street parties, packed clubs, and general craziness ensues, with the Dyke Night club event usually taking place the Friday before the parade.
Alternative Miss Ireland
It's hard to explain AMI to people who haven't been. Even the organizers' own description of it as an event "expanding definitions of beauty through spectacle and gender augmentation" doesn't do it justice. Taking place on the Sunday after St. Patrick's Day (this year is the final one, a retrospective event taking place in 2013), AMI gathers queers of all gender identities, sexualities, shapes, sizes, races and levels of fabulousness to crown an annual Queen through a hilarious pageant. Known colloquially as 'Gay Christmas' it's one of the biggest, most fun, queerest, and bizarre nights in the calendar. The after-parties are legendary, it sells out the Olympia Theatre well in advance every year, is dedicated to raising money for Irish HIV/AIDS charities, and guaranteed, every gay, lesbian and/or/other will have already booked the Monday after it off work (or in some cases the entire next week) to recover.
Forbidden Fruit(grounds of the Royal Hospital Kilmainham / Irish Museum of Modern Art, Dublin 8)
Last year was the first time a large-scale city centre music festival was undertaken and it was quite the success, leading to a three-day event this year with New Order, Death Cab For Cutie, Kool Thing, Austra and The Rapture on the bill amongst others.
Electric Picnic
Not in Dublin, per se, but about an hour and a half outside in Stradbally, County Laois, the Picnic is probably the best music festival in the country and has a strong gay following. A mini-Glastonbury would be pushing it, but its eclectic mix of music, art, randomness and general debauchery makes the summer go out with a bang. This year, The xx, The Cure, Sigur Ros, Azealia Banks and Bat For Lashes are just some of the acts playing.
The Gaybourhood(s)
Like I said, Dublin is a village. Though rarely a day will pass when you don't bump into someone you know on the street, there are specific neighbourhoods within the city centre that are gayer than others.
Stoneybatter in the north west of the city in Dublin 7 is probably the most lesbian hood you'll find. I have no idea why dykes are drawn to this part of town. Maybe it's the old stone cottages that populate a warren of streets, or the few lesbian-ish spots: Walsh's Pub on Manor Street on Friday nights is a dyke haven, Lilliputs draws those who like their coffee quality and high end, Plan B and Seven are a decent brace of restaurants in addition to Mulligans detailed above. And don't forget the Sitric Picnic summer block party.
Beginning in Christchurch at the end of Dame Street and extending up to the Grand Canal to the north and Kilmainham to the west, Dublin 8's cheaper rent, cottages in The Liberities (the oldest residential part of the city), low-rise apartment blocks and proximity to the city centre probably make it the gayest gaybourhood. You wouldn't know it on the surface, but you will when you end up at a party in the Tenters, Christchurch, Portobello, or the Thomas Street area and realise the number of gays who live within knocking-on-the-door-for-a-cup-of-sugar distance from each other.
Candy From Strangers And Other Dangers
Dublin is a relatively safe and friendly city. But like anywhere else, common sense is useful. So don't do the obvious and walk alone in deserted areas or alleyways at night or get into a car with people you don't know. Dubliners strike up conversations with ease, help lost tourists almost instinctively, and offer visitors advice frequently. Sadly, there's an increasing homeless population, which some perceive to be a nuisance begging outside bars and clubs, but a headshake will see people move on. If something does happen, the city centre isn't as well policed as some other European or North American cities, so your best bet is to seek out a police ('garda') station to report a crime. There are also trained Gay Liaison Officers working in the force to deal with homophobic and transphobic harrasment and violence, and a Garda LGBT Monthly Drop In Service at the Outhouse resource centre on Capel Street, Dublin 1.
Get Your Wellness On
Most gay health services in Dublin are HIV/AIDS/STI-related and male-specific. The Well Woman's Centre offers three locations citywide. TENI (Transgender Equality Network Ireland) offer advice and support and BeLonGTo Drugs Outreach gives support for young LGBT people with drug and alcohol issues.
LGBT Centres, Resources and Organisations
GCN
The Gay Community News is a one stop shop for everything gay going on in Dublin and nationally, with comprehensive listings of events and organisations.
GLEN
The Gay and Lesbian Equality Network lobby for and liaise with the Irish government to push for equality legislation, like the recently introduced Civil Partnership Bill. GLEN was founded in 1988, but younger gays keen on marriage equality often dismiss them for working too closely with governments and also for leaving the 'T' out of LGBT in their work.
Marriage Equality
A highly respected not-for-profit organisation pushing on the single issues of civil marriage for same-sex couples.
LGBT NOISE
A more youth-driven organisation pushing for marriage equality, and organisers of the annual March For Marriage in the city.
TENI
The Transgender Equality Network Ireland was established to seek to improve conditions and advance the rights of trans people in Ireland.
BeLonGTo
A national youth service for young LGBT people aged between 14 and 23 which is also working with the UN on global anti-bullying initiatives.
The National LGBT Helpline
A confidential volunteer-run helpline providing support to LGBT people, their friends and families.
Outhouse (105 Capel Street, Dublin 1)
A community and resource centre for the LGBT community, home to workshops, a café, meeting spaces, drop in centre, and a new theatre.
Ladybirds
A group for young women 14-23 meeting every second Wednesday at 13 Parliament St, Dublin 2.
An Ealaín/The Arts
GAZE
The 20th Dublin International LGBT Film Festival (declaration of interest, I'm a board member) is taking place this summer. GAZE is a weekend-long celebration of innovative queer cinema. Last year everything from the 'Who Took The Bomp?' Le Tigre tour documentary, to Celine Sciamma's beautiful 'Tomboy', to the zombie porn horror flick 'L.A. Zombie' was screened. Taking place over the August Bank Holiday weekend, it brings together thousands of LGBT peeps who are into the movies, and are partial to a pint in the festival club afterwards.
The Dublin Fringe Festival
Art gays get their game on during the Fringe festival, which has grown massively in scale over 17 years, now encompassing 40 venues and around 150,000 attendees over two and a half weeks.
The Dublin Gay Theatre Festival
Taking place in May, the Gay Theatre Festival is in its 9th year and is laden with local and international queer theatre. It can be hit and miss in terms of quality, but in a city where theatre is diversifying hugely beyond the traditional realms, holds a key place in the gay arts schedule.
The Project Arts Centre
Not a lesbian space per se, but the Project Arts Centre in Temple Bar is pretty queer. In fact, its creative director is also the current Alternative Miss Ireland champ and reigning queen Mangina Jones. Innovative and brave, its programming hosts queer playwrights like Una McKevitt and queer companies like THEATREclub and thisispopbaby.
Gloria
Every city needs a lesbian and gay choir. Gloria is Dublin's.
College Life
Dublin is a university town with Trinity College and several Dublin Institute of Technology campuses based in the city centre, along with Dublin City University to the north and University College Dublin to the south and several smaller private colleges in between. So naturally the city has a youthful feel. University education is free in Ireland (apart from increasing student registration fees) so campus life is pretty diverse. Student nights are generally geared towards the "pack 'em in and give 'em cheap booze formula," but there are LGBT organisations in every university and most colleges in the city participate in Pride and organise Rainbow weeks.
Can't Get A Date?
It could be said that Dubliners don't date, they just go to the pub and wait to strike up a conversation that could lead to something else. This is probably still true, although changing, and probably still typifies the girl scene, although gaydargirls.com offers an (often sparse) online outlet. What is striking is how the lesbian population has increased over the past decade. Younger dykes coming out earlier and more populated club nights and gay bars have generally put an end to the 'same old faces' buzz, but of course the Dublin chart is as spaghetti-tangled as it is in any other medium-sized city. Like the rest of Dubliners, we're a friendly bunch, and even though the scene is pretty booze-heavy, that probably just makes it easier to meet and mingle.
Read A Bollocking Book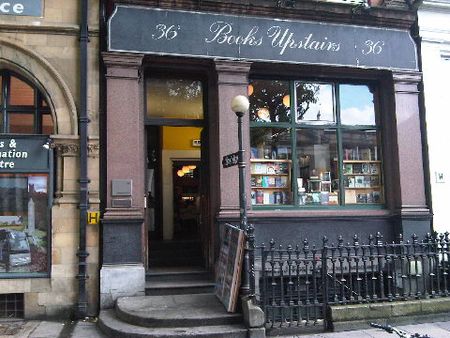 Even for a literary city, Dublin isn't immune to the pressure of online  bookstores. Oddly enough, despite being a former and current home to many celebrated writers, women's, lesbian and feminist sections in stores aren't exactly plentiful. But Books Upstairs, opposite Trinity College on Dame Street, Dublin 2 has a healthily stocked section.
Hair Do and Don'ts
Lunatic Fringe (69 Grafton Street, Dublin 2) Run by Tamar Chambers on Dublin's most celebrated shopping area, Grafton Street, Lunatic Fringe is the lesbian haircut spot. Tamar is as close to a hair-styling genius as you'll get anywhere and cares about her craft. A business based on unwavering recommendations confirms the quality of what she does.
Ink
You can't swing a sleeve in Dublin without hitting a tattoo parlour. Temple Bar is full of them, namely Dublin Ink on Cow's Lane, Classic Ink on Crow Street, Reinkarnated on Parliament Street and Dublin Art on Fownes Street. Skin City on South William Street also has a good rep, as does Zulu Ink on Great Strand Street.
Sporty Ladies
Gaelic football, camogie, soccer, roller derby and rugby teams are lesbian magnets but as for specifically lesbian teams, there are few notable ones. The Phoenix Tigers are Dublin's LGBT women's soccer team established in 2004. The Pink Ladies are a relatively new field hockey team who have already competed internationally, and will be the hosts for this summer's Dublin Pink Hockey Fest. Dublin Front Runners is a gay men and women's running club. Saturday Swingers is a lesbian golfers weekly meet up.
(What's That Got To Do With) The Price of Eggs?
Yup, Dublin is a pretty expensive city, but the economic downturn means that it's getting cheaper. It's now the 13th most expensive city in the EU, down from 10th in 2010. A two-bed apartment in the city generally clocks in at around €1,200 per month (around $1,600), but how expensive other stuff is depends on shopping around. A beer will cost you on average €5 ($7) if you're not somewhere with a drinks promotion and a pack of 20 cigarettes is around €9 ($12).
Part of an ongoing series of Queer Girl City Guides.