+


0. 2/20/2012 – Here/Queer Call for Submissions, by Riese
1. 3/02/2012 – Queer Girl City Guide: Montreal, Canada, by Sid
2. 3/05/2012 – Playlist: Here/Queer, by Riese
3. 3/05/2012 – Queer Girl City Guide: Portland, Oregon, by Lesbians in PDX
4. 3/07/2012 – Queer Girl City Guide: Brighton, United Kingdom, by Sarah Magdalena
5. 3/07/2012 – Oh But To Be A Queer in Sicily, by Jenn
The night before my girlfriend's birthday, we are sitting in a smoky, dingy bar in Vienna having the same argument we go through at least once a month. A Laurel and Hardy slapstick is being projected on the rococo ceiling, the walls are covered in film posters; candles give the place a nostalgic atmosphere. I am on my fourth pint of Pilsner. Across the room on another table are three lesbians, smoking roll-ups and talking in loud German. I like Vienna, I say. I like how open it is. I like the fact I can be around people I feel I recognize without even understanding their language.
It does not go down well. In other words you could only live in London, Vienna or any other big city. Somewhere with lesbians, she says. I am offended. I am also booze-fueled. Her words make me feel narrow. And so we argue, before walking back to our hotel mostly in silence.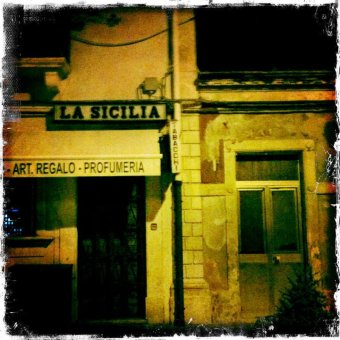 The argument does not come from nowhere. It has roots. I am English and my girlfriend is Sicilian. She has been in London for fifteen years; we have lived here together for three of those years. I like tube rides and crowds and concrete and cheap dark pubs. I don't mind grey skies. And yes, I like the fact I can walk around Soho or the East End and see other LGBTs. I like ricocheting around a dance floor to Le Tigre with lots of queers, or at least having the option to do so. My girlfriend likes wilderness and quiet and sunshine and the ocean. She likes good food and travelling and simplicity. She likes drinking rum on the rocks by the water before plunging in naked for a night swim.
Moving out of London is something we've talked about endlessly; as her family is there, Sicily feels like a logical step. And when I show my obvious elation about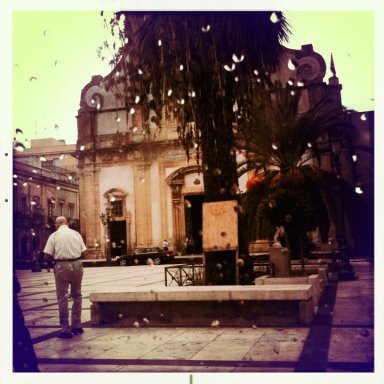 spotting other queers in a foreign city, when I drunkenly ramble on about my gayness, we argue because there is something in it that seems to suggest our incompatibility. You see, Sicily is not such an easy place to be openly gay. Or at least not outrageously gay. In the shadow of the Vatican and Catholicism and with some pretty traditional views, it's not that Sicilians are hateful towards gays. They're just not used to our existence, at least not in mainstream society. As my girlfriend once said: gay in Sicily is like science-fiction.
The thing is: I love Sicily. I LOVE it. And I love my girlfriend. I want to live with her in her environment; I want to be on her turf. So what stops me? I can blame it on a fear of flying (sweaty palms, uncontrollable shakes; the lot). I can blame the language barrier. Or I can blame the fact that when I'm there I'm never 100% myself because I feel I can't be openly gay. My many visits have spawned no obvious group of queers that I can suck the life from for strength (like in that movie Hocus Pocus where Bette Midler the witch tries to suck up eternal youth). Then the questions come. Is that my own unnecessary hang-up? Am I really that tribal? Is being around other queers really so important? Is being gay really so important? Shit, am I shallow? Although I have been open about my sexuality for much longer than her, my girlfriend is older, wiser and much smarter than me. And when she says I should feel comfortable in my skin without the gay crutch, without needing Twat Boutique or the option of some other steamy lesbo club, maybe she has a point.
The first time I went to Sicily my girlfriend wasn't entirely out. I was the 'English friend.' We got out the car to find nineteen people waving from the balconies of her apartment block. It was terrifying. I practically quaked. It was a real hero's welcome. Then came a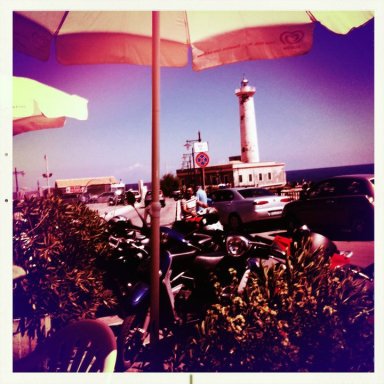 thousand kisses and hugs and a lot of foreign talk in a volume my own small family probably could never match if we were shouting into a cave with an echo. In the midst of this madness we were herded into the kitchen for a massive Italian spread; pasta, parmigiana, arancini, fist-sized olives. My girlfriend's family is all women. Lots of them. They filled the small kitchen and fought for a position underneath the ceiling fan. They talked and laughed and argued and ate. They made fun of each other. It was a bit like heaven and I fell in love with the situation immediately. The only male in the house was an insanely cute four-year old called Gaetano who came into the room in a pair of high-heels. They were laughing at him because he kept getting the words for party and funeral mixed up. And it was really fine being the English friend.
Then there was the swimming. Every morning after coffee we drove to the rocks and dived into the Mediterranean. I got attention; years without direct sunlight had rendered me pale and ribby, a regular urban vampire. I was like mozzarella. The local people told me I would attract octopus with my whiteness, which turned me into a cautious swimmer. I got male interest because kissing my girlfriend as discouragement wasn't really an option. But when the water is turquoise and the sun is out and the coastline is spectacular, politics don't seem necessary.
Evenings we sat out in the humid air, in an old fishing village by the water. There were lots of cocktails. We sat like two friends among straight couples and didn't give anything away. It felt secret and sexy. And we hung out with her loud, large family who I pretty much am in love with. If it sounds idyllic, that's because it was.
I've been back many times since. I lived as a friend in the family home for three months and felt more like a fixture than a visitor. I've seen a lot of Greek temples and watched Etna erupt. And I've come to understand things a bit more. I know Sicily is an island ruled by men; it's a mafia run place. I understand how religious the people are, how superstitious they are. It's not fanatical or extreme; it's just the way it is, the way it's always been. I know it's difficult to find a job in Sicily, that unemployment is high. I know that Sicilians are the most welcoming and friendly people EVER. I know you need to wait at least three hours after eating before it's fine to swim again (otherwise you'll get 'blocked'). Tradition is very important. And as my girlfriend said: any homophobia she has experienced in Sicily exists not because people think gay is wrong, only because they think it's different.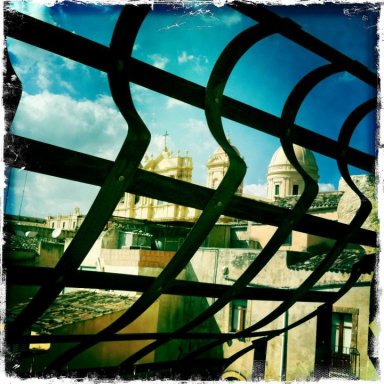 All this is fine. If we do move to Sicily, these are things that can be overcome. But the question is, what about a LGBT community? Is it necessary to be part of one to feel awesome? It's not exactly a life/death situation, but as someone who has spent years living a comfortable out-life in a huge and diverse city it's definitely something that plays on the mind.
I've heard stories about gay people on my visits. People gossip in the mayhem of a kitchen but never take it out into the open. My girlfriend has never lived as an openly gay woman in Sicily, but she knows/hears about those who do. And people are cautious. Those who are out are sometimes thought of as insidious. Maybe this is not so in the larger cities, but in a town by the sea this seems to be the way things go. There have been scandals beginning with flirtation and ending in divorce. Of course, this happens within the straight community too. But when a gay person is involved, it's not a question of infidelity but a matter of agenda. There are a couple of lesbians who live on the fringes of my girlfriend's town who have a reputation for seducing straight girls. They are not thought of well. How much of this reputation is based on misconception or homophobia? Maybe it's more that trying to be who you are among a predominantly straight society – one that is not as familiar with LGBT issues as the US or UK – can be a pretty lonely job. My girlfriend says there is a sadness in the out people she knows. Which brings me back to my point; is it important to be part of a community as an LGBT? Perhaps being comfortable in your skin only gets you so far.
After a while being the English friend wasn't enough for me, although it was my own doing. My girlfriend (and most of the people who knew about our relationship) encouraged me to be open about my own sexuality from the beginning. But for some reason I felt I had to lay low; I worried people would talk about her behind her back. And if her mother (whom I love a huge amount) was to hear something second-hand, it would not have been cool at all. Also I'm neurotic.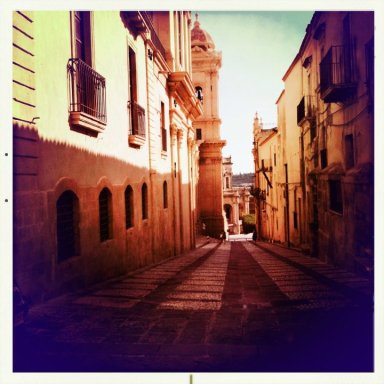 At the same time I wanted to be the lover. I wanted to match up to the cousin's boyfriends who got the best place at the table and the biggest plates of food. I wanted the whole thing. Plus, it became difficult to keep my hands to myself. My girlfriend was constantly in tiny shorts. Her skin went back to its natural olive color. The heat and the rocks and the sun were sexy, and she looks really good in the water.
All these things were tough. But they were harder for her. Recently she came out to her mother. It could have been worse and it's getting better. One of the amazing things about Sicily is that the family bonds are so strong. She would never have been ostracized or shipped back to London, but that fact doesn't make it easier on anyone. Her sister (who taught herself English with the lyrics of Elvis Presley – I love this!) now calls me her sister-in-law, although it was really hard for her to understand at first. With things a bit more out in the open, people are truly interested to know more. And thanks to a lack of words on my part this meant an evening sitting under the air-con watching Milk with a six-pack of Birra Moretti. With all these incredible people, and the sun and the food and the water, I should really just move there tomorrow, right? I have no doubt that if I did I would be ultimately and eventually accepted, no holds barred. But would I be able to find my own way – without my girlfriend and as a queer foreigner – within a strong LGBT community? Perhaps solidarity isn't everything, but it certainly makes things simpler at times.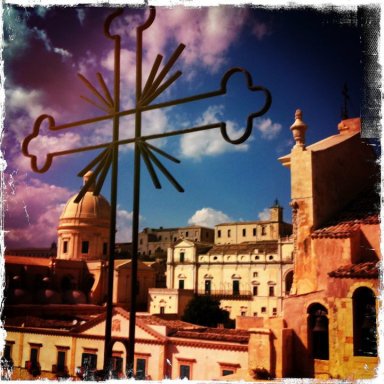 What I've written here is based only on the experiences I've had. I'm certainly no expert on queer life in Sicily. If anyone knows more or is in fact a queer in Sicily I would love to know about it! I'm sure there is an incredible community lying somewhere beneath the church bells and the fishermen and the tanned kids who smoke Marlboros on their Vespas. I'm also sure I'm not the first person to face this dilemma. Is moving away from a place you feel gay-comfortable to somewhere less gay-comfortable something you've done? How'd that work out?!