by Carmen Rios and Rachel Kincaid
The National Organization for Marriage, your favorite resident liars and crazy people, eliminated any chance of legal same-sex marriage in Maine in 2009 by being one of the largest supporting fundraisers of Question One on the state's ballot. The organization did a lot of talking, and continues to do a lot of talking, about how crazy it is to "impose" gay marriage on the lives of straight people.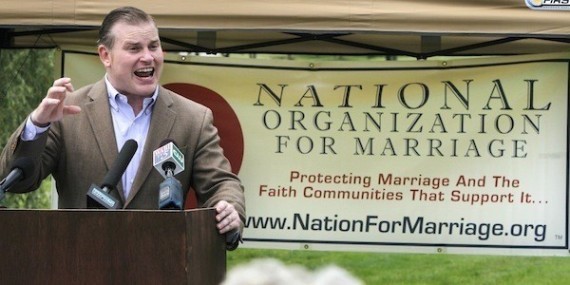 When all was said and done, however, NOM wasn't ready to keep talking. They refused to release their list of donors because of fear that "the gay agenda" would "incite violence" against the people "of all creeds and colors" who hate gay people and don't want them to get married or be happy in any state in our great union. They were so terrified of this, in fact, that they appealed the constitutionality of Maine's policy that groups organizing politically organize as PACs and disclose financial information. (NOM is reportedly actually afraid that "the gay agenda" might seem valid when people find out that they have very few funders, or maybe only two: the Catholic and Mormon churches.)
According to to Unicorn Booty:
The appeals court struck down NOM's tired old defense, that "the homosexual lobby has launched a national campaign of harassment and intimidation against supporters of traditional marriage, so there's a good reason to keep these names confidential." One imagines a fair deal of eye-rolling was also involved in refusing this defense.
In December of 2011 reports surfaced that NOM is funded almost entirely by two secret donors. Many believe these two to be the Catholic Church and the Mormon Church. Releasing their list of donors in Maine would potentially confirm this PR nightmare for both religious institutions, which may explain why NOM continues to break state law by keeping their donors secret.
NOM eventually took the appeal to the Supreme Court of the United States, and in February the body rejected the case. The organization is now undergoing an investigation of their financial practices.
As part of the ongoing investigation, NOM's super-secret strategy documents were released and put in the hands of some of the most ferocious gay advocates in the United States a little under 24 hours ago. And now, 40-page PDFs detailing the derailing of marriage equality in the United States and across the globe are available for anyone and everyone.
Perhaps the most shocking things NOM found appropriate to say out loud, print and publish, and actually admit to anyone ever were a plethora of strategies created to drive a wedge between traditional Democratic voters based on race and ethnicity. NOM's plans from 2008 and 2009 involve creating or sustaining cultures of gay-hate based on issues of race, and racial prejudice in the gay commmunity:
"The strategic goal of this project is to drive a wedge between gays and blacks—two key Democratic constituencies. Find, equip, energize and connect African American spokespeople for marriage, develop a media campaign around their objections to gay marriage as a civil right; provoke the gay marriage base into responding by denouncing these spokesmen and women as bigots…"
Another passage:
"The Latino vote in America is a key swing vote, and will be so even more so in the future, both because of demographic growth and inherent uncertainty: Will the process of assimilation to the dominant Anglo culture lead Hispanics to abandon traditional family values? We must interrupt this process of assimilation by making support for marriage a key badge of Latino identity – a symbol of resistance to inappropriate assimilation."
This may sound familiar to you. Jeremy Hooper wrote an entire list of various pieces he's written for "Good As You" about NOM's division among racial lines and strategies to pit communities of color against queers – and it starts with 2008. NOM has race-baited before, like the time they invoked Martin Luther King, Jr. in an ad about gay marriage's "consequences" to the rights and freedom of straight people, and they likely will again. But to consciously strategize the intensifying of race-based conflict within progressive communities is nothing less than disgusting and abhorrent.
Relationships between oppressed communities are bound to be occasionally bumpy; we live in a sad United States where people in all those states are actually only kind of united and a lot of them feel like they have to compete for progress because of limited resources. The rhetoric of success in America promotes the idea that in order to move ahead, it's necessary to do so at someone else's expense, and the dominant culture often exploits this idea to convince marginalized groups that their real problem is other marginalized groups, not the institutionalized oppression that affects them both.
It's a complicated issue, because issues of intersecting privilege do divide marginalized communities — for instance, white gay people experience privileges that straight people of color do not, and trans people of color experience marginalization and physical danger on a different level than either of the former two groups. When one group refuses to recognize that it has privileges that another doesn't, even if they're still overall very marginalized, resentment can build. Black leaders and speaking heads, for example, have at times taken a lot of issue with the idea that fighting for gay rights is "the new civil rights movement" of our generation, arguing that the comparison to the civil rights movement of the 1960s is unearned. At the same time, the queer community was being told (erroneously) that black voters were to blame for Prop 8.
It's not necessarily news that privileged groups and organizations that exist to protect privilege (like NOM) benefit from fomenting conflict between marginalized communities, so that attention is focused away from them. The only real shocking thing is how incredibly self-aware and conscious NOM appears to have been about the fact that by exploiting that tension, and exaggerating its reality and impact, they could try to pit the two communities against one another and destroy both in the process. And by dividing Democratic voters based on race and attitudes towards equality for queers, NOM was seeking to not only minimize LGBT rights on the national agenda, but beseech hatred and animosity among marginalized communities and thus weaken all of the battles for equality going on in the mix.
Although none of us expected exemplary behavior from the National Organization for Marriage at any point in our lives, it's nothing less of a serious disappointment in humanity as a whole to find out that race is being viewed in this instance as nothing less than a herding mechanism, and that in the process NOM forgot that individuals, not entire racial groups, exercise the right to vote. Their strategy not only betrays the outrageous lengths they're willing to go to in order to prevent gay families from achieving full equality, but also the lack of respect they appear to have for voters of color. The idea that Latino/a communities can be fine-tuned to view same-sex marriage negatively based on their desire to "assimilate" may even be worse than seeking to form racial wedges between liberals and gay marriage. And the idea that African Americans can be manipulated out of fighting injustice around them and are good for nothing more than causing a problem for LGBT-rights-focused politicians is equally repulsive. Using the importance of the civil rights movement to try to manipulate the black community is deeply inappropriate, and attempting to redefine the identity of the entire Latino/a community in terms of their feelings on marriage equality is incredibly reductive.
More than anything else, these documents reveal that NOM really doesn't care about any marginalized communities, and is more than willing to consciously exploit them in order to stay in a position of privilege. (Despite the graphics/propaganda featuring people of color on their website, all of the personnel listed on NOM's staff page are white.)  NOM and organizations like it fully acknowledge that they're ready to do whatever it takes to maintain the current system of hegemony — as long as they don't think anyone will know about it. NOM is only part of a long tradition of powers at the top of the pyramid manipulating and misleading those marginalized communities at the bottom — they just happened to put it in writing. And because of that, maybe they'll actually face consequences for it.