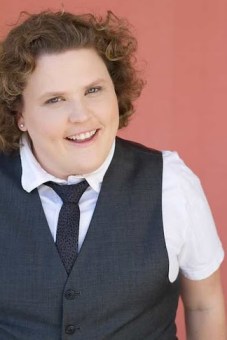 Fortune Feimster is a rising comedic star who you may recognize from a number of places including: NBC's Last Comic Standing, the Is This Awesome webseries, Funny or Die, this video about Darlene Witherspoon who works at Hooters and anywhere else that find comedic products are bought, sold, enjoyed or tasted.
Furthermore, Fortune JUST BARELY ALMOST made it onto Saturday Night Live (she's been invited to audition two years in a row which is a big deal) and DEFINITELY TOTALLY is in The Groundlings, a holding pen for future SNL and otherwise-inclined starlets.
She tours the country bringing her Southernly Charmed stand-up act to packed crowds of hungry fans, honing her hilariously entertaining stories of her childhood in the tiny town of Belmont, North Carolina to figuring out she was a big homo at the age of 25.
Jess talks to Fortune about auditioning for SNL, coming out on stage, being mistaken for Jonah Hill and how Stockard Channing brought the lez out in her.
Jess: Let's start with this: is Fortune your real name?
Fortune: Yes. My full name is Emily Fortune Feimster. Fortune is my great-grandmother's maiden name.
Jess: You were back in New York this August auditioning for SNL for the second year in a row. What was the experience like the second time around?
Fortune: Well, this time around Lorne Michaels came to our show at The Groundlings, and so he got to see me perform in my element in front of a live audience, and about two weeks later we got a call that they were going to send me out to audition again along with some of my company members. It was just a really cool honor because I knew in that moment that my first audition wasn't a fluke, there is something that I have that they might actually want. So, it was nice to go audition for them knowing what to expect, and I felt like this time I was able to sort of take in the whole experience a lot more than the first time. A lot of my company members were there too, so we got to really enjoy the experience and just feel happy that we were given the opportunity to be there. Obviously I didn't get it this season, they hired a couple of people from Chicago and a friend of mine from The Groundlings named Taran Killam, but you know, there's always next season… hopefully it's not completely over yet!
.
Jess: Last year when you auditioned, were you completely nerve wracked? What was different this year from last year?
Fortune: The first time is obviously like, "oh my gosh, what's happening?" It was just so unexpected, and I had never done anything like that before, so yeah, I was so nervous! I had a great audition and I left feeling like I had done everything that I could, but I also knew I had a lot of growing to do as a writer and as a performer. I've been performing sketch comedy every Sunday night at the Groundlings for the last year, and there's no way you can do it that much and not get better! So, I knew going into it this time that I was a lot more prepared as an actor and as a comedian. This time around I felt a lot more grounded in my audition and in my characters…. it seemed kind of a lot more like old hat, like "wow this feels familiar…"
Jess: Who watched your audition, Lorne Michaels and Seth Meyers?

Fortune: Yeah, Lorne Michaels and (SNL producer) Marci Klein and Seth Meyers, some other producers and business people from NBC. You audition on the actual SNL stage and they fully produce the auditions with music, hair and makeup. You know, just being on that stage, it's like oh heck, this is pretty amazing! It was definitely one of the coolest things I've gotten to do, and I'm just kind of hoping that three times is a charm, maybe I'll go get another shot at it.
Jess: It would be phenomenal to have an out, gay cast member on SNL. I think that there might have been gay cast members in the past, but they weren't out. Since you are out, that would be kind of revolutionary! Don't you think?
Fortune: I mean, it would certainly be a big deal. I think the only out cast member was Terry Sweeney in like 1985 and he was only on there for a season. Things are changing and gay people are feeling more comfortable out entertainers. It certainly would be a huge honor to be on the show just as a comedian, but I would certainly be proud to be an out gay cast member. I think that any out person in the public eye is a good, positive influence to the community as a whole. I would certainly love to have that opportunity to be an example of someone who can be out and be a successful performer.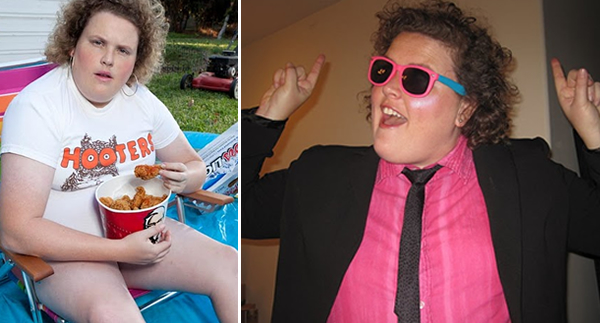 Jess: Were you always out on stage?
Fortune: Well, I didn't come out until five years ago, and I didn't start stand-up until three years ago. So, I was already out when I started doing stand-up, so to me it just seemed like a no-brainer to include gay material because it's part of my point of view as far as who I am. I don't make my whole bit about being gay, but it certainly is a part of it, and I've never felt comfortable hiding that part of myself.
Jess: How old are you?
Fortune: I'm 30.
Jess: OK. Yeah, I get what you're saying. It was just a natural extension, you never went through the period where you were going to be like, well I'm gay in my life but I'm just not going to put that in my work…

Fortune: I think anybody who sees me perform stand-up knows that my stories are so personal — I'm a storyteller, I talk about my family, I talk about growing up, I talk about how I see the world, and to try to be up there and not include that part of myself, it seems like I wouldn't be as genuine. I think part of what people respond to in my comedy is that I am telling the truth, I am telling who I am, and I am sharing my experiences. And to leave that part out, I don't think it would be the same.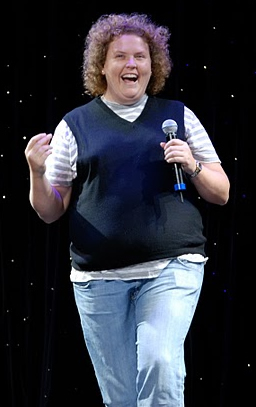 Jess: Was there ever a conversation with your manager about whether you'd be out or not? Especially going into Last Comic Standing where you're now going to be gay for the whole world?

Fortune: Yeah, we actually did have that conversation. When I went to try out for Last Comic Standing I initially didn't talk about being gay.  I just did some standard material, and when I got moved on to the next round I did call my manager and I was like, "you know, I've got to come back tonight in about three hours and perform again, do I shy away from the gay material, or do I just do it?" And she didn't even hesitate, she was like "absolutely, do it, it's part of who you are, and people are going to like you for who you are. And I see no reason for you to try and hide it." That was a huge relief to me because, it meant she's on the same page as far as showing people who I am and not hiding any part. So, yeah, I've never had one person say that I should not have done it, or even when I was trying to decide whether or not to be out, no one made a big stink about it.
Jess: So you realized that you were gay at 25, how did you finally get there?
Fortune: Uh, um [laughs] Oh my god, this story is so embarrassing, I should never admit it to anyone!
Jess: Oh, good, then definitely tell it!
Fortune: I know! I mean, I think I always knew or had somewhat of an idea, but I'm from the south and you know, I never had an example of people being out and good with it. I only knew of people being in the closet and being ashamed of it. But I didn't really grasp the concept of being gay, to be honest. I knew what gay was, but I didn't know how that applied to me, I just always knew I got a little too attached to some of my best friends growing up. So, I was watching this Lifetime movie… it was some Stockard Channing movie…
Jess: Oh my god! It's called The Truth About Jane!

Fortune: Yes! Oh my god [laughing] So I was watching this… I don't even know how I got on this channel, it's just that something led me to this movie. And I'm watching this like, 15 year old girl [played by Dead Like Me's Ellen Muth] coming to terms with being gay and just being OK with it, and something just clicked and I was like, oh my gosh, here I am at 25 years old, and I know that there's something… I know that this is in me and this is who I am. I think that was the first time where I was like, oh my God, I am gay! I swear to God, it was just like some epiphany, and the first time I ever said it out loud to myself. And I don't know, Stockard Channing man… she just brought out the gay in me!
Jess: That is so funny that it's that movie! I swear to you… I saw it on TV back in 2000 and I have the DVD right over there! Co-starring RuPaul, might I add.
Fortune: Hilarious! I know, I wish I had a cooler story like, "some hot girl came up to me" but like, no. I just watched this movie… [laughs] Yeah.
Jess: You say you were a late bloomer, what were you like in high school? Did you date boys, were you popular?
Fortune: I was friends with everybody. I was that person that jumped from group to group and I just was the fun, funny friend who everyone wanted to hang out with. I liked guys but I didn't really date much. I never even attempted to date a girl, that wasn't even in my frame of reference. I just shared feelings and wanted to have sleepovers with my best friends who were girls all the time [laughing]. I always wanted to braid their hair a little bit longer than I should have! Which I still do, by the way.
Jess: Was your first real "gay date" as awkward as the one that you act out in the sketch?
Fortune: It was based on the very first date I ever had, which was a blind date. I wasn't, thank goodness, as awkward as the character I play in the sketch but I remember playing with the silverware on the table and just being weird. So, I took that experience and just heightened it by about 5 times. I'd like to think I've gotten better with the ladies since then.
.
Jess: You joke in your act about people mistaking you for Jonah Hill or Richard Simmons. Has that really happened to you on the street?
Fortune: Yes! The Jonah Hill story is real. Someone walked by me in Las Vegas and was like "you look just like the dude from Superbad!" No one actually said that I look like Richard Simmons, but I happened to dress up like Richard Simmons for Halloween one year and everyone was like "yea, just go with who you look like!" and I was like, "HEY! WHAT!" So, it was a joke and it turned out to be something of a reality.
Jess: Did you ever come face to face with the real Jonah Hill or Richard Simmons?
Fortune: I did meet Richard Simmons twice and I told him that I did an impersonation of him for my Saturday Night Live audition and he was like, "well, did they find it funny?" and I was like "ab-solutely!" I couldn't tell if he was happy about it or not. I went to his work out studio in Beverly Hills like 6 months later and he remembered me like, "where have you been?" and I was like "what?" and he kept nagging on me that I hadn't been working out at his classes. He kept calling me out during the class and kept referring to me as "the one with hair like mine." Oh god… [laughing]
Jess: I heard when you first moved to Los Angeles you were a celebrity personal assistant.
Fortune: Yea, I was Emily Proctor's personal assistant. She is on CSI: Miami. It was a lot of picking up grocery shopping and taking care of her cat, pretty mundane. I don't have any crazy stories that Tom Cruise's personal assistant might have!
Jess: Fair enough. After that you moved on to working as an entertainment journalist, right?

Fortune: Yea, Emily Proctor's neighbor was a journalist for the LA Daily News and she heard that I could write, so she asked if I wanted to cover movie premieres like once a week. I was 23 years old and I was like hell yeah! So, part time I'd interview people on the red carpet and eventually that led to a full-time job that I did for almost 7 years! It just ended last April when I became a full-time comedian. For the last few years I would work during the day as a journalist and do comedy at night.
.
Jess: What was your favorite celebrity encounter from that time period as an entertainment journalist?
Fortune: I got to interview Jon Bon Jovi when he was guest starring on some TV show and I went into his trailer and I interviewed him for a few minutes but the rest of the time he just smoked a cigarette and we talked. I was like Whoa, I'm just sitting here hanging out with Bon Jovi! That was awesome. I also got to interview Julie Andrews at the premiere of Mary Poppins so I was basically watching Julie Andrews and Dick Van Dyke watch themselves on screen singing along to the songs that I grew up on. That was just like, mind blowing. I got to go to the Oscars several times which was awesome and after the show we were hanging outside the Governor's Ball and all of a sudden every single A list celebrity you can think of started walking out and we were watching like Heidi Klum and Seal holding hands and kissing, etc.
Jess: I saw you perform several months ago and you have this unbelievable self confidence on stage. Were you always so comfortable in your own skin?
Fortune: Yea, I always had good self-esteem and I think a lot of girls come out of their teenage years with so many issues and terrible views of themselves. People have so many ideas on why this is – the media and the pressure to be thin and pretty – and obviously I KNOW that I'm not thin. I know I am not what someone would consider conventionally good-looking, but I do like who I am and I feel like I'm a good person, and I think a lot of that has to do with my grandmother. She really instilled a nice, solid foundation for me to feel good about myself. I think because I honestly feel good about who I am that comes across on stage, and I hope people feel comfortable with me, in return.