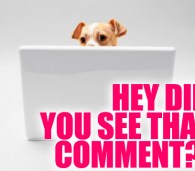 Hi! Happy international meet an Autostraddler week! This is your new favourite holiday. The great thing about this holiday is that it can be celebrated every day. In fact I just celebrated it last night with like 15 people from Montreal and it was really great and a little nerdy. Hi guys!
Feeling nostalgic for the 90s? Riese and Laneia give you a bunch of 90s bands they don't listen to anymore and a few that they still do! I'm listening to Green Day right now. You can add "buy 90s CDs" to your "how to cope with unemployment list" like Kelsey did. Or you can, you know, bake me something delicious with pumpkin. Don't know how? OH LOOK HOW CONVENIENT: Get Baked with Autostraddle: Pumpkin Edition!
---
+
On Australian ARIA Music Awards: Can't Your Hear, Can't You Hear The Thunder:
The Bitter Award to e:
i would take australian music nominees over the grammy nominees any day. america sucks at everything.
On NSFW Sunday: Autostraddle is Not a Trademark Sexual Move, Except When It Is:
THE AUTOSTRADDLE AWARD FOR AUTOSTRADDLING to wasteunit:
I spent a lot of time autostraddling and being autostraddled last night.
The e Award for Smooth Talkers to Lauren, Jader, e: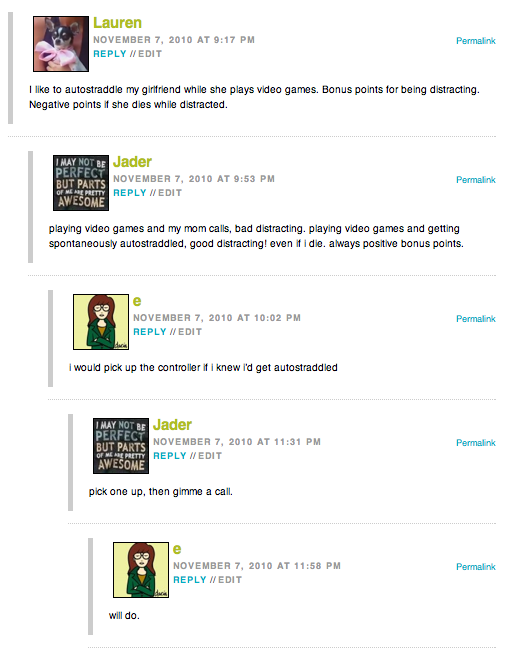 The Autostraddle University Award to petitekarma, terracottatoes:

On 15 90s Bands We Stopped Listening To After the 90s (and 11 We Still Listen To):
The Celebrity Story You'll Tell All Your Life Award to jessica:
When I was 2 years old, I lived in an apartment next door to Hootie and the Blowfish. They used to practice and annoy my parents. That is all.
The It Was Worth It Award to bren:
Matchbox 20 got super popular the summer between high school and college. My then "best friendwp_posts(current girlfriend) LOVED Matchbox 20. I spent every one of my crappy-summer-minimum-wage-job dollars on tickets to their concert. When we got there it was so crowded that she couldn't "dealwp_postsand told me to just sell the tickets to someone else.
I was PISSED for about 2 minutes until she suggested that we use the illicitly obtained scalper money to rent a hotel room for the night instead. I think it was that moment that I knew she was a keeper.
The Kurt Cobain Just Really Gets Me, You Know? Award to TSwizzle:
I listen to 90′s music non-ironically, because growing up in the weird, almost cultish environment that I did, it's all pretty much new to me. HAVE YOU GUYS HEARD THIS BAND CALLED NIRVANA? IT LIKE….TOTALLY SPEAKS TO ME. LIKE FOR REAL.
On Gay Bishop Gene Robinson Retires, Anti-Gay Asst AG Andrew Shirvell Gets Fired:
The Your Sister Probably Isn't As Big An Idiot As Fred Phelps Though Award to diver, Ziggy Hreins: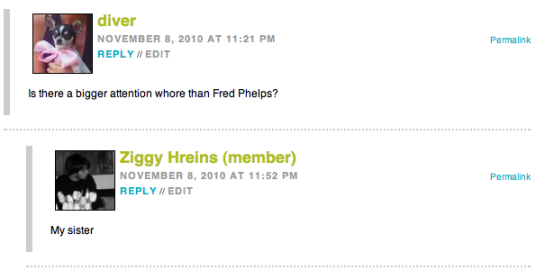 On Kelsey's 5 Steps to Coping with Unemployment:
The Write Comment Awards: Check! I Feel Accomplished Award to kalinflynn:
Make lists of things to do. Include safety goals like "laundrywp_postsand "journalwp_postsin addition to reach goals like "get a jobwp_postsand "write a book.wp_postsAlways include "make a list of things to dowp_postsso you can quickly feel the accomplishment of checking it off.
Start a blog. Then start another blog. Then start another blog. Obviously, one of the three will become wildly popular and you will live off the ad revenue for years.
Practice yoga. Learn to meditate without anxiously waiting for the end so you can feel enlightened already. Seriously, it's not like you have somewhere else to be. Just breathe.
Paint your nails colors that weren't appropriately 'professional' for your last job. Call your friends who still work there and tell them that you just slept until 10, painted your nails neon green, and are going to update your blog later, if you have time. Check "call working friendswp_postsoff your list.
On "Democrats Lean Towards Caving On DADT," We Lean Towards Screaming From Our Eyeballs:
The I Can't Even Think of a Name For This One But It Was Funny Award to twg:
I think the biggest shock of this article is finding out that Harry Reid is on Twitter.
The LULZ Award to via:
DO WE LIVE ON CRAZY PLANET?!?! I WANT TO MOVE TO LADIES HAPPY FROZEN PIZZA PARTLY CLOUDY KITTENS TOMATO SOUP LOVE AND TEQUILA PLANET!!! plz.
but srsly. I don't even know what to say about these things. they don't make sense in my brain.
On Get Baked With Autostraddle: Pumpkin Edition:
The Pumpkin Farmer Award to Kaylise:
This is awesome, since clearly pumpkin is the little black romper of baking (Not perfect for every occasion, but DAMN so fine when done right). However, you guys, pumpkin is really expensive this year. There was a bad pumpkin crop or something, and it is ruining my life.