1) Sleep
Get a good night's rest, every night. Sleep in, because you can. Sleep in until you can sleep no longer. Then get up for a few hours until you feel you need a rest. Then take a nap. Also, don't stay up too late.
2) Shower
There's nothing like starting the day fresh. Usually, after breakfast, I try to remember the last time I took a shower. Sometimes it was the night before, and other times it was four days ago. Regardless of the timing, there is no better way to feel productive than to touch your body all over and scour yourself with soap and get a clean shave. Take your time during this step. No need to rush. Beauty takes time.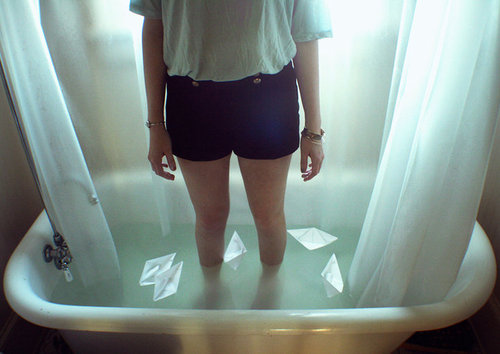 I prefer my showers particularly steamy. If I wasn't too afraid of disease, I might even consider going to a bath house for this step. As it stands, I have to make my own steam room by locking myself in the bathroom with the windows closed and water on at least 106 degrees F.
Also, there is no better time to multi-task/brainstorm than when one is in the shower. Think about your day, think about your future. Think about all of those sex dreams you had last night and how real they seemed.
Repeat this step as necessary throughout the day. You can't be too clean- that's a myth.
3) Clothes
After your shower, get dressed. Act like you are going out for a night with friends, or even to the local mall. Think about going to the smallest mall you've ever been to, and dress as if you are better than everyone else who goes to that mall. And what about emergencies? If you run out of coffee, for instance, you will need to get more as soon as possibly possible. You're going to want to be dressed for that. Safety first.
4) Coffee
It doesn't matter how unproductive your day has been, or what hour it is. Brew enough coffee for at LEAST 10 cups/servings. Drink what you can, refrigerate the rest. You will want to have it on hand in case INSPIRATION hits. Maybe you decide it's time to leave the house. YOU WILL NEED COFFEE. Or perhaps you've been procrastinating cleaning your room, cutting your nails, washing the dishes. Likewise, have it on hand.
Also you made something today. Hand-crafted. Your creation. PLUS, the better you get at making coffee, the better your chances of being hired! It is a great skill to put on your resume.
Coffee is your friend. I used to be afraid of being "addictedwp_posts(another myth), and then I realized: I have time in my life for addiction. Recovery time, the ups and downs, etc. And besides, there will never be a withdrawal period because I will never stop drinking it. NEVER.
5) Internet
At some point during the day you will realize that you've done nothing that aids your unemployment status. In these instances, do the following:
Google: "Am I qualified for Unemployment Benefits?wp_postsor "U.S. Unemploymentwp_postsor whatever you see fit to get your due money from the government. Even if the search results aren't clear, you can use the day to sort through them and learn about unemployment. You might even read stories of people worse off than you! And then you will pat yourself on the back for feeling so positive.
Google: "job + _____ (insert ideal job, both realistic and unrealistic)" For example, I might search:  "acting gig, no experience required, NY, blonde, small, gaywp_postsand see what comes up.
Maybe you have a favorite site that you regularly check for jobs/entertainment/otherwise, such as Autostraddle.com, Craigslist.org or Jezebel.com. Do this as often as possible. Give the rest of your money to them. Even if you don't end up applying to anything, at least you know what's out there. Tell yourself you can do better, then go take a nap.
Feel free to share some tips/tricks to dealing with unemployment in the comments!