Happy Sunday Funday! I applied for three jobs this week! I also had time to relax before commencing my crazy week ahead, in which I will definitely be happy to own a dog and will probably attempt to lay in a field of daisies.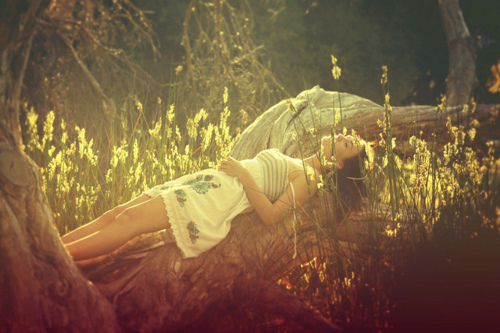 How was your week? Was it okay or bad? Would Mad Men or Madonna or a baby being held by a puppy make it better? If not, I have more than one reference to Ellen in this post, and the person who finds them all wins a lot of time spent reading about stuff peripherally about Ellen Degeneres.
MAD MEN IS BACK.
I love Mad Men. As a retrophile and a lover of Amy Winehouse, I knew from the first commercial (this is where I assert I watched Mad Men when no one watched Mad Men) that it would be something I loved, and I was right. And I know you're already jumping for joy because Season 5 premieres today, so here's three things to tide you over until it's time to shut everyone else up.
+ Mad Men in Seven Minutes, courtesy of Slate, will certainly catch you up on where you left off – and then some.
+ While you wait for the premiere you could also try to channel one of the main gals and put on your best apron to make some Mad Men-style food courtesy of Jezebel.

+ And when all else fails, think, "What Would Peggy Do?" by reading The Advocate's piece on Elisabeth Moss:
Last season Peggy befriended Joyce, a lesbian beatnik, and it seemed entirely possible that they might hook up.
Absolutely. Of course Peggy would have a really good lesbian friend, and it was fun to toy with that flirtation. I loved all the respect and kudos I got from the gay community about that storyline. People were so excited that Peggy might be a lesbian.
How close was Peggy to testing those waters?
Peggy is open to a lot of new experiences, and I loved that Peggy wasn't put off by Joyce's flirtation. The attention and the whole idea of it was titillating for her. I don't think Peggy's gay, but who knows? I mean, if anyone's going to be gay, it's Peggy.

Prop 8 Brings New Donors In
Rob Reiner is a director, David Geffen is a mogul, and Chad Griffin is a political strategist. What brings them together? Gay marriage. At the core of The Indecision of Prop 8 is the money that makes those lawsuits possible – and a diverse group of Republican- and Democrat- identified Californians are taking up that cost:
"Our feeling is not to go state by state," Reiner said. "Our strategy is to make this wind up in the United States Supreme Court and have this a settled issue for all time."
Geffen asked few questions as they sat in the dining room off his screening room, with a sweeping view down his sculptured estate. He agreed before the dessert arrived to raise the money. "I said I'd give them half the money and raise the other half," Geffen recounted. Geffen wrote a check for $1.5 million and asked Steve Bing, a friend and producer, to make up the rest.
That lunch was a milestone in the dramatic evolution of a behind-the-scenes fundraising network whose goal is to legalize same-sex marriage from coast to coast. This emerging group of donors is not quite like any other fundraising network that has supported gay-related issues over the last 40 years. 
PICS OR IT NEVER HAPPENED: The Mass Wedding in Ohio Happened
The mass wedding in Ohio succeeded at being adorable:
More than 200 gay and lesbian couples from across [Ohio] participated in what they called the "largest illegal mass wedding ever held."
While some were dressed in more casual attire they all had the same intention: to send a message to the state of Ohio to recognize same-sex marriage.
Young People Take on Bullying
+ Katy Butler, the activist who singlehandedly gained national attention for her efforts to let bullied kids actually being able to see Bully, will be honored at the 23rd Annual GLAAD Awards – and Ellen DeGeneres knows her name. SheWired asked her some questions:
An out lesbian, who endured antigay bullying in middle school, Butler launched a Change.Org petition late in February, calling for a rating change from R to PG-13 for the Weinstein Company's documentary Bully, so that the film's target audience of middle school and high school aged students would be able to see the film and so that it could eventually be shown in schools. […]
Butler's odyssey from Michigan high school student to activist on the national stage includes an appearance on The Ellen DeGeneres Show during which DeGeneres lauded Butler and introduced viewers to Bully and the surrounding controversy.
Hollywood mogul and one of the men behind Bully, Harvey Weinstein, will present Butler with a special recognition award at the 23rd Annual GLAAD Awards in New York City.
+ Jeremy Brown is determined to survive and to thrive, and is using his own experiences with bullying to take action to end it in more schools: 
While going to Griggs County Central High School in Cooperstown, he said he lived a daily slice of hell, regularly shunned, verbally and physically harassed, even threatened with death, he said Friday.
Rather than live cowed, he's decided to get active.
This weekend, he'll travel to Washington, D.C., for the Safe Schools Advocacy Summit sponsored by the Gay, Lesbian and Straight Education Network. […] He's also become a leader in the 9th Grade Center's Safe Zone group for GLBT students, and their friends or family, counselor Jessica Raile said.
Karen Atla Has Her Kids, Her Glory
Judge Karen Atla in Chile is a 48-year-old gay mom who just regained custody of her three daughters in a landmark lawsuit.
Gay Movie Brings Balkans Together
"The Parade" is a black comedy about a Serbian soldier and his enemy veterans uniting to protect a gay pride event currently making huge waves in former Yugoslavia — in spite of its challenges to homophobia and ethnic divides in the region: 
The movie has drawn more than half a million people since its release in October. It has been equally acclaimed in Serbia, Croatia and Bosnia – something no local film has managed since the 1990s wars between the ex-Yugoslav republics.
"The whole region is united for the first time in liking this film," director Srdjan Dragojevic said in an interview.
"Call Me Maybe" on Ellen
Now it can be stuck in everyone else's head, too.
Madonna Stirs Up Controversy for Nudity, Gay People
+ Madonna likes gay people and it's getting her in trouble in St. Petersburg:
Madonna has clashed with authorities in St Petersburg over a new law which prohibits the 'propaganda of homosexuality and paedophilia among minors'.
The superstar has taken to her Facebook page to speak out against the legislation, which has been criticised for likening homosexuality with paedophilia.
Calling herself a 'freedom fighter' the star wrote: 'I will come to St Petersburg to speak up for the gay community and to give strength and inspiration to anyone who is or feels oppressed.'
+ And Madonna's love of nudity is making YouTube feel awkward about her new video, which contains "bare bottoms, a man rubbing his crotch and an implied masturbation scene where a man gyrates before a mirror:"
Madonna's team was working yesterday on an edited version of the video for YouTube because, for the first time, it's based its marketing strategy for her new album, "MDNA," on social media, including a live Facebook interview with Jimmy Fallon today.
A source told us, "YouTube has decided the video is too raunchy and should only be viewed by those 18 or over, and actually, the video is hard to find on the site. YouTube has sent Madonna's team a list of shots that should be cut to make it appropriate for everyone."
+ Here that video is, by the way:
Stephanie Miller on Current TV
Something Really Super Adorable for You
"50 Toddlers Who Are Best Friends With Their Dogs." How does that make you feel? I liked this 50 percent more than a post just about dogs or babies, and about 100 percent more than anything I'd ever seen in my life.