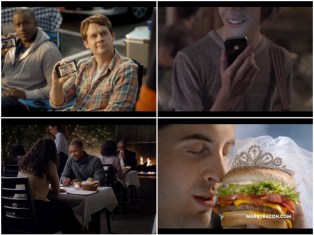 It seems that now that the entire country and all its commercial enterprises are basically bankrupt, the only businesses left who can afford massive chunks of television commercial airtime are the businesses who made the entire country and its commercial enterprises bankrupt, e.g., insurance, cable/internet providers, cell phones and related gadgetry, car companies and big pharma. Perhaps that's reason #457 of why we're currently knee-deep in what I perceive to be the Dark Ages of television commercials.
Yes, commercials have always been bad and irritating, with all their grating catch-phrases/jingles and tired stereotypes of harpy women and douchey dudes, and maybe I'm just noticing it more now because I'm older and therefore more curmudgeonly. But I've never inherently hated commercials. My Mom forbade us from watching any television stations that aired commercials as kids, so I didn't actually start seeing commercials on the reg until my early-to-mid teens, but I also find advertising/marketing interesting in general and used to pay actual money every single year to watch the winners of The Best Commercials of the Year on the big screen at the Michigan Theater.
Clearly annoying advertising works, I guess but sometimes it seems like the ad-people spend so much time convincing you that they really understand you and how you use technology that they forgot to also try and sell the product.
The worst commercials on the air today are what I'd call "OMG MY TECH!" commercials, in which actors attempt to sell you a phone/internet provider by demonstrating how one can use said gadget to annoy and disrespect other people.
Believe it or not I've had this post in a draft for months now waiting for the proper opportunity to complain as a group together about this situation, I feel like the Mad Men premiere is a good excuse.
Here are some of the worst commercials currently airing 56 times a night on my teevee.
+
1. Hitting You Over the Head With an Axe and Throwing Your Phone Into a Swamp? So Five Seconds Ago – AT&T 4G LTE
The worst commercials on television are these "So [x] seconds ago" situations. The funniest part of it is that despite having seen this ad 456 times and complained about it at least 16 times, I didn't remember what it was advertising until attempting to find the ad for this article. There are several versions of this:
+
+
2. Romantic Dinner – AT &T iPhone 4S
In "Romantic Dinner," this girl is on a date with a guy who's on his phone the whole time checking sports scores/games. I thought, based on the content of the ad, that it'd be advertising a special kind of hammer women could use to temporarily disable their douchebag boyfriends, but alas, I was wrong. The advertisement is for the phone that is enabling this guy to be annoying.

+
+
3. Call Me Rock God – iPhone 4S
Haven't we decided, as a society, that the iphone 4S "Rock God" ad totally blows? Why is that shit still on the air? CANCEL IT. This parody is funny, though.

+
+
4. Honda Really Big Sales Event – "Chinese Couple" (that's the actual name of this commercial, I didn't make it up)
This commercial is just — like — how many ideas were thrown out there before they settled on this one?

+
5. State of Unrest – State Farm Insurance
Wow, this is a really great marriage. I want whatever insurance they're using! Hahaha it's Steve from State Farm. It really is Steve!
+
+
6. Marry Bacon – Jack-in-the-Box
This would be better as a Focus on the Family PSA about what will happen if they let gay people marry:

+
+
7. xFinity – Welcome Back
If my life is ever anything like this girl's, please shoot me in the face:

+
8. Progressive – Brad Likes Discounts
Really all of these are annoying, it's hard to pick just one.

Which advertisements make you insane?