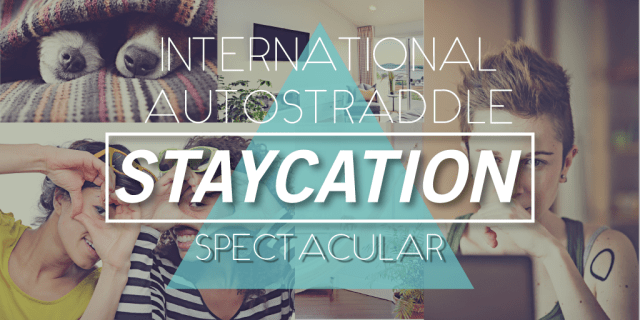 On March 14, we want our readers to stay in together as part of Autostraddle's International Staycation Spectacular! Follow along with everyone's hotel parties, spa days, and indoor picnics around the world with the hashtag #StaycationSpectacular, and join us on the day of for the A+ livestream!
---
I was once a hardcore extrovert. Through my teens, being alone and doing nothing both made me super anxious, so I kept myself busy and actively social. Looking back, I can't say objectively if this was a healthy way for me to be, but either way, along the way, something changed. I came to appreciate and long for alone time where all I had to do was exactly whatever I wanted to do. Mid February through mid March has been the busiest month of work I've had since I moved to Nicaragua, working 14-hour days with one-day weekends. I'm also currently extricating my heart from a logistically unfeasible romantic situation. I'm so overstimulated my brain probably looks like a pinball machine.
So on March 14th I'll be celebrating Autostraddle Staycation day in my bed with most of the lights off and a brand new notebook. Here's my guide for an exquisitely necessary hermit day. Who wants to rest with me?
---
1. A Space Where You Can Be
The first step to a successful solitary staycation is identifying the right location. For me, it's going to be right here in my bedroom because I've barely been home at all in 2015 and I'm pretty sure my bed has forgotten what I look like. But maybe the people you share your home with are one of the sources or your anxiety, or maybe you work at home and will pop if you spend anymore time there. Find a secluded outdoors spot or a hotel to set up camp in.
2. Clothes (Or Not)
I have negative plans to put pants on during my staycation — give me an oversized tank top or give me death. Dress yourself for ultimate relaxation. If I didn't live in a tropical climate with no A/C, I'd be coveting Alternative Apparel's Slouchy Slub sweatshirt. That name! And if for any reason I have to go outside I'll pull on my Hane's Premium Men's Sweatpants (team elastic bottom sweatpants for life).
3. Reading material
My new copy of Kingdom Animalia by Aracelis Girmay has been sitting on my nightstand calling to me for weeks. I'll spend the morning digesting each poem slowly and hope they get stuck in my gut for seven years. I'm also finally going to finish The Miseducation of Cameron Post. Hermiting also lends itself well to inspirational memoirs like Janet Mock's Redefining Realness or Why Be Happy When You Could Be Normal by Jeanette Winterson.

4. Things to put in your mouth
It's important to keep yourself well hydrated and fed during all this hardcore hanging out. Before the big day, I'm going to stock up on Dr Pepper, bananas and peanut butter. I've got a box of Annie's Cheddar Bunnies squirreled away for just this occasion. And I'm planning to make some kickass lentils ahead of time. Here, just because I love you, is my totally vegan, stupidly easy lentil recipe:
1 large onion
6-7 cloves of garlic
1 large carrot
2 white potatoes
1 lb of green lentils
Spices to taste (I use curry powder, Tony Chachere's, salt and pepper)
Instructions: In the bottom of a large pot, sautee the onions (chopped pretty small) and the garlic (chopped as small as you can without getting bored) in vegetable oil until the onions start to turn clear. Add in the lentils, chopped carrot and chopped potatoes. Cover the whole mess with water, add the spices, stir, and cover. Cook it until everything is kind of mushy looking and the lentils are totally soft. Eat.
5. Paper and pen
When I get way too busy, my brain stops dealing with the peripheral feelings and worries that seem too small to bother with but can actually pile up to make me an anxious depressive wreck. I am not a consistent journaler by any means, but sometimes it is the only thing that works to extricate the piled up jumbles of blah in my head. Journaling scares me, because usually when I do it I figure shit out that I then have to process and deal with and my golly it is just so much easier to pretend everything is fine enough. The beauty of a hermit day is that I not only have time to write, I have time to figure out how do deal with how crappy that writing may make me feel and make a game plan for getting out of it. My roommate just brought me a beautiful purple journal from Nepal, and I will inaugurate it with my feelings.
6. The Self-Control App
It will be tempting to spend the whole day screwing around on social media and catching up with the people I've been ignoring for a month. This would also be wildly counterproductive to my self-care aims. The Self-Control App is the only reason I finished my senior thesis, and it will be my buddy on this day. If you have a Mac, I highly recommend it. The Stay Focus'd extension works great with the Chrome browser, and Robin recommends Leechblock for Chrome. I'm planning to shut down Facebook, Twitter and my email, because social media stimulates all the parts of my brain that keep me from actually calming down and focusing on myself. Instead, I'll cue up some longform articles I've missed out on and finally finish that one essay I want to make for you that has been blinking at me since the new year.
7. Some junk TV
I realize a lot of these things sound downright productive, but don't worry: I'm also planning to watch When Harry Met Sally and Say Anything for the 23rd time each.
8. Odds and Ends
A joint, a vibrator, a bottle of wine or a yoga mat would all be stellar things to add to the list. I will probably end my day with a low key social activity, like having friends over to play %Bananagrams, to make sure the self-care time doesn't turn into wallowing. In the end, your solitary staycation is all about you and what chills you out and makes you more equipped to take on the world. Happy hermiting!