Photos via shutterstock.com
Let's face it. Meet-ups make our world go 'round. We've brunched, we've purchased records together, we've climbed mountains, we've hit parks and beaches, we've speed-dated, we've done it all, you guys! And it's been brilliant and amazing and shiny. But what we're about to do will top everything.
On March 14, we want you – yes, YOU! – to take a staycation, dude. Oh, and we want all the 'straddlers in your area to join you.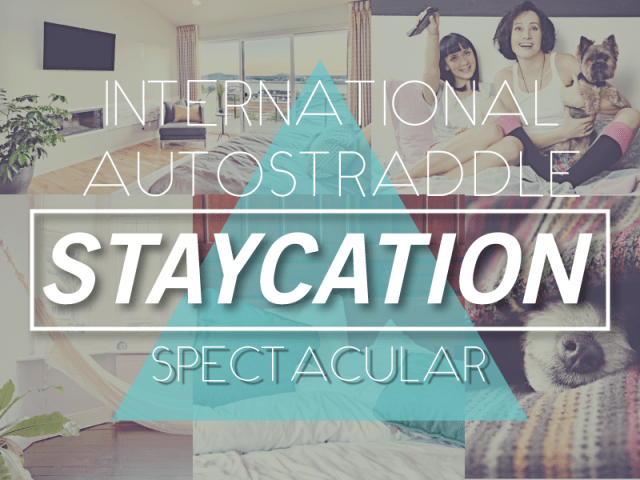 We want you to meet-up and sit back, relax, and chill the fuck out. We want you to host an in-house spa day, throw a hotel party uptown, rent an AirBnB and pretend you're in a cabin in the woods, paint each other's nails, read magazines together in the air conditioning, WHATEVER. If you would do it on vacation, do it at home or in a hotel or in a rented room! And make it better and do it together!
If you decide to spend the day with your activity partner or best friend or self instead, you can still be a part of the spirit of the day with our A+ Live Team Staycation Stream and get in on our wild and crazy shared experiences by using the hashtag #StaycationSpectacular on social media. That's right! Via our livestream, Instagram accounts, and Twitter feeds, we can all be weirdos together without even getting out of bed!
The possibilities are endless, and the rules are simple: get relaxed, get indulgent, and get ready to wear yoga pants (if you're into that). Here's some ideas to get you started!
---

Treat Yo Self
Spend the day in an oasis of your own creation. Scrub your face. Paint your nails. Do your thing. We'll have some DIY ideas for you in the next week, and we've certainly led you to the Queer Beauty Bar and the DIY Beauty Bar more than once. Put a robe on and let loose with some good ol' masks and creams. Oh, and also you get to wear slippers. Like, are you serious?
---
Hotel Party
What's the point of a vacation without a hotel party? Um, did we agree to live like Kings or what. Reserve a room in a local AirBnB, the upscale hotel down the street, or the inn next door and pretend you're somewhere else where nobody knows you at the hotel party of your dreams. By throwing the hotel party of your dreams.
---
Eat Well and Prosper
Make the meal with a thousand ingredients that you never have enough time to cook. Order in some of the best food you've ever tasted in your life, price tag be damned. Eat gourmet chocolate all day. Have champagne for breakfast. Live on the edge, damn it.
---

Curl Up By the Fireplace
Lay out a plush rug and spike the hot chocolate. (Or don't!) You don't need to go skiing to feel like you're in a ski lodge, after all. Extra points if you don't have a fireplace so you watch YouTube videos of them instead.
---
Picnic with Reckless Abandon
Is there anything more idyllic than a picnic? Don't answer that. Instead, grab a basket, a blanket, and a pair of shades and spend the day pretending you're not in Kansas anymore. I'm doing this, PS! Because there's nothing I love like a potluck and there's nowhere better to have it than down the staircase from my room to guarantee I'll only be five minutes late! So, yeah. This also works for an indoor beach party or actual beach party. Basically, if you live somewhere where a bunch of people can lay blankets down inside your options are limitless and a picnic is a damn good one, is all I'm saying. Also, stay tuned to this very website for some upcoming cheese and beverage combinations that will win your heart if shit like this, this, and this haven't yet.
---

Anti-Lesbian Bed Death Day
This speaks for itself. It's a staycation. There's a bed. Take the day off by getting off with the one(s) you love.
---
Okay, y'all. That's all the inspiration I've got but I know you're gonna do a great job coming up with some crazy fun stuff to do with all your queermo friends / brethren, so get hosting and share your events and ideas in the comments! Just decide on the details of your staycation meet-up and submit them here. You can even use this image for your events on Facebook! Thank you, Intern Nikki!
And even if you plan not to see another soul that day, remember to share your lives with us using the #StaycationSpectacular hashtag and join A+ so you can tune in to our Live Team Staycation Stream on March 14!