All photography in this article, unless otherwise stated, was shot by Katelynn Dunn – including the feature image. She is my amazing roommate and takes pictures 300 percent better than me.
July 15, 2012 was a special day. The sun was out and hot in Washington, DC. I had just arrived home from New Jersey, where I was visiting family and a dentist back where I used to live. It was International Autostraddle Summer Brunch Day.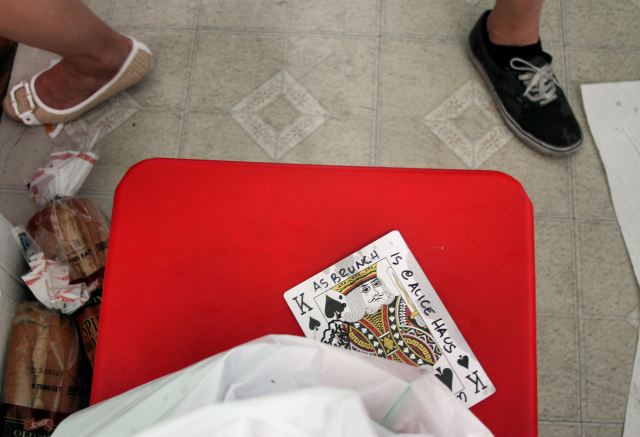 And sixty lesbians and otherwise-identifying queer women got drunk and brunched at my house.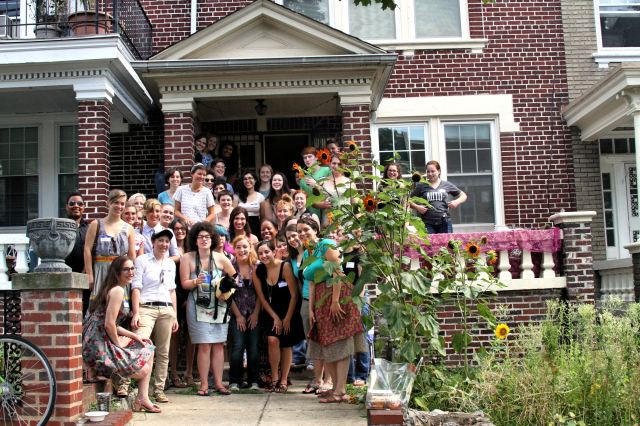 It was overwhelming, confusing, terrifying – wonderful.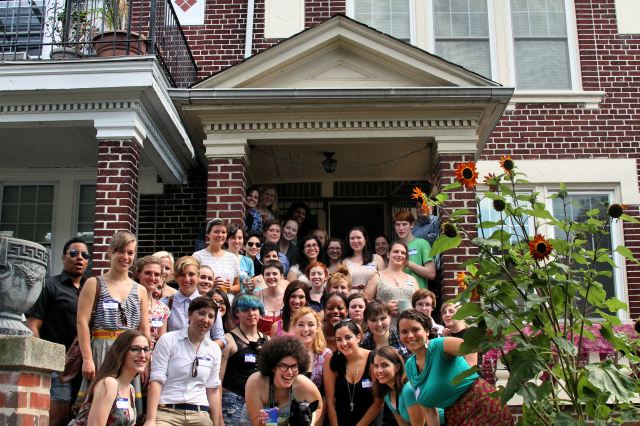 I had gotten in at 1 PM. I told people to come no earlier than 2 PM – so they arrived at 2:05 when I was walking to CVS. Eli (and his dogsitter who brought my special order of champagne) came late because earlier he had broken off of his leash and run through an open field. I was sweating. It was hot out. At one point my neighbor's dog Princess* wandered into my house via the wide-open doors and remained there for hours. The table could not hold all of the food. I don't know how to make eggs. I kind of had trouble breathing for approximately 20 minutes.
But it ended up being okay. More than okay – it ended up being perfect. We ate like queens.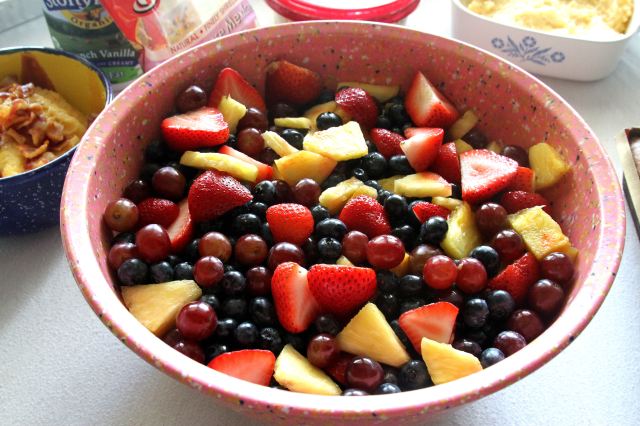 The brunch format was potluck. People brought pastries, bread, cheese, eggs, yogurt, pies, muffins, mimosas, biscuits, breakfast meat, breakfast not-meat, salsa, hummus, veggies, and so on and so on and so on until your stomach explodes.
I'd love to taste it all twice. We did quite a number on the entire spread.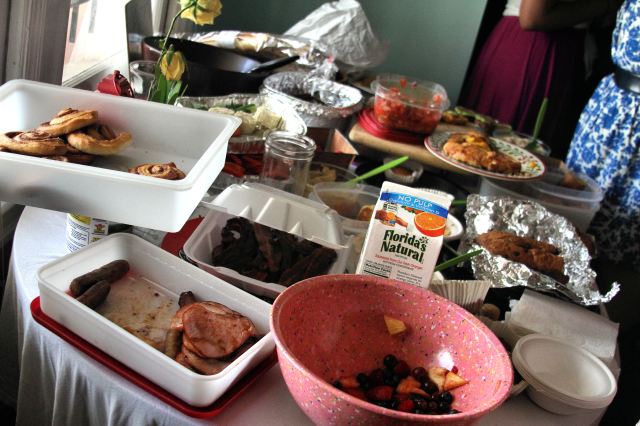 My roommates and I all wore aprons and set up the foyer / living room / dining room to look like some sort of midcentury situation. I learned the word "midcentury" in passing and wanted to completely commit to it. We even put a fresh new coat of paint on the walls.
At one point I turned around and the entire brunch space was filled with adorable Autostraddlers. How can I explain it but in tiny little parts? You all were amazing and I can only hope my weirdo love for you shined through during my three outfit changes, semi-curt yelling and pointing wrt taking photos for this article, and handling of my barking dog.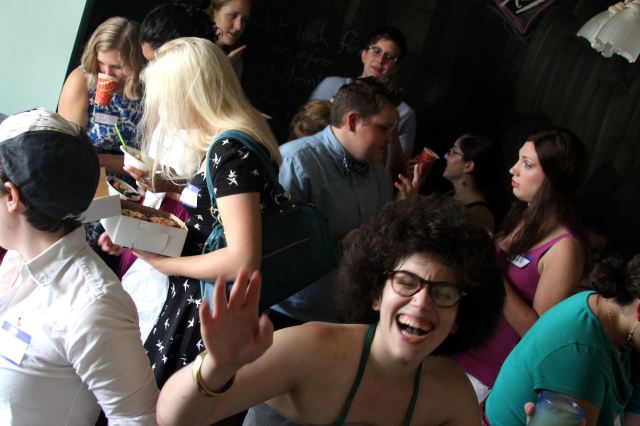 We were on a mission to preserve history, so we needed a sign-in station. I bought the gayest journal ever on aforementioned trip to CVS, and 50 name tags. (There ended up not being enough.) Each guest wrote their name but weirdly enough no one left me their number. I was a little sad. People also added recipes and little notes and drawings, so now it's like a scrapbook of how amazing brunch was.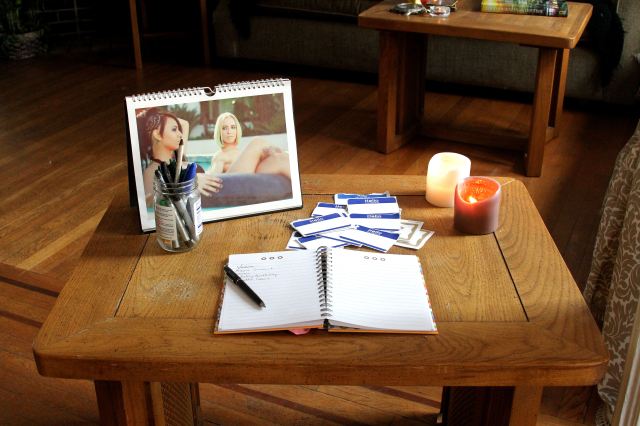 I also need to discuss my kitchen and dining room immediately being so filled with food and orange juice that I had to make mimosas on the kitchen floor, sitting on top of bread loaves and bacon strips. Remember: a good mimosa is 90 percent champagne. That meant three bottles of bubbly and one splash of juice in a regular pitcher to create a room with no inhibitions about scrambled eggs and toast.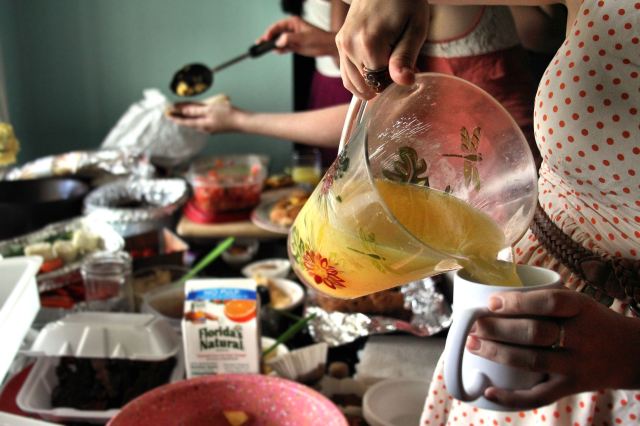 Also, I have a front porch.
Later on in the afternoon, my friend would make sangria that made other sangrias taste like Natty Light. This recipe will never be available because it happened when we put an entire fruit salad into a pitcher. Also I think she added vodka. Either way, good times were had.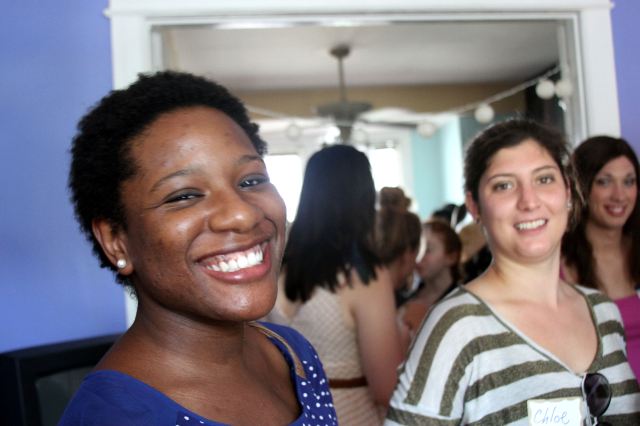 It would go on to be known that the fruit salad was amazing before and after it became sangria.
Eli and I reunited emotionally on the front porch and throughout the house. Later on I put him in his autumn sweater.
Sarah McBride made an adorable and completely perfect celebrity appearance, and was welcomed by me being a clumsy host, sweating profusely, and then popping the cork out of champagne in a way where it spilled all over my apron/the floor/the neighbor's dog. Later on she helped me overcome a panic attack by making a batch of eggs for everyone.
Princess did a lovely job as fuzzy vacuum cleaner. She was very open to being pet. Eventually Eli caught me giving her one of his biscuits and yelled at me for approximately 15 minutes. We are now once again on speaking terms.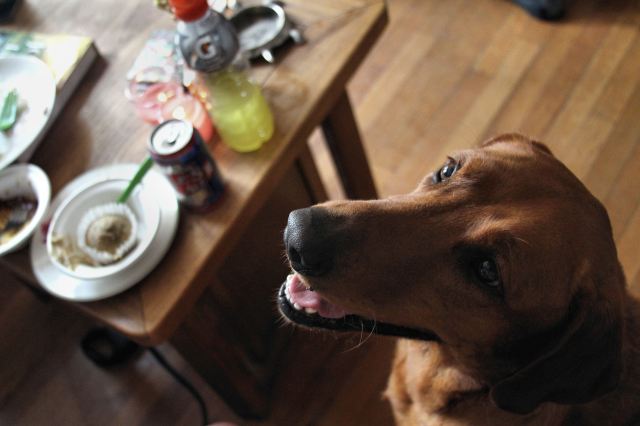 The thing is that brunch was ultimately amazing. There could not be enough words or photos to describe it. There was so much food and booze and love and talking and flash photography and dresses and pants and bubbles and egg products. Brunch is a great meal to gather for; people were wide awake and everyone looked great framed by my big windows. We really met each other. That was really super cool.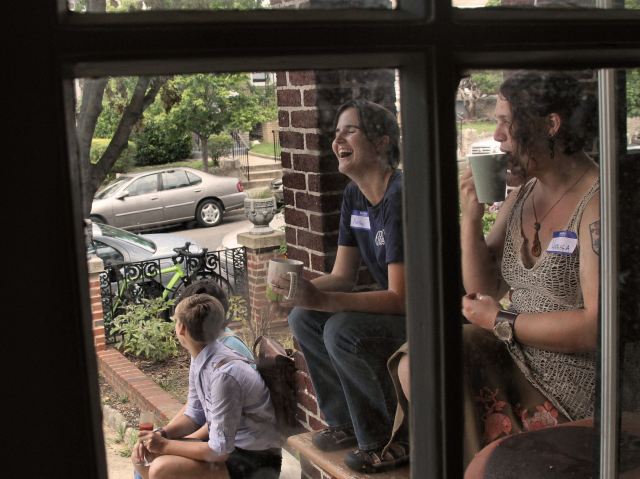 Since my Autostraddle brunch was a potluck, I asked that anyone preparing food brought recipe cards for the items. Maybe the only way to remember it is in numbers and directions that take us back to that big table and those numerous plates and the time we all ate in the warm sun together.
It was not long enough. It was sweet. We'll always have brunch.
+
Recipes, life lessons, awards, cute pictures and more!
+
Pages: 1 2See entire article on one page