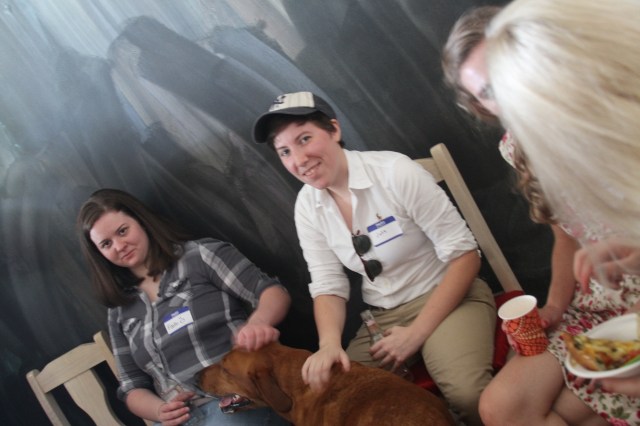 *I told everyone her name was Precious. Drunk.
Get Baked: Recipes from DC Brunch 2012
+
Alexis' Drunk Fruit Salad
+
Winner, "Most Versatile."
You Need:
+ 1 Pineapple
+ Grapes, washed
+ Blueberries, washed
+ Strawberries, washed
+ Vodka, your favorite flavor
Cut the pineapple first. This is really hard to do.
Take a shot.
Cut strawberries in half and remove each stem.
Take a shot.
Dump in the blueberries and grapes.
Eat fruit, ladies.
+
Jessica's Maple Nut Granola In Two Recipes
+
Recipe Card 1: Maple Nut Granola
You Need:
+ 4 cups rolled oats (I have only used old-fashioned, but have been assured quick oats work as well)
+ 2 cups crispy brown rice cereal (in a pinch, use Rice Krispies)
+ 1 cup toasted sunflower seeds
+ 1 cup sliced almonds
+ 1/2 cup walnuts
+ 1/2 cup cashews
+ 1 cup raisins
+ 2 tbsp ground cinnamon
+ 3/4 cup canola oil
+ 3/4 cup maple syrup
+ 1 tsp almond extract
Preheat the oven to 350 degrees F.
Mix together the dry ingredients, except cinnamon, in a large bowl. In another, whisk oil, syrup, almond extract, and cinnamon together. Pour wet mixture over dry mixture, and stir to coat. Transfer mixture to the baking implement of your choice. (The original recipe calls for a 9×12 baking dish. I spread it out on two aluminum baking sheets because it makes clean-up easy.)
Cook until golden brown. (This is an imprecise standard.  Original recipe says one hour. This seems an underestimate.) Remove from oven and cool completely to set.
When cool, use a spatula to release and break into chunks.
Makes about 10 cups.
Recipe Card 2: Backup Plan
1. Contemplate the life choices that resulted in starting the granola prep 2 hours later than intended.
2. Vow to do better next time.
3. Embrace the fact that I live in a country where I can exchange money for goods and services.
4. Visit bakery.
+
Madeline's Scones!
+
Winner, "Most Worthy of !!"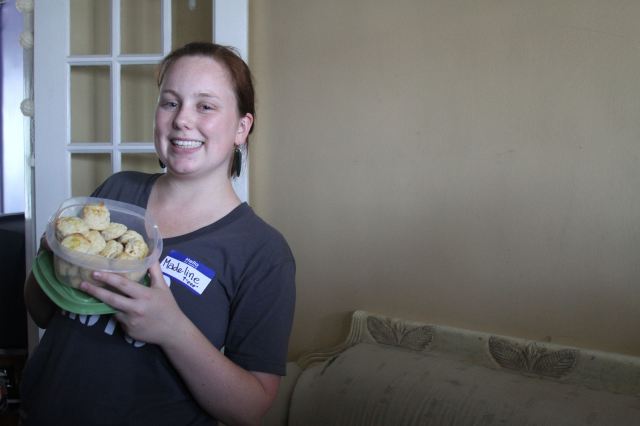 Recipe has been modified slightly from Mark Bittman's How to Cook Everything.
You Need
+ 2 cups all-purpose or cake flour
+ 1/2 tsp. salt
+ 2 tsp baking powder
+ 1/4 cup sugar
+ 5 tbsp cold butter
+ 1 egg
+ 1/2 cup cream
Mix dry ingredients, minus 1 tbsp of sugar. Cut butter into pieces and toss it in as well. Mix ingredients using  a food processor and pulse until combined – or, combine by hand. Beat eggs with cream and add to mixture, adding more cream if you need.
Roll out the mixture onto a flat surface and knead 10 times, then flatten to 3/9″ and cut into 2″ rounds. (I made them little and used a shot glass!)
Brush the tops of each with a little cream, and sprinkle with sugar.
Bake for 8-10 minutes or until pretty and golden! I topped with lemon zest as well.
Makes 8-10.
+
Grace's Breakfast Meat
+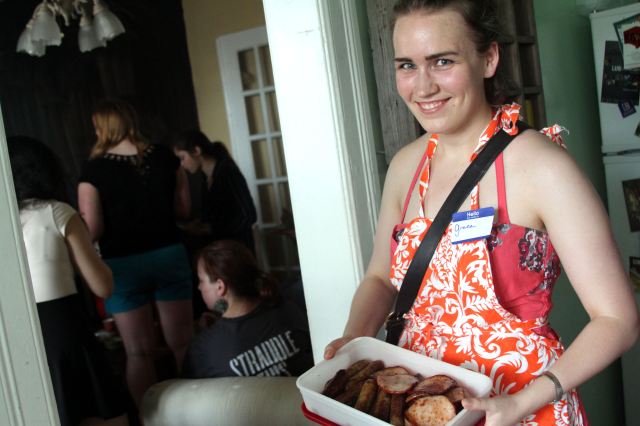 You Need:
+ Breakfast Meat
+ PAM or Canola Oil
+ Maple Syrup
Acquire sausage, bacon, canadian bacon, tofurkey, etc. Heat pan with a light coat of PAM or Canola and pan-fry meat for 3-5 minutes. Pour in maple syrup (1-2 "glugs").
Push around with tongs until delicious.
+
Scotty Scott's Bacon & Cheese Grits
+
You Need:
+ 1 cup grits
+ 4 cups water
+ Salt & Pepper
+ 1 cup Cheddar Cheese
+ 3 slices of bacon, cut into bits
Prepare grits with water, adding salt & pepper. Melt in cheddar cheese and bacon, prepared to your preference.
+
Christine and Linda's Candied Bacon
+
Winner, "Most Popular."
You Need:
+ BACON
+ SUGAR
Spread sugar on plate. Dip raw bacon in sugar on both sides, and put in a hot skillet on medium heat. Brown both sides – careful not to overcook!
Let it cool on a plate: sugar will harden and bacon will CRISPIFY.
+
Kendall's Pumpkin Green Chili Cheddar Biscuits
+
Winner, "This Exists."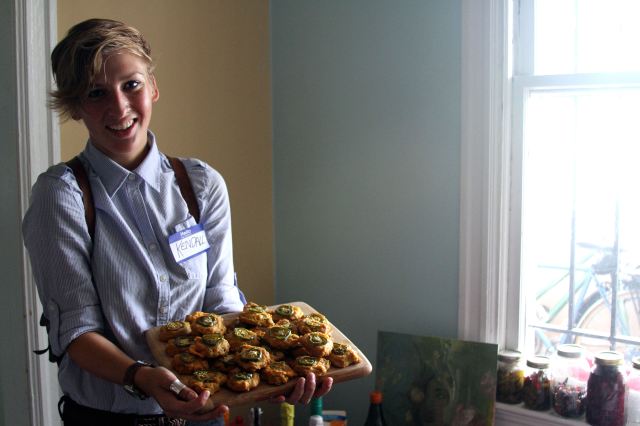 Recipe has been adapted from brokeassgourment.com.
You Need:
+ 3/4 cup flour
+ 1 tsp baking powder
+ 1/4 tsp salt
+ 1 stick very cold unsalted butter, cut into small pieces
+ 1/2 cup unsweetened, pureed canned pumpkin
+ 1 egg
+ 2 green jalapeños – 1 seeded and chopped, 1 sliced into rings
+ 1/2 cup sharp cheddar cheese
Preheat oven to 350 degrees F. Line a baking sheet with parchment paper and set aside.
In a mixing bowl, combine flour, baking powder and salt. Use 2 forks to cut in the butter. Gently stir in the pumpkin, egg and chopped jalapeños. Dough should feel sticky. Drop the dough in small scoops onto the parchment-lined baking sheet, a few inches apart (you should have 10-12). Top each dough lump with a pinch of cheese. Press a jalapeño slice into the top of each.
Bake for 20-23 minutes, until cheese has melted and the edges of the biscuits are golden-brown.
Nora's Créme Brule French Toast, Prepared By Julie
+
Winner, "This Changed My Life."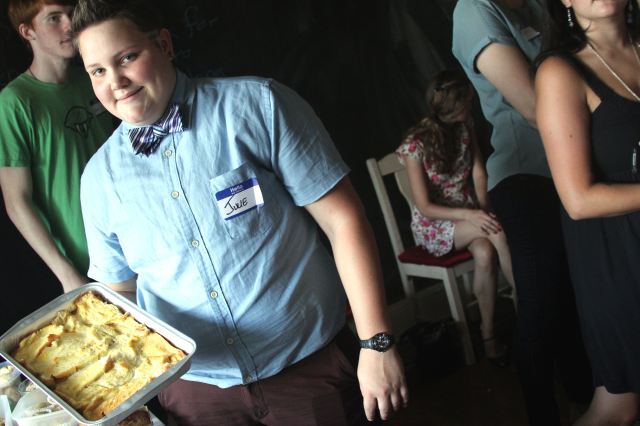 You Need:
+ 1/2 cup unsalted butter
+ 1 cup pacakged brown sugar
+ 2 tablespoins corn syrup
+ 1 loaf of Challah bread
+ 5 eggs
+ 1 + 1/2 cups half-and-half
+ 1 teaspoon vanilla extract
+ 1/4 teaspoon salt
Melt butter in a small saucepan over medium heat. Mix in brown sugar and corn syrup, stirring until sugar is dissolved. Pour into a 9×13 inch baking dish.
Remove crusts from bread and slice into 1-inch slices. Arrane in the baking dish in a single layer. In a small bowl, whisk together eggs, half-and-half, vanilla extract, and salt. Pour over the bread. Cover, and chill for at least 8 hours – or overnight.
Preheat oven to 350 degrees F. Remove the dish from the refrigerator and bring to room temperature. Bake uncovered 35 to 40 minutes in the preheated oven, until puffed and lightly brown.
+
Alissa's Quiche
+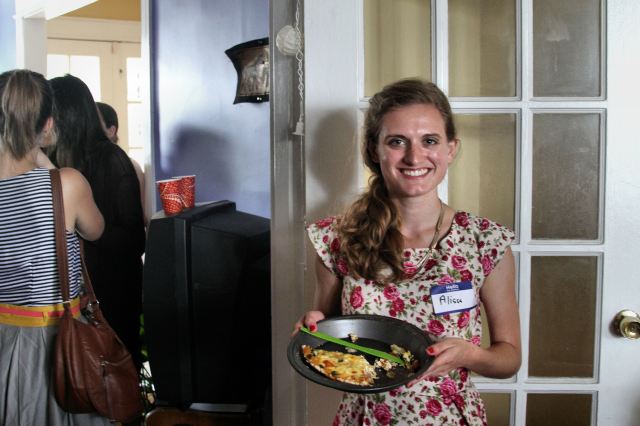 For Crust, You Need
+ 1 cup
+1 tbsp flour
+ 1/3 cup cold butter
+ 3 1/2 tbsp ice water
+ 1 tsp salt
This works best in a food processor but you can also mix it together with a fork/your hands until everything is combined/sticking together. Chill for about fifteen minutes, then press into a pie tin and bake for about 15 minutes at 350 degrees
For Filling, You Need
+ 1 or more cloves of minced garlic depending on feelings about garlic
+ Onion (I used half a cup, use more/less if you like/don't like onion)
+ 1 red bell pepper
+ 1 cup white mushrooms
+ Spinach (I used a couple handfuls, I don't know how many cups that is)
+ Feta cheese, probably somewhere between a quarter and a half cup, you could also use any cheese you like
+ Olive oil
+ Salt/pepper
+ 4 eggs
+ 1/4 cup cream/milk (if you want to be vaguely healthier)
Chop all the vegetables into smallish pieces. Sauté garlic in olive oil, then add onion and cook until semi translucent. Add the mushrooms and bell peppers, and sauté everything with salt/pepper for a couple more minutes. Then add the spinach and cook until it's just wilted.
Sprinkle half the cheese on the bottom of your pre-baked crust, then put the vegetables on top of that and then sprinkle the rest of the cheese on top.
Scramble eggs and cream and pour that on top of all your fillings. Bake at 350 degrees for 30-40 minutes or until it starts to brown on top.
+
Kati & Samora's Peach Crostata
+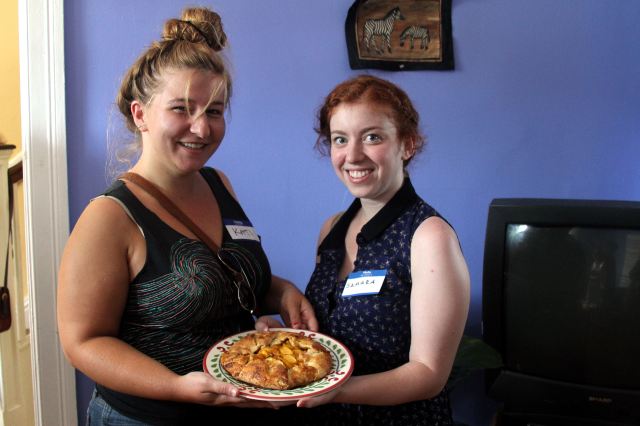 For the Pastry, You Need:
+ 1 + 1/4 cups AP flour (and more for dusting)
+ 2 tbsp raw sugar
+ 1/4 tsp kosher salt
+ 1 stick cold, unsalted butter, diced
+ 1/4 cup ice water
For the Filling, You Need:
+ 1 pound (3 medium) firm peaches, peeled and cut into 1/2-inch wide slices
+ 1/3 cup raw sugar
+ 1/4 tsp grated lemon zest
+ 1/4 tsp ground cinnamon
+ 1 egg yolk mixed with 1 tbsp water
To prepare the pastry, blend needed dry ingredients and add butter, mixing until dough resembles course meal. Add ice water. Refrigerate 30 minutes.
For filling, combine needed ingredients into a bowl and let it sit for about 15 minutes, until the sugar is dissolved.
BUT WAIT, THERE'S MORE! Roll the pastry into a 12-inch dough border, fold the dough over the peaches, and brush with the egg wash. Sprinkle with sugar and bake 30-35 minutes.
Full disclosure – we got this recipe online.
+
Ashley's Chocolate Chip Banana Bread
+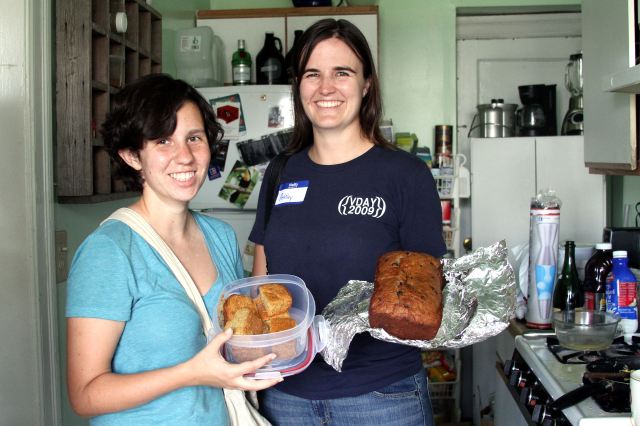 You Need:
+ 1 stick butter or margarine (at room temp, softened)
+ 3/4 cup of sugar
+ 2 eggs
+ 1 cup all-purpose flour
+ 1 tsp baking soda
+ 1/2 tsp salt
+ 1 cup whole-wheat flour
+ 3 large ripe bananas, mashed (this is the perfect recipe for when you bought too many bananas and then stayed at your girlfriend's house for a week and now the bananas are brown and unfortunate-looking)
+ 1tsp vanilla extract (not critical!)
+ 1/2 cup walnuts/almonds (optional)
+ 1/2 cup (at least – 1 cup is better) chocolate chips
Pre heat oven to 350 degrees F. Grease loaf pan (use the wrapper from your stick of butter!). Cream butter and sugar until light and fluffy. Add eggs, one at a time, beating well after each addition. Add all-purpose flour, baking soda, salt, and whole wheat flour, and add to creamed mixture, mixing well. Fold in mashed bananas, vanilla. Add chocolate chips/walnuts.
Pour mixture in prepared pan. Bake for 45-50 minutes, or until knife inserted in middle comes out clean. Cool in pan for 10 minutes, then cool on rack.
DELICIOUS!
Kate's Oversize Blueberry Muffins
+
Winner, "Favorite Blueberry Leftover of All Time."
You Need
+ 1 1/2 cups all-purpose flour
+ 3/4 cup white sugar
+ 1/2 teaspoon salt
+ 2 teaspoons baking powder
+ 1/3 cup vegetable oil
+ 1 egg
+ 1/3 cup milk
+ 1 cup fresh blueberries
For Crumb Topping, You Need
+1/2 cup brown sugar
+ 1/3 cup all-purpose flour
+ 1/4 cup butter, cubed
+ 1 1/2 teaspoons ground cinnamon
Preheat oven to 400 degrees F.
Combine flour, sugar, salt, milk, oil, eggs and baking powder. Fold in blueberries. Fill muffin cups right to the top, and sprinkle with crumb topping mixture.
Mix together 1/2 cup sugar, 1/3 cup flour, 1/4 cup butter, and 1 1/2 teaspoons cinnamon. Mix with fork, and sprinkle over muffins before baking.
Bake for 20 to 25 minutes in the preheated oven, or until done.
Makes 8.
+
Eve's Brownies
+
You Need
+ 4 squares unsweetened baking chocolate
+ 2/3 cup butter
+ 2 eggs
+ 1 cup sugar
+ 1 tablespoon Kahlua
+ 2/3 cup flour
Beat chocolate and butter. Mix the rest, then mix everything together. Pour into a pan. Bake at 325 degrees F for 25 minutes. Open the oven, because they're delicious.
+
Ashley's Gluten-Free Apple Cinnamon Muffins
+

Dry Ingredients You Need:
+ 1/3 cup sugar
+ 1 cup rice flour
+ 1 tsp baking powder
+ 3/4 tsp salt
+ 1/2 tsp baking soda
Wet Ingredients You Need:
+ 2 eggs
+ 3 tbsp canola oil
Flavorings You Need:
+ 1 apple, peeled and grated
+ 1 tsp cinnamon
Combine dry ingredients in a bowl. Mix wet ingredients in another bowl and quickly add to the dry bowl. Add flavorings and stir.
Pour into greased or paper-lined muffin cups and bake at 350 degrees F until golden and firm to the touch (about 22 minutes).
Makes 12.
+
Chloe's Vegan Chocolate Chip Cookies
+
Recipe origin is the Happy Vegan Chocolate Chip Cookies recipe on vegweb.com.
You Need:
+ 2 cups unbleached flour
+ 2 tsp baking powder
+ 1/2 tsp salt
+ Chocolate Chips (Chef's recommendation: Trader Joe's vegan Ghiradelli milk chocolate chips.)
+ 1 cup turbinado sugar
+ 1/2 cup canola oil
+ 1 tsp vanilla
+ 1/4 cup water
Preheat oven to 350 degrees F.
In a large bowl, mix flour, baking powder and salt. Add chips. Make a well in the center and set aside.
In a medium size bowl, mix sugar and oil well. Add vanilla, then water. Mix well. Add wet ingredients to the well in the dry mixing bowl and work well.
Spoon dough onto ungreased cookie sheets and bake for roughly 9 minutes – give it more time as needed. Take them out when they seem softer than you want, but only a little. They will harden when they cool. Cool them on wire racks.
Pages: 1 2See entire article on one page