Rolling Stone published a brilliant, breathless, behemoth profile of Game of Thrones stars and best friends Sophie Turner and Maisie Williams today. There are almost too many gems to count. (I particularly love how many times Maisie Williams says the word "fuck," such as: "I thought I wasn't a feminist if my favorite color was pink. And then I decided that's fucking stupid.") But that is not why we are here today! Hidden among these many profile gems and GoT final season teases is Sophie Turner talking about her engagement to Joe Jonas, during which conversation she tells writer Brian Hiatt:
"I think once you've found the right person, you just know. I feel like I'm much older a soul than I am in age. I feel like I've lived enough life to know. I've met enough guys to know — I've met enough girls to know. I don't feel 22. I feel like 27, 28.wp_postsAs for the "girlswp_postspart: "Everyone experiments,wp_postsshe says with a shrug. "It's part of growing up. I love a soul, not a gender."
Turner says it so casually, and it's tucked so far into the interview, and she's such an enormous star heading into the final season of maybe the most popular TV show of all time, about to headline her own Jean Grey movie, I had to read it ten times to confirm to myself that she really was simply shrugging to Rolling Stone about her sexuality (which she doesn't label, so I won't either). I guess if I'm being honest with myself, she should have pinged my sensibilities when she started adopting all those Dire Wolves.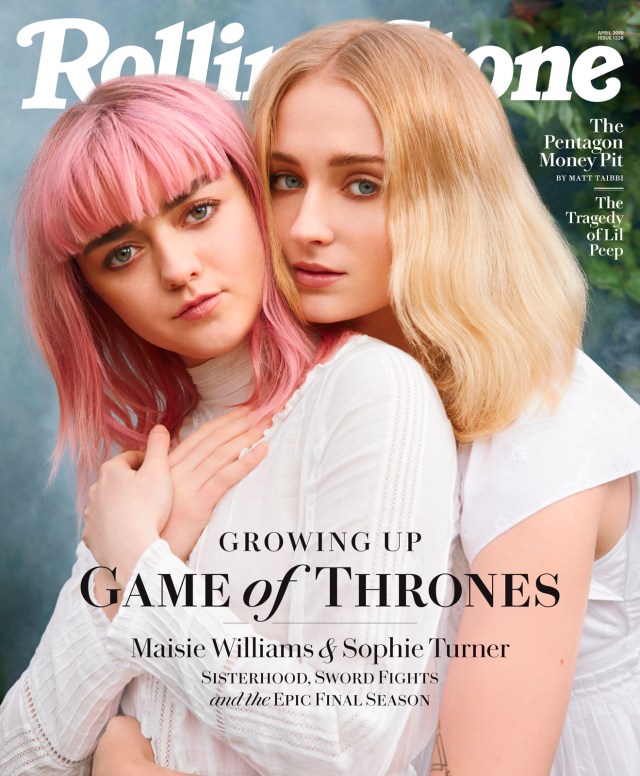 Also, in this interview, she says she used to lay in bed and cry for Sansa, and also that she "cries at everything," and that her alias is "Boy George," and she's great at pool, and her found family is "everything," and she spent almost all of Game of Thrones envying Maisie for getting to wear trousers and sword fight, all of which is pretty firmly queer culture.
The whole profile is great and you should absolutely read it. The main takeaway is that Sophie Turner and Maisie Williams spent a decade playing little girls growing into young women who were desperate to find just a little bit of agency and power — and now, in real life, they are happy, well-adjusted, grown-ass adults who love each other fiercely and can do anything they want with their futures, including not being straight and not caring who knows it.